Game Day
Most known for its football program led by head coach Ryan Day, the Ohio State University is always a force to be reckoned with. Come fall in Columbus, the Ohio State University campus is filled with die-hard fans ready to cheer their team to victory. The Buckeyes play at Ohio Stadium, otherwise known as the "Horseshoe" or simply "The Shoe", and are part of the Big Ten East Division. Whether you have tickets to the game or not, the experience on campus on game day is well worth it.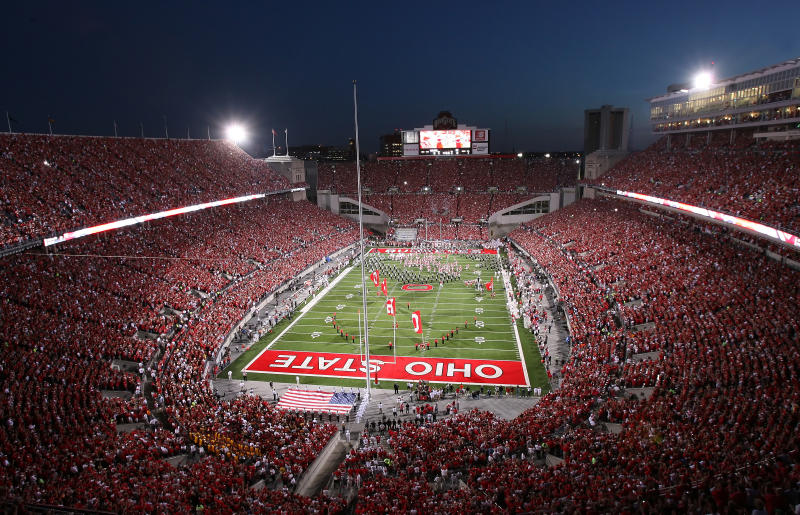 Dining
For big meals, seek out Ethyl & Tank behind the Newport Music Hall. Ethyl & Tank serves as a coffee shop, a bar, a lunch and dinner spot and a weekend brunch haven. On Neil Avenue, Hang Over Easy employs a wry sense of humor to a menu of French toast, chicken and waffles, burgers and more. At Hudson and High, classic diner Jack & Benny's serves omelets and pancakes to hungry crowds. 
Of course, a sweet treat is in order from time to time. Buckeye Donuts has been a favorite stop since it opened in 1969. The old school donut shop serves breakfast sandwiches and gyros, too. Down the street, The Little Donut Shop (operated by the same folks behind The Big Bar upstairs) covers mini cake donuts with fun toppings like crushed Oreos, bacon and gummy worms.
Tailgating
Varsity Club on Lane Avenue is the place to be to tailgate. Don't expect to find a place to sit before a home game unless you get there early. They close down the rear parking lot and fill it with drink tents, a big screen tv, a stage with live music, vendors and lots of fans. Varsity Club is one of the best gameday traditions you'll find anywhere. Nearby, Little Bar also offers its massive parking lot as a gameday hang out with a giant screen, DJ and other fun activities throughout the season.
If you were an Ohio State student, or a regular on campus years ago, you probably know about Too's Under High, the dark and dingy tailgate spot underground. While we're sad Too's closed in 2017, the same owners opened up Threes Above High for the same game day experience and drink specials – get a $10 bottle of champagne to celebrate the victory!
Out 'r Inn is a fan's hidden gem gameday. With several floors for crowds to disperse, a large patio in the front and the back, pool tables, multiple bars and TVs, it's the perfect before, during or after game spot. The best part? They offer drink specials for their famous huge screwmosas (think a mimosa but more alcohol) or a build-your-own bloody mary bar.
Need some Gear?
Stop in The Buckeye Corner on Lane Avenue. Before heading into the game, stop by St. John Arena for the Skull Session, OSU's pep rally, which begins two hours and 15 minutes before the kickoff of every home game. The Ohio State marching band gets fans in the spirit with "Hang on Sloopy" and more.
Pro Tip: When walking the streets of campus from one spot to the next, if someone yells O-H, make sure you yell back I-O and you'll fit right in!
Upcoming Games at The Shoe: