As the 14th largest city in the country, Columbus makes great use of its rooftop space to offer patios for residents and visitors to enjoy the weather in the warmer months. Check out our list of places to take in a great skyline view while enjoying a delicious drink or bite to eat.
Italian Village
1101 N. 4th St.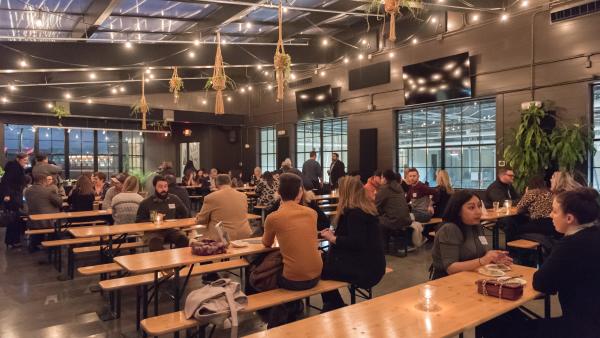 Overlooking the production facility, this expansion added in 2018 features its own bar and a retractable roof, making it the perfect hangout in all weather. The outdoor space on the first floor is dog-friendly!
1086 N. 4th St.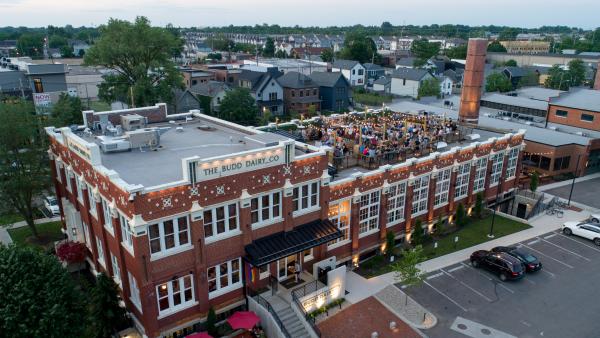 The rooftop patio at Budd Dairy Food Hall is one of the many unique places in Columbus to enjoy a bite and a beverage, and Budd Dairy has its own chef-driven incubator experience.
Little Rock Bar
944 N. 4th St.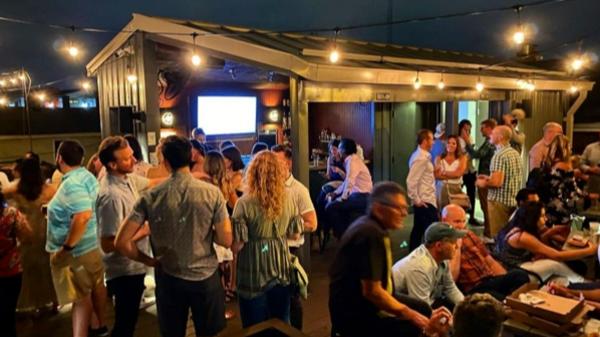 A true hidden gem in the city, this laid-back bar offers an expansive tap list alongside views of downtown.
Short North
Mandrake Rooftop
808 N. High St. 
From the owners of Townhall comes Mandrake, serving up iconic views of the Columbus skyline and the self-proclaimed "healthiest sushi in the world." Mandrake is a must-try for your next outing in Columbus.
Terrace Bar
1079 N. High St.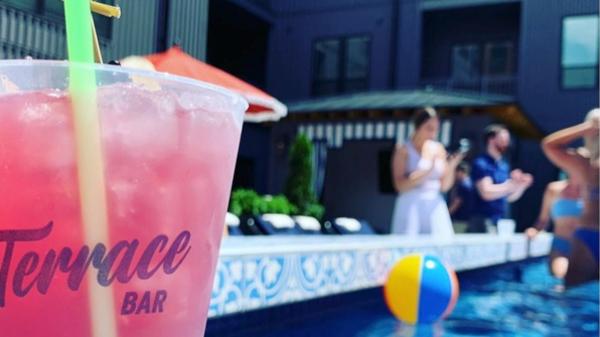 Terrace Bar's rooftop pool offers a metropolitan oasis for relaxing away from the hustle and bustle of the streets below.
711 N. High St.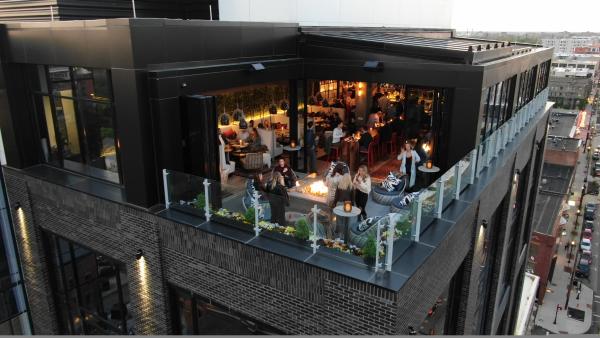 This Cameron Mitchell Restaurant concept features a comfortable setting and incredible craft cocktails, including many no- or low-ABV options.
Arena District
Callahan's
520 Park St.
This sports bar/nightclub is known for its nightly rooftop dance parties.
Lumin Skybar
517 Park St.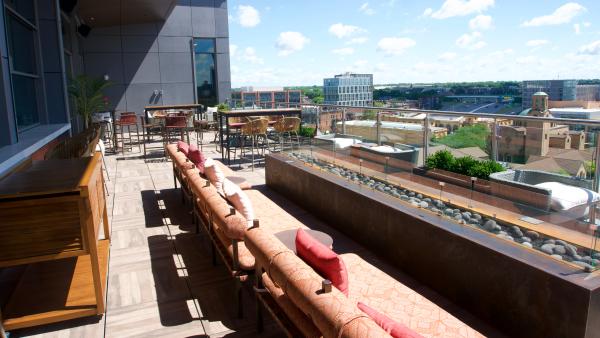 Located on the 8th floor of the AC Columbus Downtown, Lumin has unparalleled views that it pairs with inventive cocktails and tasty tapas. 
Novak's Tavern & Patio
475 N. High St.
Novak's offers a great place to unwind at the end of a long day, whether that means enjoying a cold drink or busting a move on the dance floor. 
Downtown
404 N. High St.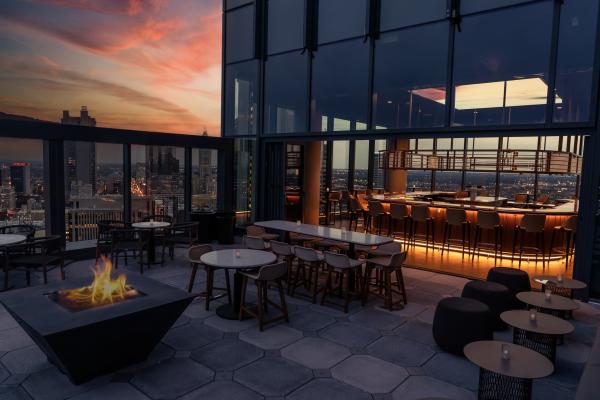 Columbus' tallest rooftop bar sits 28 stories high atop the new Hilton Columbus Downtown. Guests can enjoy 360-degree views of the city along with uniquely crafted cocktails and sophisticated small plates.
77 E. Nationwide Blvd.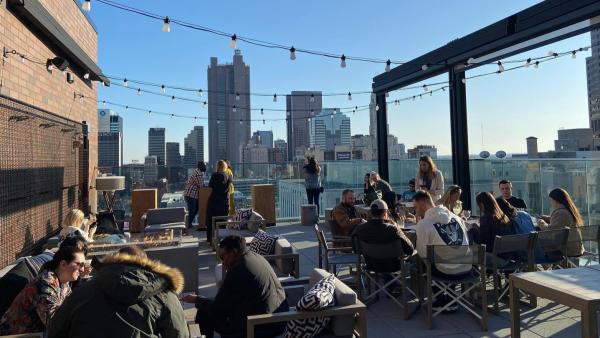 Set within the Canopy by Hilton Columbus Downtown, Goodale Station is a stunning space offering nearly 360-degree views of the city. With indoor and outdoor spaces, a private dining area and expansive food and beverage options, it's got something for everyone. 
Jackie O's
171 N. 4th St.
The Columbus outpost of this Athens-area staple just opened an enormous multi-level patio that will include a rooftop space featuring prominent green designs and a vast array of seating options, making it the perfect spot to lounge. 
Franklinton
77 Belle St.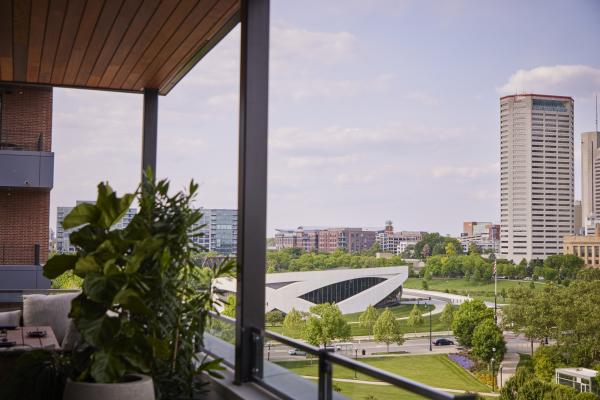 Feast your eyes on unparalleled views of the Columbus skyline at Brass Eye, the rooftop bar on top of the Junto Hotel. 
BrewDog Franklinton
463 W. Town St.
Elevate your next BrewDog experience by checking out the rooftop of their Franklinton location.
German Village
714 S. High St.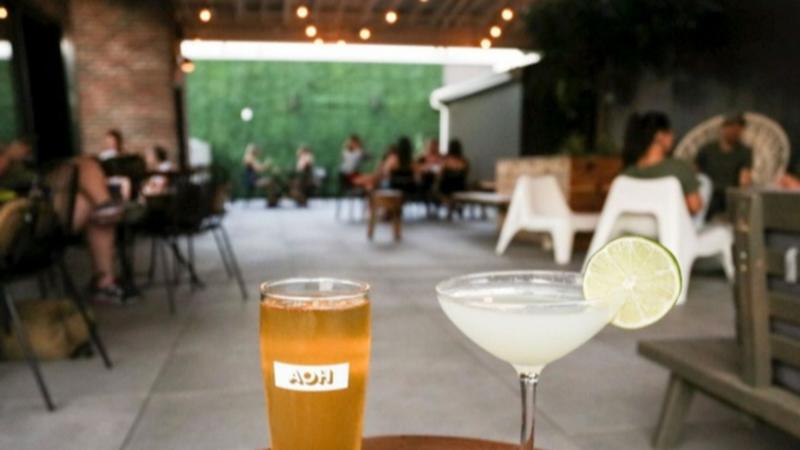 This sister brewery to Seventh Son serves as the sour beer production space and offers a cozy rooftop setting. 
Dublin
VASO
6540 Riverside Dr.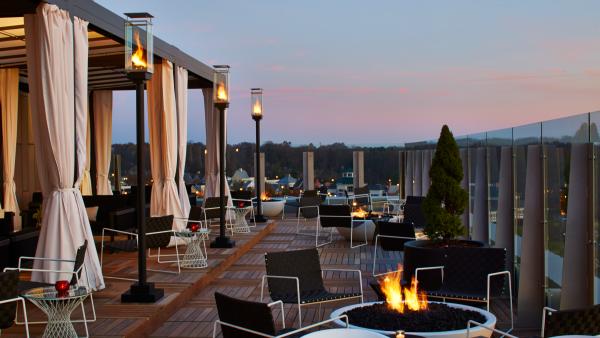 The rooftop lounge in the AC by Marriott Columbus Dublin offers panoramic views of Dublin, a lively and walkable Columbus suburb. In the summer, enjoy cabanas and and in the winter, grab a rooftop igloo for your evening outing (make sure to reserve before heading up!).
Easton
RH Rooftop
4120 Worth Ave.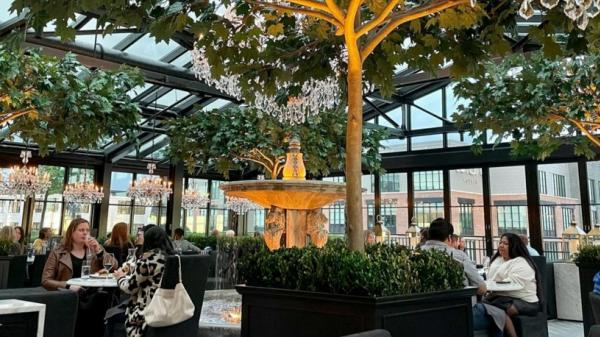 The rooftop restaurant above the state's only RH Gallery offers an ingredient-driven menu and curated beverage options in a comfortable, upscale space.