COLUMBUS –  Hotel business boomed in 2019. In a strong show for the tourism economy, Columbus ended the year with record-breaking bed tax collections and two rankings higher in RevPAR (Revenue Per Available Room), at number seven of eleven in the city's competitive set, over 2018. From Jan. 1 to Dec. 31, 2019, the STR report shows that all key performance metrics increased, and Columbus had the highest increase in occupancy and RevPAR, at 2.4% and 4.1% respectively, amongst its competitive set compared to 2018.  
| | | | |
| --- | --- | --- | --- |
| KPI  | YTD  | % change  | Average in competitive set  |
| Occupancy  | 66.54%  | 2.4%  | 65.21%  |
| Average Daily Rate  | $106.61  | 1.7%  | $113.82  |
| RevPAR*  | $70.94  | 4.1%  | $74.53  |
* RevPAR is a hotel industry performance metric, which is calculated by multiplying a hotel's ADR by its occupancy rate 
"2019 was a tremendous year by all counts," said Brian Ross, Experience Columbus president and CEO. "We started by being named one of '52 Places to Go in 2019' by The New York Times and ended with having broken records in nearly every aspect of what we do. Plus, the announcement that the Hilton Columbus Downtown will become the state's first 1,000-room hotel combined with having hosted what is being lauded as the 'best ASAE ever' has significantly boosted our city's image and driven new business opportunities, including PCMA's 2023 Convening Leaders Annual Meeting." 
According to ASAE, 20% of association executives who attend the Annual Meeting & Exposition will book their own meeting in the host city in the next five to 10 years, representing $500 million in potential future revenue for the city. Since August 2019, ASAE has generated a total of $214 million in new business opportunities and resulted in ten definite bookings for Columbus, representing $34 million in economic impact. This includes the Alliance for Academic Internal Medicine 2024 Academic Internal Medicine Week, which will bring 3,000 attendees to Columbus in April of that year.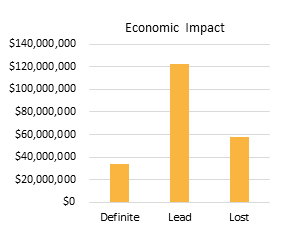 In 2019, Experience Columbus and the Greater Columbus Sports Commission booked 477,456 room nights for future years. The organizations fielded 1,167 leads, representing 1.8 million room nights, compared to 971 leads representing 1.6 million room nights in 2018. 
"Our team did an incredible job raising Columbus' profile as an elite sports destination this year and exceeded their goal by booking 110.6% of their quota.," said Linda Logan, Greater Columbus Sports Commission executive director. "In October we hosted nearly 800 boxers, 500 coaches and approximately 100 officials and staff members for seven days for the USA Boxing Eastern Elite Qualifier and Regional Open Championships, an Olympic Trials Qualifier. We look forward to capitalizing on all of our 2019 success as we work diligently to prepare our NCAA bids for 2023-2026." 
According to reports from the Office of City of Columbus Auditor Megan Kilgore, hotel/motel bed tax collections increased 3.81% over 2018 or $1.82 million as of Dec. 31, with collections totaling a record $49.7 million. These funds support not only Experience Columbus, but also cultural and arts programs, social services, affordable housing programs and the Franklin County Convention Facilities Authority. 
### 
Experience Columbus is the destination marketing organization for the Columbus region, dedicated to growing visitor spending and enhancing the visitor experience. Annually, visitors make 41.9 million trips to Greater Columbus for conventions, trade shows, sporting events and leisure visits, spending $7 billion and supporting nearly 78,000 jobs. For more information, visit experiencecolumbus.com.