Creative approach based on core human value, thriving
COLUMBUS – As the summer travel months approach, Experience Columbus is launching a new leisure advertising campaign built on the platform of "thriving." The campaign is designed to differentiate Columbus and increase awareness about the city as a premier travel destination, turn day trips into overnight trips and boost website traffic, e-newsletter signups and requests for more information.
Experience Columbus is working with BVK, an advertising agency that specializes in tourism marketing. The experienced team at BVK has a track record of success working with destinations including Visit Orlando, the Maine Office of Tourism and Reno-Tahoe CVB.
BVK's approach is based on the principle that if an advertising campaign touches on an emotion, it helps people relate to the product on a more personal level. The key is to identify the destination's core value and match it with the visitors' mindset. For Columbus, that value is "thriving," which was determined through extensive research and existing data from Longwoods International, Tourism Economics and GfK. Additionally, "thriving" is an enduring value and can be applied across multiple audiences, such as those for meetings and conventions and economic development.
"When we look at Columbus' DNA and everything that's happening throughout the city – the development, new attractions and businesses, population growth, etc. – it's evident that we're thriving," said Amy Tillinghast, Experience Columbus vice president of marketing. "This value is distinct and authentic to Columbus and builds on our smart and open brand essence."
The creative concepts were tested in 23 one-on-one, in-depth interviews in Detroit and Cleveland to gauge how "thriving" resonates. The concepts were positively received as consumers could see thriving in the sample creative and felt emotionally engaged. Additionally, the ads created a differentiation and distinctive persona for Columbus. Most importantly, the testing found that the campaign increased interest and intent to visit Columbus.
The campaign will run May through December 2018 in tiered target markets that were determined by an analysis that showed markets with high visitation and high potential/interest to plan a visit. Tier 1 markets are Cleveland, Charleston, W. Va. and Detroit, and Tier 2 markets are the state of Ohio (excluding Columbus), Fort Wayne and Indianapolis. The target audiences are women with children and adults without children ages 25 to 54 with a household income of more than $60,000. The campaign will include traditional and digital radio, digital billboards, magazine ads, digital video and online ads.
The creative is designed to lead with emotion through bold imagery and headlines. The ads consist of a main image that grabs attention with its energy and thriving essence and a filmstrip of images that show a variety of experiences for visitors.
A specific campaign for Roar & Explore, a summer family travel package in partnership with COSI, Columbus Zoo & Aquarium, Zoombezi Bay and Drury Inn also will run May through mid-August in Tier 1 markets and throughout Ohio. A new campaign for the meetings and conventions market is currently in development and will launch in August in time for the American Society of Association Executives' (ASAE) Annual Meeting & Exposition in Chicago, a convention that will be in Columbus in 2019. Hosting ASAE will put Columbus on the map as it will draw 5,000 decision makers and influencers who plan meetings for national associations. Attendees will fill 16,800 hotel rooms and generate more than $16 million in direct visitor spending during the event. Past host cities of the ASAE Annual Meeting found that 20 percent of association executives who attend will book their own meeting in the host city in the next five years, representing $500 million in revenue for the host city.
Sample Creative: Print and Digital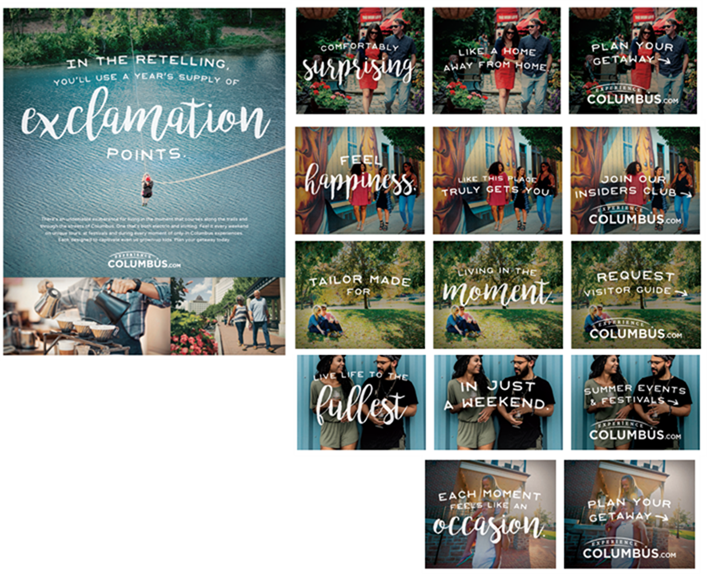 # # #
Experience Columbus is the destination marketing organization for the Columbus region, dedicated to growing visitor spending that is generated by conventions, meetings, trade shows and leisure visitors.  Annually, visitors make more than 39.9 million trips to Greater Columbus, generating $6.4 billion in direct visitor spending and supporting 75,000 jobs. For more information, visit experiencecolumbus.com.