Let's face it: Valentine's Day is one of the prime times for chocolate. But let's also face this: you don't need a special occasion as an excuse to support these Columbus chocolatiers!
Coco Cat Bakery & Chocolates
The new Coco Cat is a family-run stall in the North Market, serving creative and colorful chocolates with flavor combinations using spices and herbs. Recent offerings include concord grape with peanut butter and rosemary, cognac caramel pear, and candied orange with bourbon and cherry juice.
Pure Imagination Chocolatier
Pure Imagination's Grandview shop is the place of dreams for a chocolate-lover. Browse their beautiful displays of hand-made truffles and chocolates, and try to get away with ordering just a dozen.
Ohiyo Chocolate
Ohiyo Chocolates doesn't have a physical shop, but you should most certainly track them down. Mike Condo crafts his award-winning chocolate bars in small batches, sourcing directly from Belize, Peru, Tanzania, and other countries.
MMELO Boutique Confections
Situated across the street from the North Market, MMELO is a stunning little shop producing artisan chocolates and candies. You'll find flavored marshmallows, tea cakes, chocolate barks, and more.
Schmidt's Fudge Haus
Stop by this German Village institution for hand-made fudge, chocolate-dipped pretzels, turtles, and buckeyes. Visit at the right time and you'll see them making fudge!
Eagle Family Candy
The first generation of the Eagle family began making their candies in 1912, and now the fourth and fifth generations craft their chocolates at a small storefront in Clintonville. They've been at that location, using the same equipment and recipes, since 1946. Stop by to shop for milk and dark chocolate candies, from peanut clusters to cherry cordials to buckeyes to butter creams.
Winans Chocolates + Coffee
Winans features two stories – in German Village and downtown – where you can escape for a while with a foamy latte or a hot chocolate, then browse their shelves for every chocolate confection you can imagine: buckeyes, chocolate-covered espresso beans, dipped pretzels.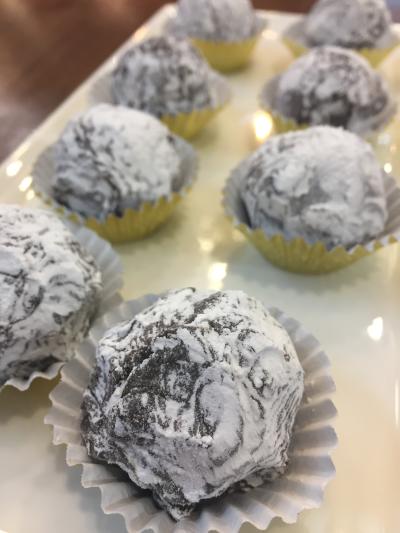 Anthony-Thomas Candy Company
Anthony-Thomas is an old school chocolatier, making their signature sweets since 1952. Seek out their boxes of mixed chocolates or their famous buckeyes at any of their 13 retail stores across the city. Get to know them even more by scheduling a factory tour!
Colonial Candy
Colonial Candy is a small storefront serving the Clintonville neighborhood. They proudly feature Heggy's chocolates out of Canton, Ohio.
Madame Delluc
Madame Delluc is a Belgian-based chocolatier named some of the best chocolates in the world by Conde Nast, and they have a storefront in Upper Arlington's Shops on Lane Avenue!