You'll find no shortage of comforting soul food and southern fare across Columbus! We rounded up eleven to get your started exploring.
LaGlory's Soulfood Cafe | 3350 Allegheny Ave.
Open since 2013, LaGlory's is known for their fried pork chop sandwiches, fried fish, wings, meatloaf and all the sides.
Way Down Yonder | 3847 S. High St.
Way Down Yonder is a beloved family-run restaurant that recently relocated to the south side. From there, they serve New Orleans classics like po' boys, fried fish, red beans and rice, etouffee, shrimp and grits. Don't forget a slice of cake or order of beignets before you leave!
B & K Smokehouse | 1114 E. Main St.
B & K has won legions of fans for their wings, brisket, and homemade sides like baked macaroni and cheese, collard greens, green beans and fresh cornbread. Don't miss their specialty: tender smoked turkey ribs.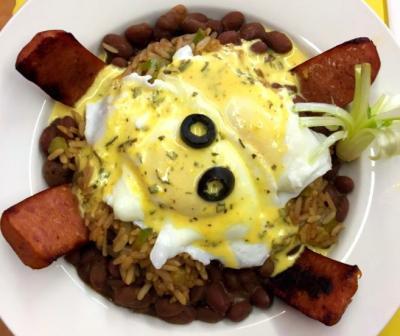 Creole Kitchen | 1052 Mt. Vernon Ave.
Chef Henry Butcher's Creole Kitchen is a Columbus institution, having served his homemade Cajun and Creole dishes to multiple generations of guests. Chef Butcher and his family lovingly create from-scratch meals for both carryout and dine-in guests. Start your day with beignets, Creole eggs benedict, or his signature Eggs Basin Street (with rice patties, red beans, and bearnaise), or enjoy lunch of po' boys, crawfish etouffee or blackened catfish.
Jessie Mae's Southern Creole Cuisine | 3671 E. Livingston Ave.
Family-run since 2011, Jessie Mae's is known for their breakfast menu, their wings and po' boys, and their dinners that range from NY strip steak to pork chops, jambalaya to platters of shrimp, oyster and alligator nuggets.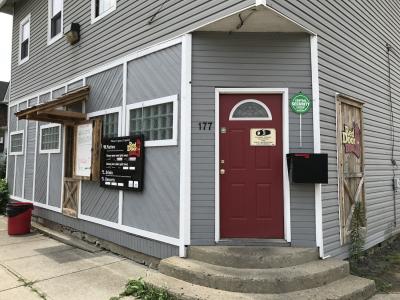 Red Door BBQ | 177 S. Cypress Ave.
From a humble walk-up counter in Franklinton, Red Door BBQ produces some seriously good barbecue. Keep an eye on social media for their daily specials, which cycle through ribs, burnt ends, chicken, pulled pork and sides. Red Door has expanded recently to include a walk-up location across from Ohio State's campus and a food truck.
Madison Soul Food Kitchen | 1731 Green Way Ave.
The casual, cafeteria-style Madison Soul Food Kitchen is a community-favorite spot for fried or baked chicken, sweet potatoes, collard greens and plenty of sides.
The Good Kitchen | 1485 Sunbury Rd.
This family-run soul food spot has quickly earned fans for their filling meals of fried and smothered pork shops, fried chicken and fish, wings and sides. Look for daily specials, too!
RedTyes Family Kitchen & Catering | 2274 S. Hamilton Rd.
RedTyes offers up an eclectic menu of wings, fried fish, burgers, po' boys, jerk chicken, turkey ribs, pasta and much more.
Fisher Fish & Chicken | 3685 E. Livingston Ave.
Open seven days a week, Fisher serves up all sorts of fried fish (catfish, perch, tilapia, you name it) and fried chicken (wings, tenders, gizzards, livers), plus a big menu of gyros and sides.
JD's Kitchen | 3728 Agler Rd.
JD's has built a name for itself as a community favorite, serving everything from fried tilapia to barbecued pork chops, alligator sausage to fried okra. They've also even been hosting events like jazz brunches and Soulful Sundays with live music.