From an expansive global dining scene to a world-class market, restaurant-rich neighborhoods to food trucks galore, it's no secret that Columbus is a major foodie destination. This reputation is only growing stronger as local businesses and culinary professionals continue to gain national industry attention and media buzz.
One of these recent developments includes this week's announcement of the semifinalists for the James Beard 2020 Restaurant and Chef Awards. Now in its 30th anniversary, the Awards are one of the most prestigious recognitions in the culinary industry, with figures ranging from food writers to restauranteurs to chefs from across the country vying for a variety of coveted titles annually.
On the list of 2020 contenders includes Columbus' very own pastry chef Spencer Budros of Pistacia Vera, in the running for the Outstanding Baker award, and BBQ master James Anderson of Ray Ray's Hog Pit, nominated for Best Chef: Great Lakes area (IL, IN, MI, OH).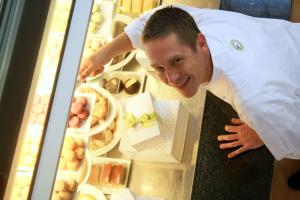 Founded along with Budros' sibling Anne Fletcher, Pistacia Vera has delighted dessert fans with their hand-crafted sweets since 2004. From delicate Parisian macarons in flavors ranging from vanilla bean to passion fruit, to delectable flaky pastries, éclairs and tarts, Budros' French-style treats are all made with the utmost care, and beloved for their pristine quality.
Ray Ray's, on the other hand, has been known for dishing out some of the most mouth-watering, flavorful authentic BBQ the city has seen since the eatery's 2009 debut. Chef and owner Anderson refuses to rush the process for his farm-raised hog delicacies, using dry rubs and a hardwood smoker in a 12-16-hour-long process. Nothing can beat his classic takes on baby back ribs, pulled pork and brisket, especially when paired with one of his original sauces and sides.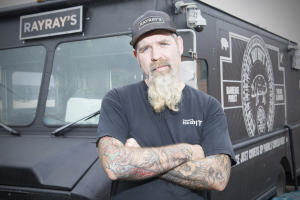 Finalists for this year's James Beard Awards will be announced in late March, with winners being presented in April and May at the Media Awards Dinner and James Beard Awards Gala. Whether or not these two outstanding Columbus chefs make it to the finish line, their achievement in coming this far truly reflects on the success of both their respective businesses and on the status of Columbus as a leading culinary city.
For more information on the James Beard Awards, visit jamesbeard.org/awards, and make sure to experience the hype for yourself by making a trip to Pistacia Vera and Ray Ray's Hog Pit.
Pistacia Vera
North Market, 59 Spruce St. Columbus, OH 43215
German Village: 541 S. Third St. Columbus, OH 43215
Ray Ray's Hog Pit
Clintonville Food Truck at Ace of Cups: 2619 N. High St. Columbus, OH 43202
Franklinton Food Truck at Land-Grant Brewing: 424 Town St. Columbus, OH 43215
Westerville: 5755 Maxtown Rd. Westerville, OH 43082