Columbus is home to many international cuisines, including several eateries dedicated to authentic Korean flavors. We rounded up five Korean restaurants to try!
Restaurant Silla | 1802 W. Henderson Rd., Northwest
Silla feels like a true hidden gem, with their front door located down a long, outdoor passageway in a strip mall. The family-run restaurant has been serving Columbus for more than two decades, offering a spacious interior and extensive menu that makes it an ideal spot for a group outing. Their dishes span all the favorites: dumplings and savory pancakes, hot pot stews, bibimbap and so much more.
Min-Ga | 800 Bethel Rd., Northwest
The unassuming Min-Ga is situated in a Bethel Road strip mall, serving large portions of kimchi pancakes, pork dumplings, jap chae (stir-fried noodles), kalbi (beef short ribs), bulgogi, squid stir-fries and other staples. The eatery is an excellent stop for lunch as well, with inexpensive meals served throughout the week.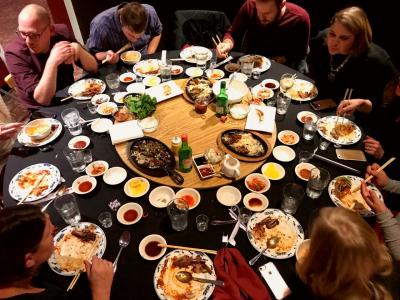 Diaspora | 2218 N. High St., Campus
Diaspora is hidden in plain sight along High Street, across from Ohio State's campus. Although their menu covers everything from bulgogi to hot and cold soups, they are known for their Deluxe and Combo boxes, which pull together tastes like seaweed salad, sashimi, veggie tempura, a selection of meats and other sides.
GOGI Korean BBQ | 1138 Bethel Rd., Northwest
At GOGI, you can cook your own meats and vegetables at the grill in the center of your table. It's a great place to gather and share a meal with a group. The BBQ packages include selections of different meats, from bulgogi to brisket, pork belly to filet mignon. Round these out with delicious starters, sauces and sides, and you'll have a fun and interactive meal on your hands.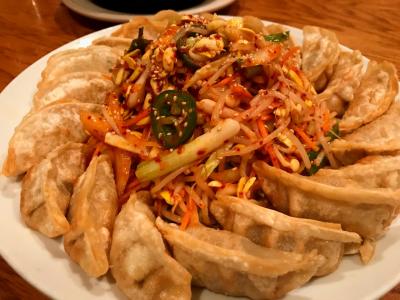 Poong Mei | 4720 Reed Rd., Northwest
Poong Mei features authentic dishes from both Korea and China. The large menu should satisfy any diner in your group. Begin with seafood pancakes, work your way through spicy jampong noodle soups, the zazangmyun (wheat noodle dishes made with black bean paste) and many more Korean specialties.