The Columbus Arts Festival returns to the downtown riverfront June 9-11, bringing three days of art, live music, theater and dance, fashion and film, local food and drink, and hands-on activities for everyone young and old. Here are nine reasons to visit the Festival this year!
1. More Than 225 Local and National Artists
Browse through hundreds of artists' work, lined up along the riverfront and over the Main and Rich Street bridges, featuring painting to photography, sculpture to jewelry, ceramics to woodworking, and much more. Artists come from across the country for the Festival, and more than 40 artists come directly from Ohio.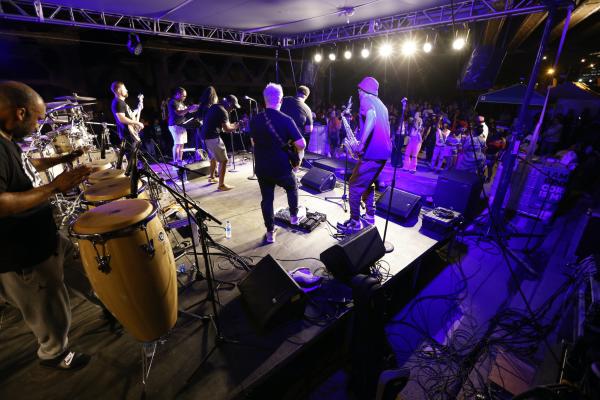 The Big Local Arts Stage, photo by Greg Bartram.

 
2. Free Concerts & Performances
The Festival features three stages of live music, dance, theatre, and poetry throughout the weekend. See Columbus-based bands at the Big Local Arts Stage. Catch local poets and storytellers at the Word is Art & Acoustic Lounge. Watch local bands plus dance and theater companies perform on the Genoa Park Main Stage. On Friday, June 9, see a fashion show from local designers followed by MojoFlo, and on Saturday, June 10, Ghost Shirt opens for Chicago indie trio Dehd.
3. Hands-On Activities for Kids and Families
At the all-ages Kids Hands-On Activity Village, volunteers from local cultural organizations help Festival-goers experience painting, silk screening, printmaking, drawing their own fantastical creature or designing a tote to carry artwork. Plus, with the Children's and Teen Art Gallery nearby, younger ones can purchase their own art at the kid-sized — and kid-priced — gallery.
4. A Mini Film Festival
Film at the Fest returns to West Bank Park this year. Film Columbus and Gateway Film Center have assembled a family-friendly schedule that includes features like Where The Wild Things and classic Looney Tunes cartoons, plus animation from college students, locally produced documentaries, and episodes of WOSU's arts-focused series Broad & High.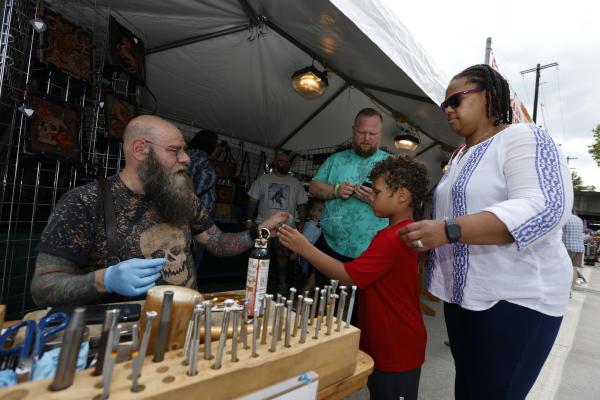 Big Local Arts Village, photo by Greg Bartram.

 
5. The Big Local Arts Village
The Festival-favorite Big Local Arts Village sits at the Franklinton entrance, where over 60 Columbus-based artists and creatives showcase and sell their work. Watch live metalworking, Japanese calligraphy, woodturning, and chain maille demonstrations, too.
6. Boozy Slushies from High Bank Distillery
Columbus' High Bank Distillery has crafted three boozy slushies using their award-winning whiskey or vodka. Perfect for cooling off while strolling the festival grounds.
7. The Rhinegeist Beer Garden
Thanks to Rhinegeist, Festival guests can relax in the shade of the beer garden, close to the Big Local Arts Village, with a refreshing Ohio-made brew. This year Rhinegeist brewed a hoppy wheat ale named Sketch just for the Festival!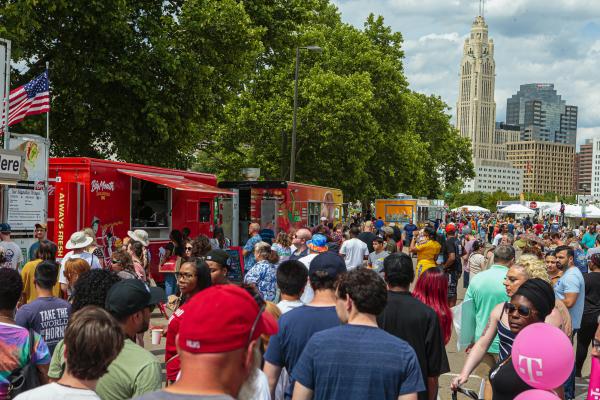 More than 40 food trucks will be onsite at Columbus Arts Festival. Photo by David Heasley.

 
8. More Than 40 Food Trucks & Carts
You won't leave hungry from the Arts Festival! From fried chicken, burgers, and barbecue to a wide range of international fare, plus vegetarian and vegan eats, the Festival features something for everyone. Be sure to cool off with a lemon shake-up or scoop of ice cream!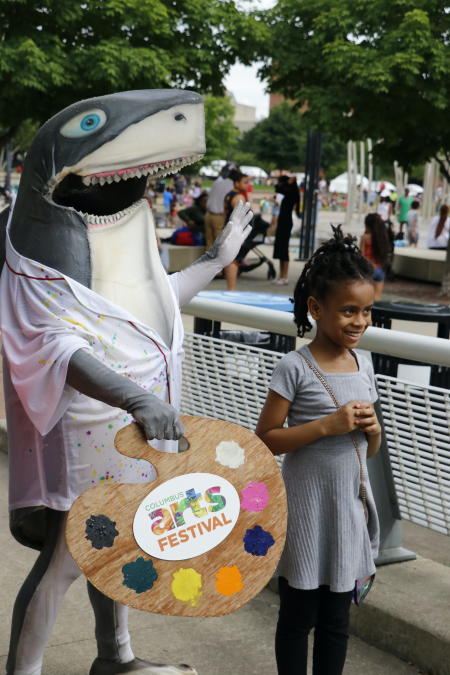 Greater Columbus Arts Council's "Art Shark". Photo by McKenzi Swinehart.

 
9. Plenty of Photo Ops
With rows of artist booths, exciting performances, stunning bridges and scenic riverfront, the entire Columbus Arts Festival is one big photo op! For the best photo at the Fest, head to the giant selfie frame on the west side of the Scioto near the Rich Street Bridge to snap a picture with the city's skyline as a backdrop.
Learn more and plan your visit at ColumbusArtsFestival.org, and follow Columbus Arts Festival on Facebook or @columbusartsfest on Instagram.