As a person who uses a manual wheelchair, my husband, Mark Leder and I enjoy eating out on occasion. When the weather permits we prefer to dine outdoors. There are many choices in Columbus to choose from! Not only are these restaurants accessible but the food is consistently delicious with great service. Here are a few of our favorites.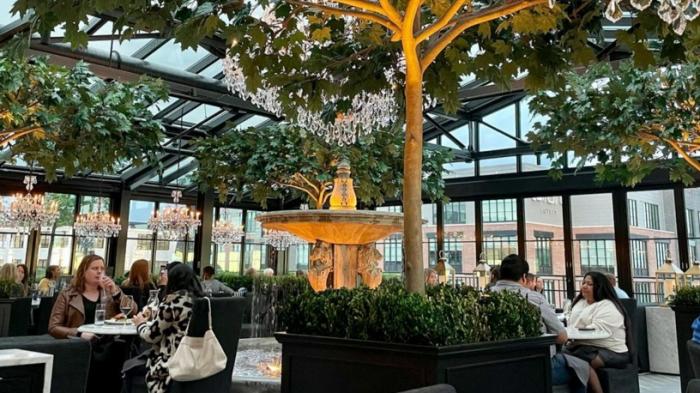 RH Rooftop Restaurant
For special occasions and when entertaining people from out of town, one of our picks is the RH Rooftop Restaurant at the Easton Town Center. Reservations are highly suggested.
Accessible parking is nearby on a surface lot and in a parking garage. Once inside the front door of the RH furniture gallery, a receptionist will escort guests to the large elevator to access the restaurant on the rooftop.
Guests dine inside a glass greenhouse with a decorative water fountain and elegant chandeliers. People can order drinks at the bar and carry them to the patio while they enjoy the rooftop view. For meals inside, the 30" high tables are at a comfortable height to roll under while seated in a wheelchair.
The 36" wide doors to the accessible restrooms are located in a hall with other separate gender-neutral restrooms. The accessible restrooms are spacious, well lit, furnished with grab bars, and have room for a person's knees to roll under the sink.
East Market
East Market recently opened after a major renovation project of a former trolley barn. It is located a few blocks from the Franklin Park Conservatory and Botanical Gardens, making this a great location for a stroll after dinner.
Accessible parking is adjacent to the building. The ramp to enter the building is easy to navigate. The restroom is accessible with designated stalls for men and women. There is outdoor dining on the patio. Some tables are 30" high so a person in a wheelchair can roll to position their knees under a table.
People have many choices of where to purchase food to bring it on the patio. Multiple vendors have market stands with a wide range of food and beverage selections.
Polaris Grill
For fine dining with American cuisine, Polaris Grill has spacious outdoor patio seating on a first come first serve basis. Reservations are encouraged. The quiet garden atmosphere outside is cozy. Wheeling up to a table makes the experience inclusive. Restrooms and tables are accessible. Accessible parking is near the front door.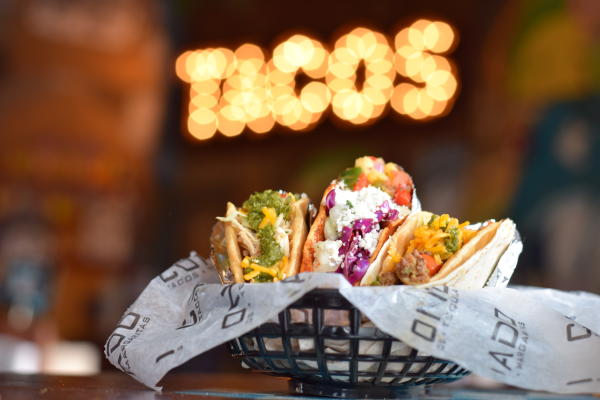 Condado Tacos
Here is a restaurant where people can dress casually, and create their tacos from an extensive list of varied ingredients. There are seven Condado Tacos locations in the Columbus area. I have eaten outdoors at the Easton Town Center and Polaris locations. Seating is first come first served so it is best to arrive before the dinner rush hour if you want to sit outside. Accessible parking is in the nearby parking lot. The restrooms are accessible as are the 30" high tables.