Whether to get exercise, meet friends, have a picnic, go fishing, or getaway to relax, parks have a way of rejuvenating the spirit. Columbus has a wide variety of accessible parks located throughout central Ohio. Features include accessible parking, restrooms, and playgrounds as well as paved trails.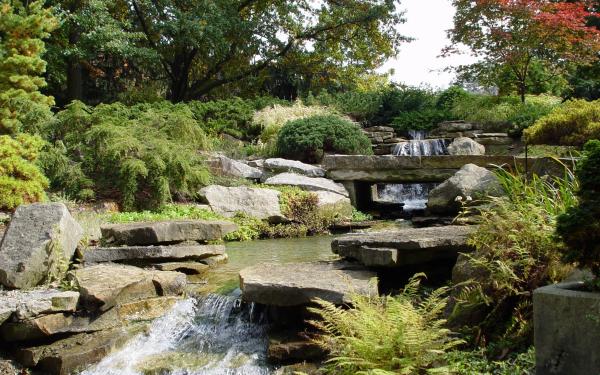 Columbus Metro Parks is a Central Ohio park system with 23 parks. One of these, Inniswood Metro Gardens is a 123-acre park located in Westerville. The wide trails are paved and most of the garden paths are flat. This makes it easy for people who use manual wheelchairs to navigate the grounds. Some paths are too steep for manual wheelchairs but gentle enough for power wheelchairs and scooters.
This botanical garden showcases plants during all seasons that provide colors and scents from the blooming flowers. Many of the plants are labeled with their names. This is a great spot for photos including portraits, landscapes, and closeups of the flowers.
There are picnic tables located adjacent to the accessible parking lot. Benches are conveniently located around the grounds. The accessible restrooms are located in buildings throughout the garden. Manual wheelchairs are available on loan at the main entrance at no cost.
Homestead Metro Park is located in Hilliard. This 44-acre park is very accessible including parking, restrooms, and a playground. There is a 2.5-acre fishing pond as well as a connection to a 6.1-mile Heritage Rail Trail. The trail is wide, paved, and flat, ideal for bikes, scooters, and manual and power wheelchairs.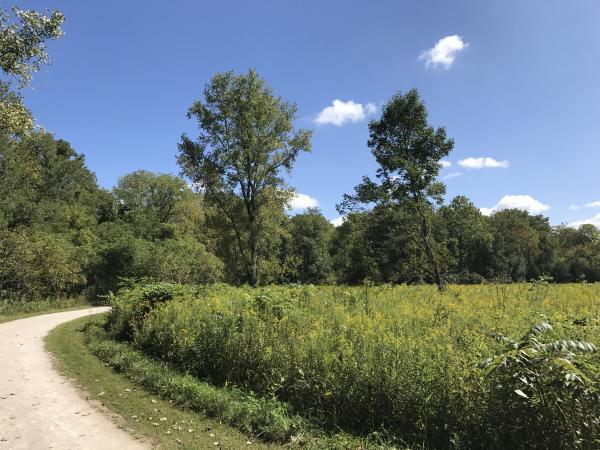 Three Creeks Metro Park a 1,100-acre park in Groveport is operated in partnership with the City of Columbus Recreation and Parks Department. Wildlife can be spotted in abundance here. Cyclists are attracted to the nine trails and connecting greenways that are wide, paved, and flat. These trails are also ideal for wheelchairs and scooters. The fishing pond, Heron Pond has a 0.6-mile loop around it. There is an accessible portable toilet in the parking lot by this pond.
Upon entering the main entrance from Bixby Road there is an accessible restroom in a building adjacent to the parking lot. There is a non-reservable shelter house with picnic tables and grills near this parking lot and the restrooms.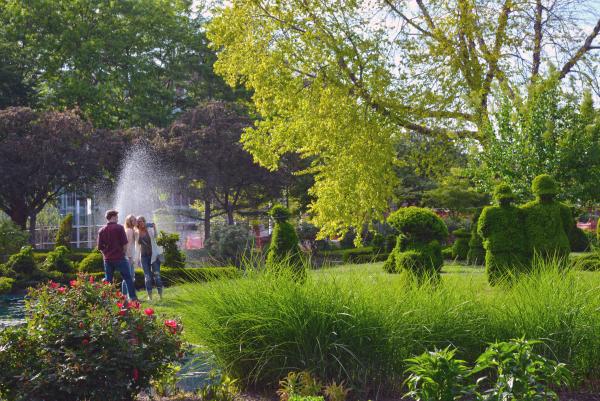 Topiary Garden Park is located at the site of the Old Deaf School Park in downtown Columbus. This park is a living recreation of Georges Seurat's famous post-Impressionist painting, A Sunday Afternoon on the Island of LaGrande Jatte. The subject of this painting is people relaxing at LaGrande Jatte, in Paris. The people are situated on the bank of a lake.
In this unique botanical garden, visitors will stroll along the paved paths looking at the topiary figures comprised of several varieties of Taxus. Some of the figures around the lake at the top of the hill are of people who are twelve feet tall. Other figures are of dogs.
The paved paths may be difficult to navigate in a manual wheelchair due to the slope, cracks, and holes. People who use scooters and power wheelchairs will have an easier time rolling on the paths.
Parking is available on the street. There are no restrooms in the park. There are several picnic tables and benches in the shade. 
This 6.947-acre park is a part of the Columbus Recreation and Parks Department. This department has nearly 400 parks in the Columbus community.
There is no cost to visit any of these parks. The only investment is your time. Take time to enjoy the outdoors, see the birds and wildlife, smell the flowers, and take photos to help you remember the pleasant times you enjoyed at the park. The benefits include restoration of your energy, body movement, being surrounded by nature, and a chance to have fun and improve your physical and mental health.