After it was announced that Buckeye Country Superfest would be taking a hiatus in 2018, many thought that one of country music's largest gatherings in the nation would be headed to the festival graveyard. Luckily for Columbus country music fans — an audience who isn't catered to as much as others in the state capital — the break after three highly successful stints was indeed necessary to bring back superstar-level performers. A summer staple at the Ohio State "Shoe" since 2015, the Superfest has always boasted stadium-packing stars, and even after taking 2018 off, organizers were still successful in booking some of the biggest names in the game for this year's event. 
Buckeye Country Superfest always does a great job at mixing up the talent by not bringing back the same performers year after year. Out of the five artists who are slated on the 2019 bill, only one has already performed at Ohio Stadium for this special occasion. However, with the repeat artist being Blake Shelton, you won't be hearing many complaints about the repetition. Headlining Buckeye Country Superfest 2019 alongside Shelton will be another country legend, George Strait. Noted as the "King of Country," Strait's range of influence goes beyond just country music. His performance is one you'll want to catch at least once in your life.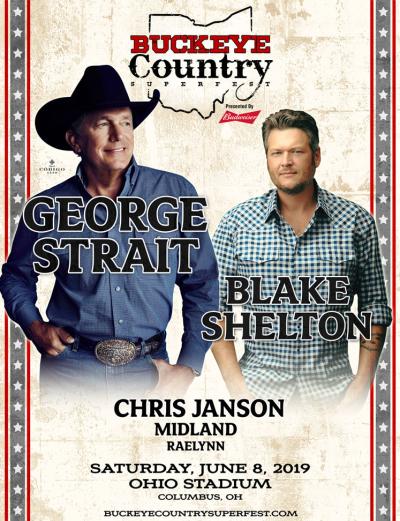 In the past, the Superfest has taken place over the course of a weekend and has featured artists such as Keith Urban, Rascal Flatts, Lady Antebellum, Luke Bryan, Zac Brown Band and Miranda Lambert. However, the 2019 edition will be cut down to a one-day celebration. On top of sets by Strait and Shelton, Chris Janson, Midland and RaeLynn will be joining the headliners this year. The event consistently brings in hundreds of thousands of country music fans to Columbus, and, with the lineup Buckeye Country Superfest has for this year, it may break personal attendance records. Since the event has taken place over two days in the past, a one-day celebration makes the experience more accessible and affordable to country music superfans.
Ohio Stadium has been the site of so many iconic shows, so to have country music fully represented at The Shoe once again is a major win for the country music community. With summer just around the corner, make sure to purchase your tickets today so you can kick off the season in style with some of the genre's most accomplished and hottest acts after a year off.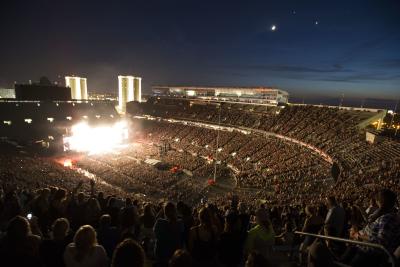 Tickets to the event right now are ranging from $70 in the upper deck all the way up to floor seats and lower level seating for $400 on Ticketmaster before fees. Club seats — featuring armrests and chair backs and access to air conditioning, bars and restrooms — are also available, starting at $155 before fees. You can also purchase tickets by phone (1-800-745-3000) or in person at the Schottenstein Center box office, which is open Monday through Friday from 8 a.m. to 5 p.m. if you want to avoid fees. Hotel and VIP packages are still being sold, starting with the $349 Here For A Good Time package all the way up to a $4,000 Hotel VIP package. Further information on purchasing a Hotel and VIP package can be found here.
Buckeye Country Superfest 2019 will take place on Saturday, June 8 at the Ohio Stadium. Doors for the event will open at 1 p.m. For more information, visit the festival's website here.