Located just 15 minutes northeast of downtown Columbus, Westerville is a vibrant city with a charming and historic Uptown, unique restaurants and a fantastic shopping district. This fall and winter, take advantage of their new and returning festivals and events to celebrate all off-season long. 
This article is sponsored by Visit Westerville and written by Experience Columbus staff.
Here are some can't-miss events to attend this fall and winter in Westerville.
Fall Events and Festivals in Westerville

Sip 'n Sketch at Good Vibes Winery, Oct. 17
Sunflowers are having their moment this season! Join Good Vibes Winery for an evening full of great sips and sketching of this seasonal beauty on Oct. 17. Presented by the Arts Council of Westerville, guests will create chalk pastel sunflowers to take home with them. Participation is $35 - purchase tickets.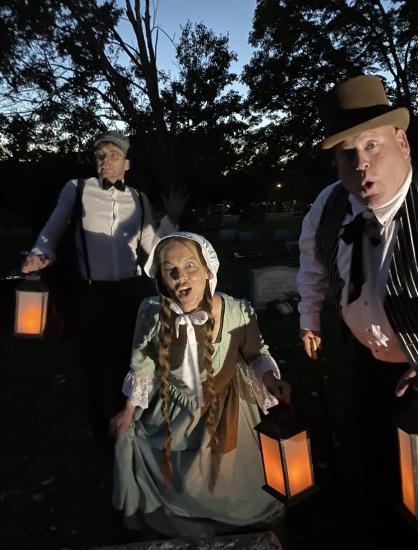 Spooky Uptown Ghost Tours are happening on Fridays and Saturdays in October

 
Uptown Ghost Tours, Fridays and Saturdays through October
It's officially spooky season so naturally, it's the perfect time for a ghost tour. For $25, hear stories collected from the Uptown Westerville community presented in a theatrical, historical and entertaining way! Staged in cooperation with Good Medicine Productions, Uptown Ghost Tours begin at the Otterbein Cemetery, 175 S. Knox St., and conclude at the Old Bag of Nails Pub housed in Westerville's historic Weyant Building, 24 N. State St. Friday and Saturday evenings in September and October, plus Halloween night.
Learn more and get tickets.
Autumn Festival, Oct. 7
It's fall y'all! Enjoy live entertainment, autumn-themed kid's crafts, and market vendors with fall offerings like apple cider, pumpkins, jams and more on the lawn of Westerville City Hall. Plus don't miss the classic car show in the parking lot around the back. Come for the festival and enjoy an afternoon in Uptown! Autumn Festival runs from 10 a.m. - 1 p.m. For more updates and information, visit the Uptown Westerville's Facebook event page.
Hoover Fall Classic

 
Hoover Fall Classic, Oct. 14
Consider this your invitation to join The Crew. The Hoover Fall Classic is the perfect event to introduce you to the world of rowing with a 5k race beginning just North of Red Bank, through the bridge at Smothers Road, to the finish line at Walnut Street. This event is free to watch - learn more.
Westerville Central High School Arts & Crafts Market, Oct. 14
It's time to SHOP! Find local treasures created by more than 130 juried arts & crafts vendors, bake sale, concessions and raffle bouquets. General Admission for this crafty event is $5 at the door. All proceeds benefit the students of Westerville Central through scholarships, teacher grants and yearly programming. Learn more.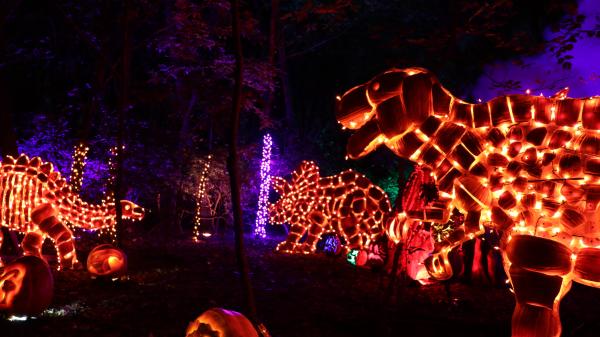 Pumpkin creations at The Great Westerville Pumpkin Glow

 
The Great Westerville Pumpkin Glow, Oct. 19-22
Get ready for an epic return of The Great Westerville Pumpkin Glow, promising an even grander experience with an expanded venue. This year, the event boasts a myriad of enchanting pumpkin displays and delightful not-so-spooky attractions spread across the park, showcasing the largest gourds you can imagine. Immerse yourself in the excitement with attractions like axe-throwing, intricate mazes, glowing LED mini golf and more. And let's not forget the tempting pumpkin-inspired treats served up by a diverse array of food trucks on rotation. With its family-friendly appeal and an abundance of things to see and do, a single visit simply won't be enough to soak in all the fun and festivities! Get tickets.
Wizards and Wands Festival, Oct. 1-31
Head to the Westerville Library for some magical moments at the Wizards and Wands Festival the entire month of October. This free event is for all ages and runs all month long. On October 27, during Westerville's Fourth Friday Festival enjoy performances by some mystical organizations like a magical creatures demonstration from Gator Dave, a Birds of Prey demonstration from Midwest Falconry, Mystical Science from COSI Science LIVE! and Magic-in-a-Minute Tattoos by Events by Maddy. Get the details and plan your visit today. 
Historic Plaque Dedication Ceremony, Nov. 4 
History buffs will enjoy this dedication and presentation of Westerville's historic plaques. The dedication will take place on the lawn of Westerville's City Hall at 2 p.m., followed by both guided and self-guided tours (be sure to enjoy a DORA drink while you tour!) Joe Meyer, author of Westerville: The War Machine of Prohibition, will be on site for a book signing. Additional seasonal activities and offerings will be available, as well.  For more updates, visit www.uptownwestervilleinc.com.
Winter & Holiday Events and Festivals in Westerville
Uptown Holiday Snack and Stroll, Nov. 19
The Annual Snack & Stroll will take place on Sunday, November 19 from 1 pm-5 pm. Visit participating establishments in Uptown Westerville to get a head start on your holiday shopping while enjoying delicious treats and snacks.  Visitors can also grab a DORA drink to sip on while they shop.
Progressive Christmas Concert and Soup for Shelter, December 8
You've probably heard of progressive dinners, but how about progressive concerts? Get in the holiday spirit with Westerville Habitat Partnership as they present the Progressive Christmas Concert, a festive gathering where guests attend three separate performances at three different venues in Uptown Westerville. Ticket holders will be led to the next venue by lanterns and costumed guides for a full night of fun. Get tickets.
And don't miss Soup for Shelter happening the same day at Otterbein University Campus Center. Tickets include a handcrafted ceramic bowl made by Columbus Academy students. Get tickets.
Holidays in Uptown, Beginning Dec. 1
It's a wonderful life in Westerville! The theme for this year's holiday season follows Frank Capra's holiday classic film and brings the magic to the heart of Uptown Westerville. The festivities begin Dec. 1 with the City of Westerville's Annual Tree Lighting. Just before the tree lighting will be a holiday parade starting at 6 p.m. 
Come for the parade and tree lighting, but stay for the shopping and even more fun! Sambuca's Country Market and Greenhouse will have a Christmas tree lot set up on E. Main Street for the evening and there will be plenty of other festive offerings, including a hot chocolate truck, chestnut roaster, and more!
Throughout the month of December, browse holiday goods from all the shops Uptown while surrounded by lavish decorations that are guaranteed to get you into the holiday spirit. Learn more.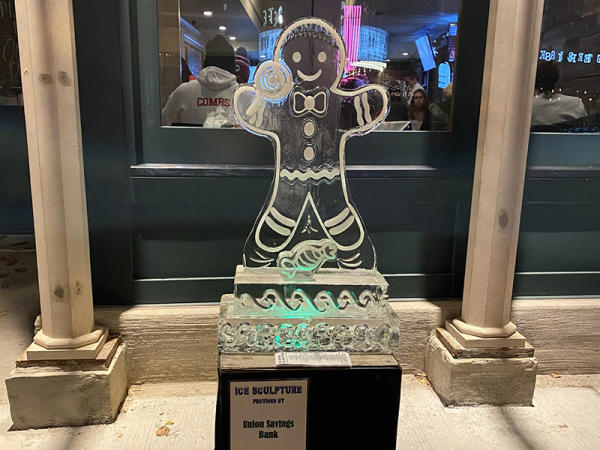 Uptown Ice Sculpture Tour

 
Uptown Ice Sculpture Tour, Dec. 15
This annual event brings life-sized ice sculptures to Uptown Westerville's businesses. Grab the family and see how many you can find this holiday season! Sculptures will be up starting at 5 p.m. and remain in place until they melt. More details to come! 
Westerball 2024 - Flock Together, Feb. 24
Save the date for WesterBall 2024! Flock together on Saturday, February 24th, 2024! This community arts gala flocks together all of the amazing talents in Westerville to celebrate under one roof. Check back for more details. 
Ongoing Events in Westerville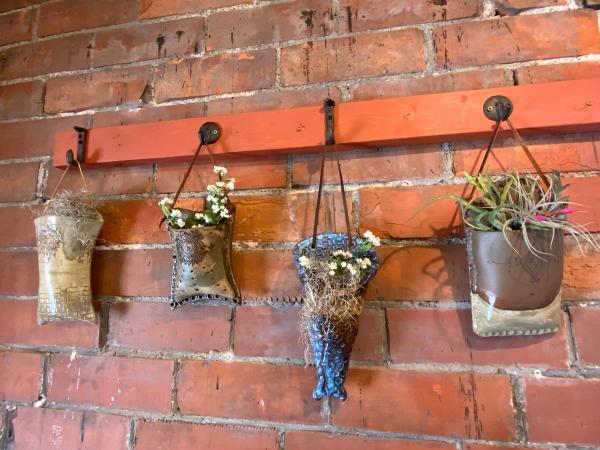 Create your own masterpiece like these wall pockets during a Create & Sip class at Uptown Art & Clay. Credit Uptown Art and Clay's website.

 
Uptown Art & Clay Classes (Occurring Regularly)
Bring your own beverage and head to Uptown Art & Clay for their Create and Sip classes this season. This adults-only opportunity is the perfect excuse to gather the girls (or guys) and get out of the house. Projects vary depending on the class so view their calendar of upcoming events and save your spot today.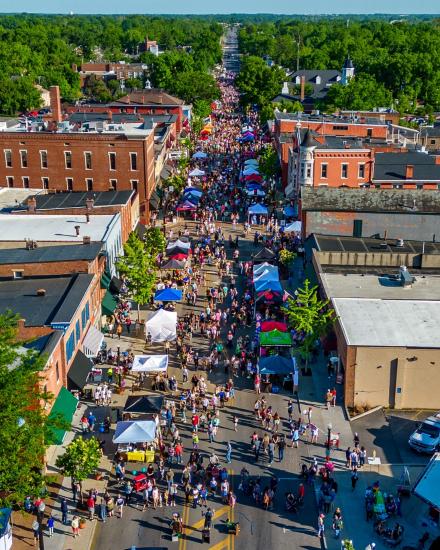 Fourth Friday, credit Gary Gardiner.

 
Westerville Fourth Friday, Oct. 27
Head to Uptown Westerville for the final Fourth Friday of the year! This free, family-friendly street festival is great for listening to live music and roaming entertainment, exposure to more than 100 pop-up vendors and trying tasty bites from local food trucks between 6 - 9 p.m. The best part? Uptown Westerville is home to a Designated Outdoor Refreshment Area, meaning you can take your drink to go as you enjoy the festivities. Learn more.
Events are alive and well in Westerville so mark your calendar for these can't-miss seasonal festivals and holiday happenings to attend this fall and winter.