Donatos Pizza celebrates its 60th anniversary in 2023. To celebrate this homegrown nationally recognized brand, we sat down with Executive Chairwoman of the Board and Chief Purpose Officer, Jane Grote.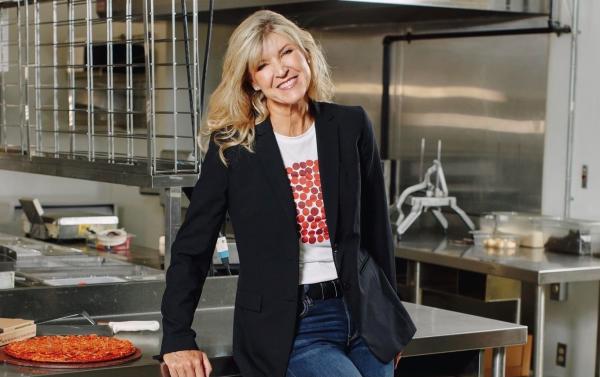 What inspired your father to break into the pizza business?
My dad started working at Cy's Pizza at the age of 13. From that early age, he learned the lesson of bringing his principles to work with him. He worked for one manager with great integrity who did everything with honesty and authenticity while treating employees and customers right. He always made sure the pizzas were made the same every time, and on the nights that he worked, the customers and employees were happy and business was good.  The other manager did not have the same work ethic.  He would cut corners on the quality of the pizzas by watering down the sauce or skimping on pepperoni.  Dad quickly learned that on the nights this manager worked fewer people ordered pizza and the employees weren't as happy. 
When Dad was 16, he had the opportunity to buy the business, but his father told him that pizza was just a fad and that he needed to stay in high school and then go to college and get his degree.  So, he continued to work through high school and into college.  Then, when he was 19 years old and a sophomore at The Ohio State University, he had the opportunity to purchase Donatos.  My dad was determined to prove that you could be in business and bring your principles to work with you.  So, he borrowed $1,300 from his dad and future father-in-law and bought the local pizza establishment.  The owner agreed to sell my dad the business, and he set up shop in front of my Grandpa Baumann's plumbing shop on the south side of Columbus.  
What is the history behind the name, "Donatos"?
Since Dad was not Italian and our family name of Grote didn't seem like the best name for a pizza place, Dad purchased the rights to the name Donatos from Don Potts, who was a local pizza owner on the south end and was in seminary school studying theology.  Derived from Latin, Donatos means "to give a good thing" and that really fit the way Dad wanted to run his business.  He believed in treating others the way he wanted to be treated and in leading with love in every decision that he made.  This philosophy has come to be known as Agape Capitalism and it has been the foundation for all the success that Dad and Donatos has had.
Tell us more about what the first days of Donatos looked like.
While Donatos had a rather inauspicious start in front of my grandpa's plumbing shop, my dad had a vision for where he wanted the business to grow.  He would sit on the front windowsill after work and visualize a black brick building in the middle of the neighborhood filled with customers coming in with smiles on their faces and associates who loved what they were doing.  He found the black bricks for the building in London, Ohio, built the first restaurant on Thurman Avenue, and shortly thereafter bought the house immediately behind it which became our home.
So many of my childhood memories come from living behind the restaurant.  When people would come to pick up their pizza, my dad would tell them to go visit my mom and us kids if their order wasn't ready and would write "B.A.G." on the order for Back at Grotes.  My mom would always open the door with a smile and welcome them in.  Every night, our living room was full of customers and we learned what hospitality was all about at a really young age.  We also got to know all of the associates and they became family to us.  Many of our first crew worked for us for more than 50 years!
As it pertains to Donatos, what accomplishment are you most proud of in the last several years?
We are very proud of the success that our company and franchise restaurants have had, our continued growth through franchising, and our strategic partnership with Red Robin.  We are incredibly grateful for the tireless work that our associates did throughout all the challenges of the pandemic.  We are also very excited about the efforts of the Donatos Family Foundation; Love Our Neighbor which was created in 2022 and in just its first year of existence gave back more than $400,000 in the communities that we serve through our pillars of housing, hunger, and health.  At Donatos, it's bigger than the pizza!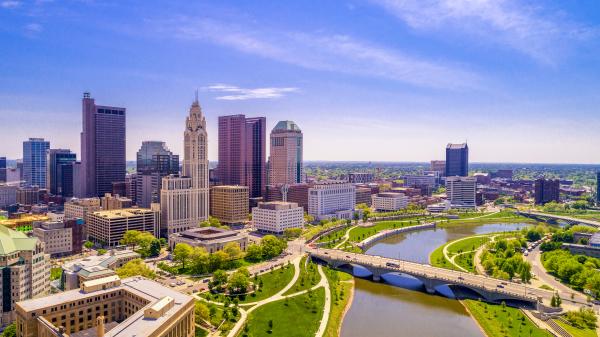 What makes Columbus the best place for the Donatos headquarters?
The south side of Columbus is where we got our start and it's where we lived.  We are passionate about our hometown city which has so much to offer.  Since all of our restaurants use our proprietary products, it helps our distribution system deliver ingredients to the local stores due to our geographic location.  Columbus is also home to many other restaurant brands and is considered a great market to test new products because it has such a diverse population. But more importantly, Columbus is a welcoming community that prides itself on being a place where people can work, live, and raise a family.  It has a robust job market, lower than the average home and living costs, countless entertainment options, and is a place so many people can find a 'home'.  We are a booming and thriving city, and we are just getting started.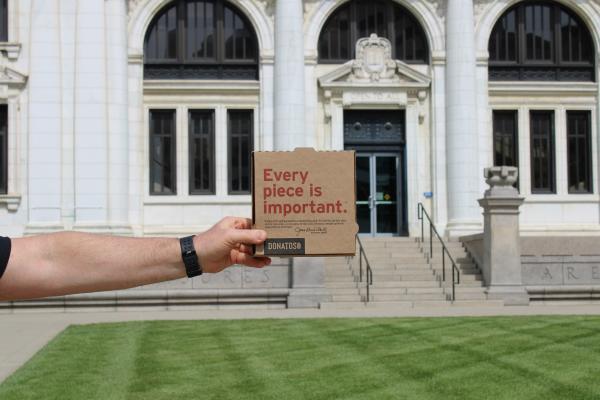 What does the future hold for Donatos? What's next?
While we are celebrating 60 years of serving the best pizza and making your day a little better, we are really excited about our future.  Our company started with my dad's vision and innovation and that continues to this day as we are continually exploring new ways of providing the best experience for both our customers and associates while always making a great pizza.  We are also excited about our growth as we have the opportunity to serve more customers, provide more jobs, and give back to more communities.  We're currently in 27 states with 455 locations and more locations will be added soon. We're also excited that the third generation of our family is actively involved in our business and can't wait to see how they continue to guide what my dad started 60 years ago.
Learn more about Donatos and share your memories with us using #LiveForwardCbus.