Hanukkah is an eight-day winter "festival of lights," traditionally celebrated by those who follow the Jewish faith. It begins on the 25th day of the Jewish month of Kislev and follows the Hebrew calendar which is based on the lunar cycle meaning it can occur on different dates each year.
Columbus is home to many who celebrate Hanukkah and organizations that host different events honoring this holiday. Chabad Columbus hosts many events every year in honor of Hanukkah. Check out their Eight Nights of Fun 2022 calendar of events! Learn more about Chabad Columbus here.  
Menorah Lighting at Easton Town Center
December 18 | 5 pm
Attend this event by Easton and Chabad of Columbus to view the Menorah Lighting in Town Square. This family-friendly event will be full of raffle prizes, music, refreshments and more! Learn more about this event and other holiday happenings at Easton, here.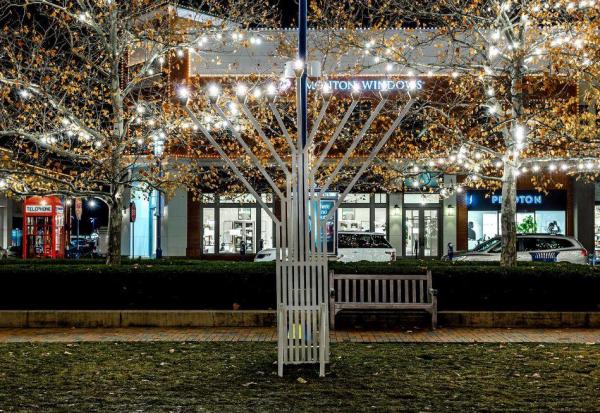 Maccabee Landing Dreidel Drop & Chanukah Candy Canon
December 18 | 2:30 pm
Ahead of the first night of Hanukkah, this free event consists of a Hanukkah Hero skydiving from a helicopter to light the first candle! Join in the fun at Bevelhymer Park Yellow Zone, 7950 Bevelhymer Road, New Albany, OH 43054.
Blue Jackets Menorah Lighting at Nationwide Arena
December 19 | 6 pm
Cheer on the Columbus Blue Jackets with the Jewish community! Each ticket includes an exclusive Hebrew CBJ Hat and Kosher food. Buy tickets, here. 
The Ohio State House Menorah Lighting and Party for Young Jewish Professionals
December 20 | 6:00 pm 
Watch the Statehouse Menorah light up followed by a Chanukah Party inside the Museum Gallery. 
Bexley Menorah Lighting
December 20 | 6:00 pm 
Head to Drexel Circle for Donuts, dreidels, dancing and apple cider at the Bexley Menorah Lighting. 
Ice Skating & Menorah Lighting at Chiller Easton
December 21 | 6:30 pm
Enjoy ice skating, Chanukah music, crafts, donuts and more at the Fire & Ice event. Register, here. 
Friday Night of Lights
December 23 | 4:30 pm
Occurring on the Friday of Hanukkah, guests enjoy a grand Menorah lighting followed by a family-friendly, three-course meal at the Lori Schottenstein Chabad Center in New Albany. Register, here. 
CTeen Limo Drive
December 24 | 7:30 pm 
Ride in a limo with a Menorah affixed on top of it with Chanukah music and Dreidel Championship! Sign up here. 
Happy Hanukkah to those who celebrate! Please share your memories with us on social using #HolidaysInCbus.