Happy National Dog Day! Recognized internationally each year on Aug. 26, National Dog Day celebrates K-9s of all kinds and serves to bring recognition to the number of dogs that need to be rescued each year, either from shelters or rescues.
This year, we're teaming up with Columbus Humane to celebrate, and asking everyone to share their #NationalDogDay puppy pics on social media and tag @ExperienceColumbus and @ColumbusHumane. For every photo we receive, we'll donate one pound of food to their Pet Food Assistance Program! One lucky dog-lover will also win a special prize pack filled with a bowl, collar, treats and more.
To kick things off, we've rounded up some of our staff's favorite spots to hang out with their furry friends. Read on for cute pics and great ideas on where to celebrate National Dog Day in Columbus!
Archie and Brian: Hocking Hills State Park
Brian Timm, director of corporate partnerships at the Greater Columbus Sports Commission, enjoys taking his grand-dog Archie to Hocking Hills whenever he comes for a visit. Brian's family has made a tradition of renting a cabin over Thanksgiving weekend and enjoys spending time off the grid together.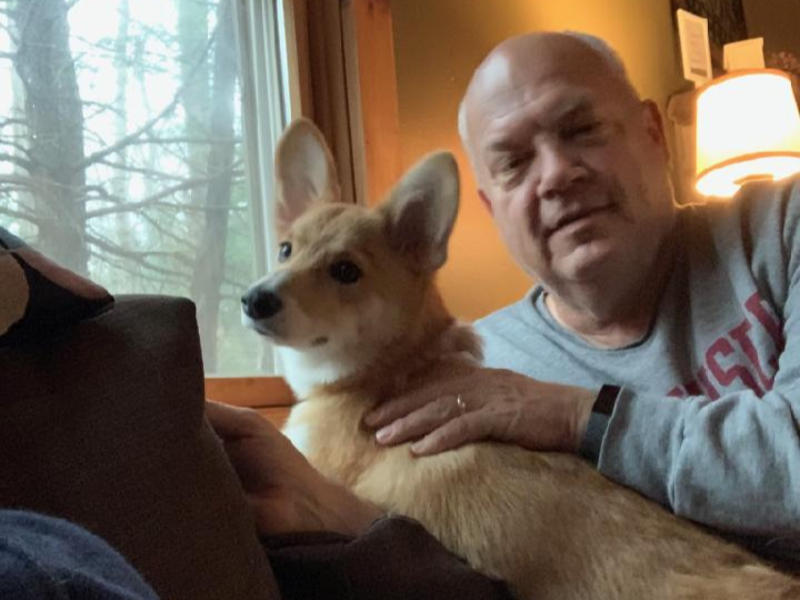 Bo and Maggie: Heritage Trail Dog Park
Though he's almost getting too big to be held by Experience Columbus' Market Analyst Maggie Blake, Bo is still just a baby! This growing boy's favorite place to run out all of his energy is Heritage Trail Dog Park, which can have some exceptionally beautiful sunsets.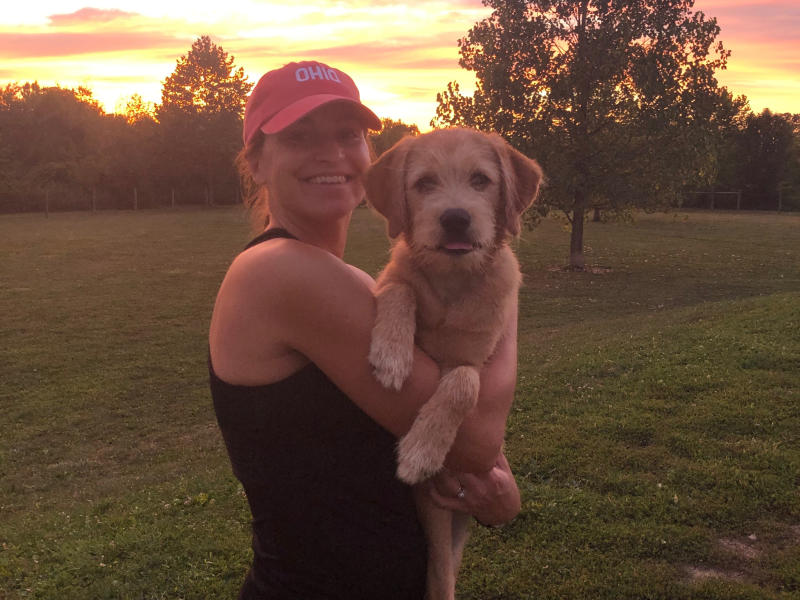 Bogey and Ariana: Harrison Park
Greater Columbus Sports Commission Event Manager Ariana Tyler loves taking her dog Bogey to check out the artwork at Harrison Park. Here they are pictured under the sculpture "Through" by artist and Ohio State University Graduate Todd Kime. Kime says this piece was inspired by the iconic entryways of the homes in the neighborhood. Harrison Park also features four other artworks designed by CCAD students that were selected by a community-wide vote and while his human admires them, Bogey enjoys some off-leash playtime with the other neighborhood pups.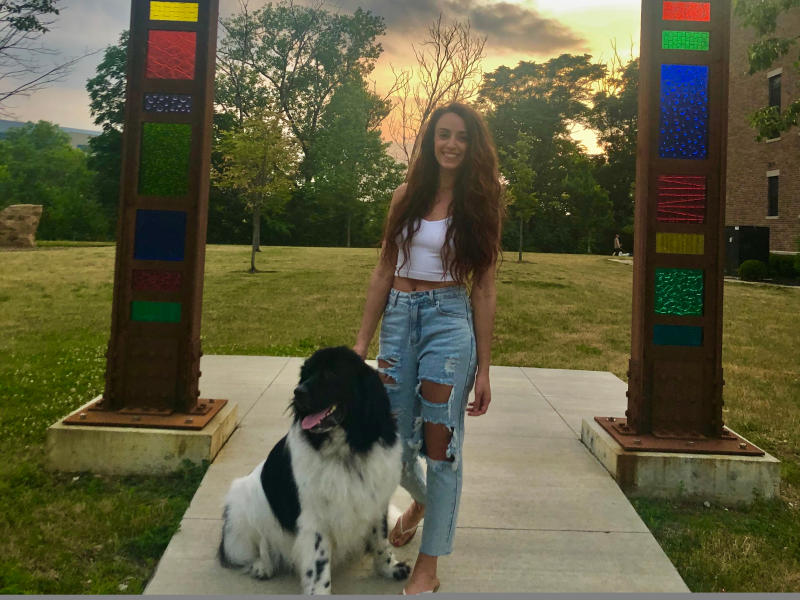 Cheddar and Lexi: Crimson Cup
Without a dog of her own, Experience Columbus PR Manager Lexi Sweet spends as much time as possible with her dog-nephew Cheddar. One of their favorite activities is going through the Crimson Cup drive-through on Lane Avenue, since Cheddar always gets a treat from the employees when Lexi gets her coffee. The COVID-19 drive-through setup at Crimson Cup is incredibly efficient and dog-friendly!
Coco and Alexis: Park of Roses
Experience Columbus' Senior Experience Manager Alexis Perrone spends much of her free time fostering furry animals in need, including her recent house-guest Coco. Coco needed lots of surgeries to correct a broken leg, so now he enjoys long walks on all four legs where he can stop and smell the roses. Here he is relaxing after a recent trek through Park of Roses in Clintonville.
Elli and Jenna: Schiller Park
Sweet Elli likes visits to Schiller Park in German Village with her human Jenna Craig, marketing manager at Experience Columbus. They both love the ample amount of shade provided by trees as well as close proximity to amazing coffee shops and lots of wildlife to keep Elli entertained.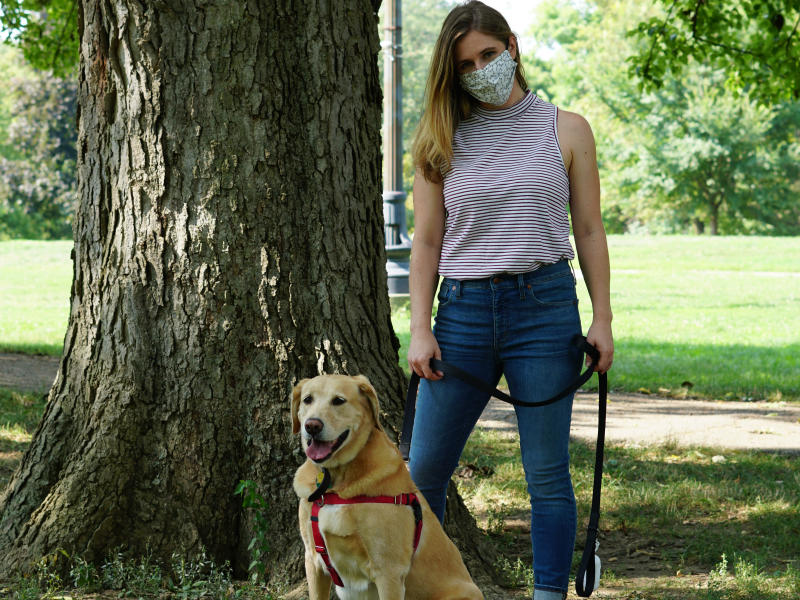 Ellie and Erica: Alum Creek and Highbanks Metro Park
Ellie is an extremely active pup who keeps the Greater Columbus Sports Commission's event specialist, Erica Cornell, on her toes. Erica and Ellie like to play at the Alum Creek Dog Park at Alum Creek State Park, which is the perfect place for dogs in the summer because a portion of the fenced in dog park is in Alum Creek Lake so pups can play in the water and stay cool! Ellie loves to swim and retrieve tennis balls from the water. Highbanks Metro Park offers an abundance of trees and trails, including the pet-friendly Coyote Run Trail that offers a mix of shaded woods and open fields to explore, and the trail itself consists of grass and dirt which is nice break from pavement.  Ellie loves it because there is an abundance of sticks!
Gracie and Katie: Goodale Park
This good girl Gracie likes trips to Goodale Park with her human, Beth, and Aunt Katie Suty, senior events manager at Experience Columbus. There is so much for Gracie to see and explore at Goodale, including beautiful flowers and trees. The Suty sisters love even more because it is always followed by a drink and people-watching on a patio in the Short North Arts District.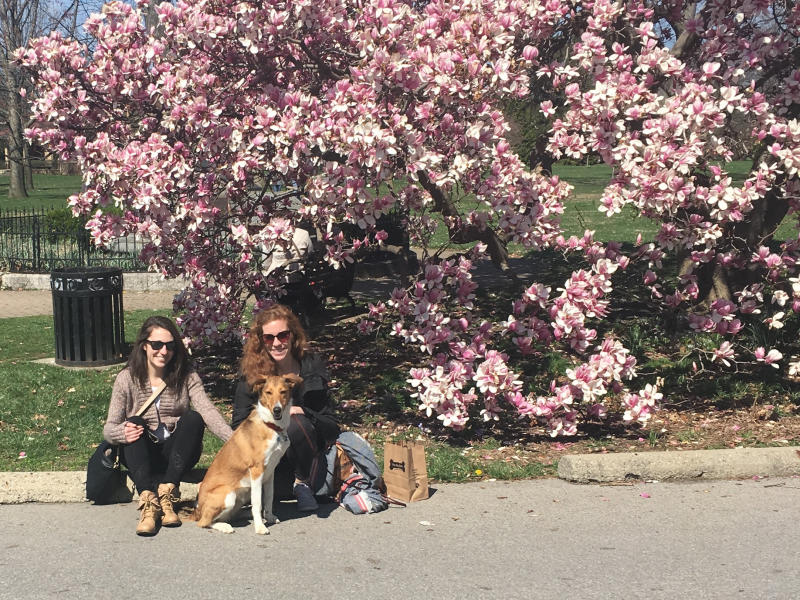 Killian and Keiana: Franklinton Arts District
Killian loves leading his owner Keiana Mitchell, partnership manager at Experience Columbus, on tours of the beautiful murals in Franklinton Arts District. This edgy neighborhood on the west side of the Scioto River is growing and changing every day so there's always something new to see!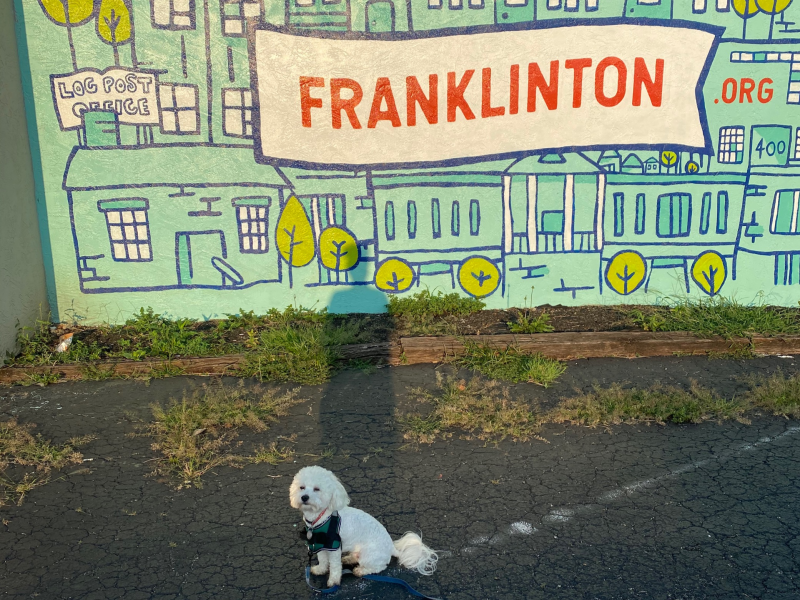 Lucy and Riley: Oddfellows Liquor Bar
Riley Neuheardt, Greater Columbus Sports Commission marketing specialist, loves taking her dog Lucy to the Oddfellows Liquor Bar patio because the space is so large and dog friendly. There's plenty of room for Lucy to sit next to the table or lay down underneath while her humans enjoy a drink or Mikey's Late Night Slice. The staff will bring water dishes or treats to dogs on the patio, and there are always plenty of people that stop to pet her, so Lucy loves it too. It's really nice that this dog-friendly outdoor space is right in the middle of the Short North.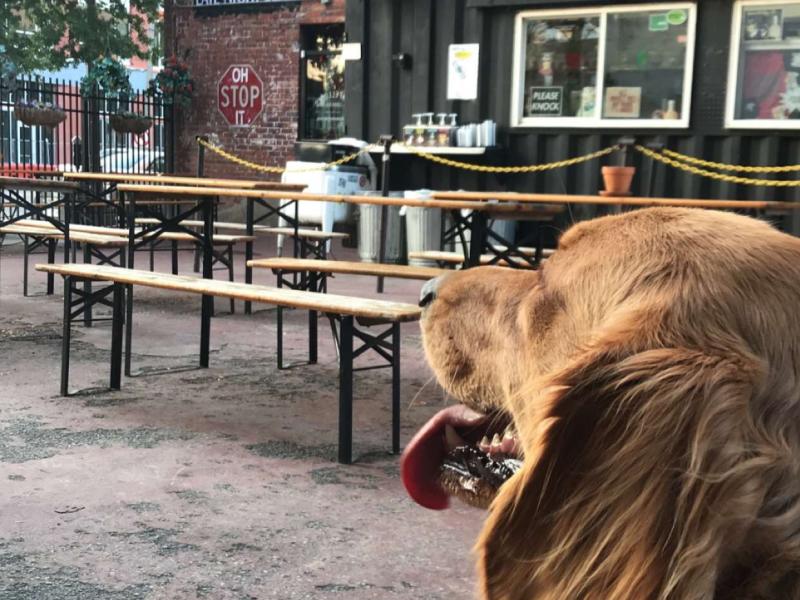 Pip and Roxanne: Alum Creek Trail
Experience Columbus Visitor Information Specialist Roxanne Martin's pup Pip is always up for an adventure! He particularly likes to hop in Roxanne's bike basket and traverse the Alum Creek Trail, where they can go all the way from Westerville to Three Creeks Metro Park.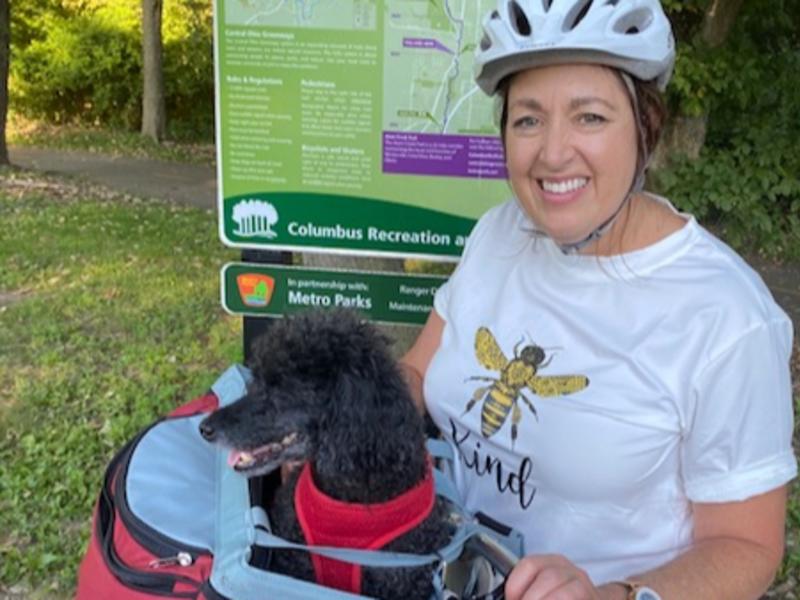 Scarlet and Nicole: McFerson Commons
Scarlet is too antsy to pose for many pictures, but she loves when her human Nicole Ayala, senior executive assistant at Experience Columbus, takes her to McFerson Commons. Affectionately known locally as Arch Park due to the ornate arch from the former Union Station train station that sits at the entrance, McFerson Commons offers plenty of wide-open space in which Scarlet likes to run and play.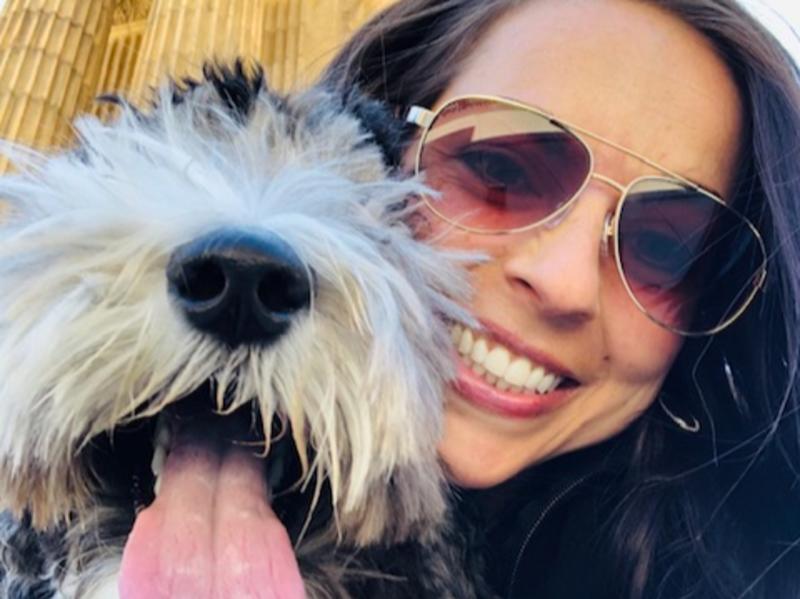 Tripp and Taylor: Luck Bros' and C Ray Buck Sports Park
Trip likes to go wherever his human Taylor, sales manager at Experience Columbus, goes in their neighborhood of Grandview Heights. In particular, he likes to wait in line for coffee at Luck Bros' Coffee House with his friend Feenie, and getting tangled in his leash at the nearby C Ray Buck Sports Park!
Wrigley and Maureen: BrewDog
Wrigley loves taking a short road trip with his human Maureen, visitor information specialist at Experience Columbus, to BrewDog's U.S. headquarters in Canal Winchester, about 20 minutes from downtown. This very good boy can romp around in the on-site dog park while Maureen sips a craft beer on the patio. BrewDog is incredibly dog friendly, providing water bowls at each table, and all the staff and patrons love dogs and don't mind an excited bark here and there.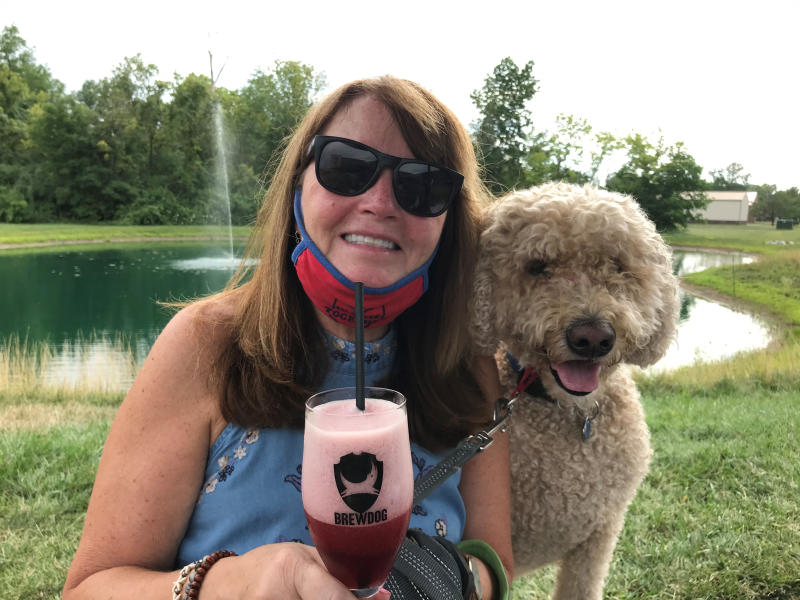 Learn More: