Just one year ago, the Budd Dairy building in Italian Village officially began its new chapter of life as the Budd Dairy Food Hall. Once "America's finest milk bottling plant" that produced 900 gallons of milk per day, it's taken just 12 months for the former Budd Dairy plant to become a popular, well-loved community gathering space.  
It's not just the building that's special about this food hall – step inside its historic, subway tile-lined walls to sample the fruits of Budd Dairy's primary mission: providing a chef incubator space for up-and-coming culinary creators, creators that span a wide range of tastes and flavors. Whether stopping in to enjoy the game, catch live music, shop a Saturday market, or just try something new, locals and visitors alike have welcomed Cameron Mitchell Restaurants' first food hall with open arms. After all, who wouldn't love the option to choose between everything from fried chicken to lobster and poke to tacos?  
Read on for just five reasons you need to visit Budd Dairy Food Hall in Columbus!
This piece is sponsored content paid for by Cameron Mitchell Restaurants and written by Experience Columbus Staff.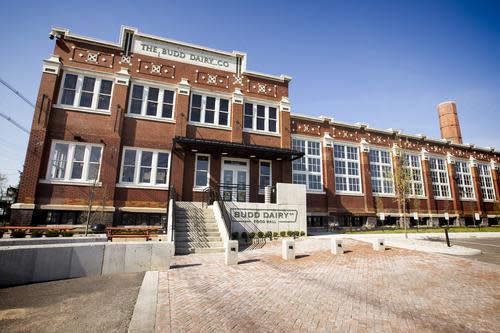 1.  It's Among the Best in the Country! 
Within its first few months of existence, Budd Dairy was named to Fodor's Travel's "10 Best New Food Halls in the U.S." Doesn't get much better than that! Fodor's called out Budd Dairy's historic home and highlighted the spaces throughout the building where guests can enjoy their food and beverages. If you haven't made it to the food hall yet, you're in for a treat - one of the most fun parts about the Budd Dairy experience is that guests can enjoy their orders in any dining space throughout the building, whether that be the lounge, the main, subway-tiled hall or outdoor space. 
2. The Rooftop Bar 
Speaking of outdoor spaces to enjoy a Budd Dairy meal, you haven't experienced Budd Dairy if you haven't explored the building's rooftop bar. With views of Italian Village and a light, summery ambiance, the rooftop can be enjoyed in any weather. In colder months, you'll find the rooftop enclosed in a clear cover and heated from within, meaning you can sip your cocktails on cozy patio furniture even if it's a chilly day.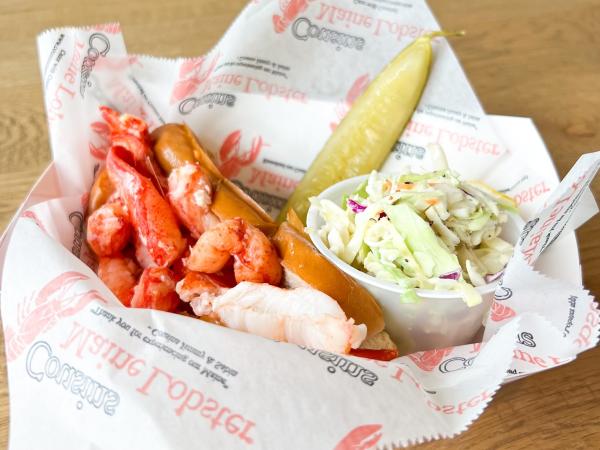 3. The Diverse Food Offerings 
No matter what you're craving, Budd Dairy has something to offer – after all, current choices at the hall include noodles, seafood, fried chicken and Filipino street food! Whether you're picking up dinner for yourself, meeting friends, or coming with every member of your extended family, there are options for foodies and picky eaters alike.  
Budd Dairy's creativity lies in the freedom it provides its chef partners. Stop in for brunch on any given weekend if you're feeling adventurous – you'll never be able to predict your menu choices, as only certain partners elect to serve brunch and they create whimsical and creative dishes that you may only be able to try once.  
If you need time to mull over your food options, snag a drink at the bar that's located in the center of the main hall. From cleverly named drinks that rotate regularly to the popular Lemon Shake Up (served in a cup so bright you'll be instantly transported to summer days at the fair), you can't go wrong.
4. Incubator Space 
Budd Dairy hosts vendors for varying lengths of time, ensuring that up-and-coming chefs have space to experiment and gather devoted fans. It helps them hone their menus, gain a broader audience, and explore their talents. You might even recognize some vendors from pop-ups or food trucks around Columbus. Dining at the food hall means you're actually assisting culinary creatives with finetuning their craft! (Fine, twist our arms…)  
As part of its design, the food hall has two vendor booths that change chef partners more frequently than the others. Hatch serves as a kitchen that rotates out select up-and-coming chefs every few weeks. Sugar is Hatch's dessert equivalent, featuring rotating dessert creators. 
5. Location 
Budd Dairy is located in Italian Village, a charming neighborhood north of downtown. The building has two parking lots and plenty of surrounding street spots for those visiting, so planning your visit couldn't be easier. Nearby, you'll find several other restaurants and coffee shops that are local favorites, meaning your trip to the food hall can easily turn into a full food tour of the area! (Who's complaining about that?) It's easy to explore Italian Village at this perfect juncture of ingenuity, history, and food.
Budd Dairy has become a staple of the Columbus foodie scene and should be a must-see on anyone's Columbus itinerary, whether you're a local with a free afternoon or a visitor hitting the hot spots. As we celebrate the food hall's one-year anniversary, don't forget that Budd Dairy offers more than just food – you can catch lots of great live music, Saturday markets (season permitting), trivia nights, tastings, and more. You can find the food hall at budddairyfoodhall.com, and while their website remains the most reliable source of updated operating hours, you can generally spend time at Budd Dairy from 4 p.m.-11 p.m. on Tuesdays and Wednesdays, 11 a.m.-11 p.m. on Thursdays, 11 a.m. - midnight on Fridays and Saturdays, and 11 a.m.-10 p.m. on Sundays.
Share your memories with us using #LiveForwardCbus and find more inspiration here.