Avishar Barua, head chef of Service Bar at Middle West Spirits, will compete on Season 18 of Top Chef, premiering April 1 at 8 p.m. on Bravo. Known for his unique culinary creations, such as the Cheesy Brisket Crunch lauded by Food & Wine, Barua will be the first Columbus chef to participate in the famous competition. This season is set in Portland and there are many changes from season's past to ensure COVID-19 compliance. We sat down with Avishar ahead of this season's premier to learn more about his journey - check it out below!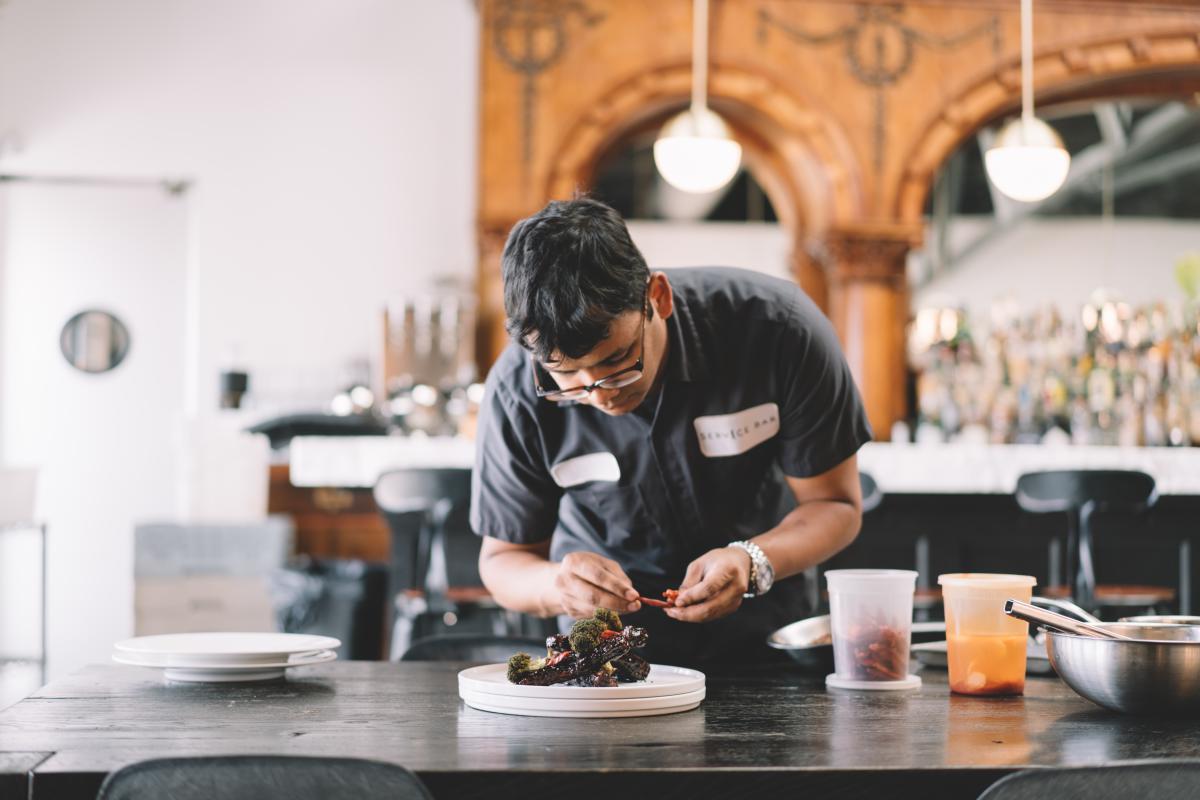 How long have you been working toward this goal?
Top Chef has never been a realistic goal for me; I've never even considered it a possibility! I was extremely surprised and humbled at the opportunity! As soon as I accepted it as reality since I was actually already in Portland haha!
What does it feel like now that you've finally achieved it?
I feel grateful for all the people that have worked with me throughout the years to help me build the culinary confidence and personality I needed to commit to such a prestigious competition.  It's great to feel comfortable enough leaving a restaurant in capable hands and having the support of the community, of your staff, of your family and even the people who you are competing against!  I knew I was going into a competition; I didn't realize I would be leaving with a new family!
How did your experience at Service Bar best prepare you for the Competition? 
Service Bar has always been supportive of my ideas, been undersized in the kitchen department, made no excuses no matter what challenges we've come across and been full of welcome (and some unwelcome) surprises.  Getting to be a solution-finder instead of a problem-seeker for both staff and guests has required quick thinking, fast responses and sometimes making what seems like insurmountable feats possible.
How can the Columbus community best support you on your journey?
The Columbus community is one that I'm proud to come from; they can support me by supporting anyone who is trying their best to make the best food and hospitality environment that they can!  We do not have a crazy large population like some of the other big cities, but we do have a lot of heart and innovative ideas. The last year has taken a toll on all of us in the restaurant industry but we won't give up! 
Consider driving a few more miles around town to support some of the smaller businesses that make amazing food.  Be open to trying new things and be understanding that people that work in restaurants are people too; if you're polite they usually will do whatever they can to make your day better. Dialogue is important, many conversations are still to be had about the culinary landscape, let's (digitally for now at least) all get together and discuss how we can think of some creative solutions to showcase our city for how awesome and unique it actually is!
Is there anything special we can look forward to this season?
Other than the first representative from Columbus (no pressure there!), in a season filmed unlike any other, with the most diverse cast and a selection of fan favorites in the All-Star judging cast for the first time?! Now you're asking for too much! I can say this: maybe; but you'll have to tune in to find out 😉!
Follow along to make your own salsa with Avishar: