Avishar Barua is the executive chef and general manager of Service Bar (at Middle West Spirits). Known for his unique culinary creations, such as the Cheesy Brisket Crunch lauded by Food & Wine, he competed on Top Chef's Season 18. He was the first Columbus participant in the famous competition! 
Back in the 614, Service Bar is undergoing exciting renovations; Avishar gave us some insight and reflections into his experience on Top Chef, as well as what Columbus residents and visitors alike can expect from Service Bar when it reopens. Read on to hear his thoughts!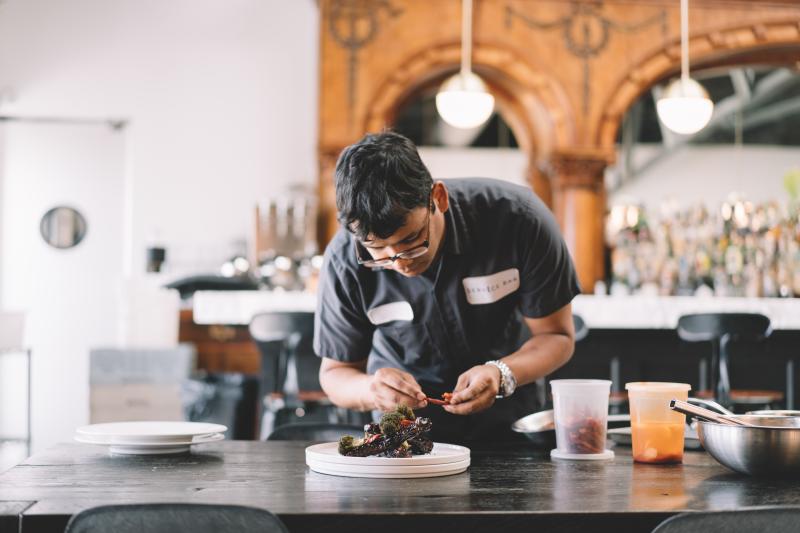 What did you think of your experience on Top Chef? 
It was nerve-wracking because I never thought this opportunity would happen. I kept telling myself it was some kind of prank, even when they put me on the plane; it was unreal until the timer started. But then you just snap to it - you just go to your instincts.  
How did your experience change the way you approach your work? 
It's nice to be criticized as the highest level. I'm an introvert and now everyone knows this version of me that's on TV, so it was definitely a weird experience, but I was happy that I got a chance. A lot of people don't get that opportunity, so it was cool. I just wanted to represent Columbus well, honestly. That's what my goal was.  
Did your experiences on Top Chef change how you approach cooking?
Yes and no. The time constraints are real, so those do push you. Have you been in a kitchen with fourteen other chefs at the same time? Normally, you have line cooks and sous chefs, and they'll listen to you. In this situation, you're all competing for a prize, so everyone's pushing each other and you're all just trying to get it done, but it was very humbling. It was cool to see chefs as people.  
The new Talenti Layers flavor, Peanut Butter Crunch - based on your Quickfire-winning Buckeye BonBon - recently starting hitting grocery store shelves. Have you seen it in a store yet? What has that been like for you? 
I have, actually. They sent me a freezer truck with only 18 pints of ice cream in it – I thought, I could just go buy this at Kroger! But it was fun. The flavor is very, very good. As a chef, you always wonder how McDonalds and Taco Bell make recipes that work so well. They adapted something that I made on the fly on TV with these layers, and they nailed it. There's a brown butter graham cracker layer with chunks of cracker, and it's nice to have that texture in ice cream. 
What was it like the first time you saw the Talenti flavor in stores? Were you really excited? 
I got a lot of questions about when it was going to show up in stores, so I was relieved to see it when it got stocked. I felt like I made it! 
We know that Service Bar is currently undergoing renovation. That said, can you tell us if that includes the menu? If so, what can we expect? 
Yes, it does. It's definitely going to be different. When we were running Service Bar before, we were absolutely pushing the limit every day. If you've seen that kitchen, it was one-quarter the size of the dining room. Our philosophy was, "We never make excuses, we just make good food." We always tried to do more and more. But, with conditions now, we just want to make food that makes people happy and gets them excited to come here. 
We also want to bring in the brand quite a bit more; Middle West has been supportive the entire time. We've been able to do a lot of things because of them. It's a great product, a really good bourbon and their vodka is very good. I had a choice to do my own thing or go with Middle West, and I chose Middle West. They make good stuff, so it'll be cool to learn more about them. So, the renovation will tie into the brand a lot more.  
How will you incorporate what you learned on Top Chef into the next iteration? 
You'll see! Stay tuned.  
Do you have a timeline for reopening? 
We do - a holiday season (I'm not saying which one). When we reopen, we want to reopen sustainably with people who will enjoy their time working there. My staff is the reason I existed even when I was on Top Chef. When I was on Top Chef, I was gone for three whole months which I've never done in my entire life - and no one really knew I was gone, which was amazing! They wanted to show that they could run things while I was gone and they really stepped it up. So I want to continue to find people like that.  
Follow along to make your own salsa with Avishar: