Summer is a colorful mix of bright blue skies and vibrant green grass, and this season, Columbus is amplifying that palette with a captivating addition—a new, floating sculpture created by renowned artist Janet Echelman. Nestled at the intersection of Gay and High Streets, Current not only breathes life into the cityscape but achieves something truly exceptional that sets it apart from any other sculpture on Earth.  
*All photography for this article was provided by Columbus Downtown Development Corporation.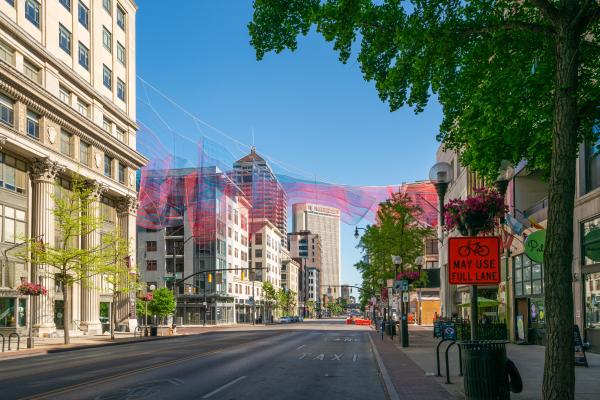 The view of Current, from High Street in downtown Columbus.  

"This is the first in the world to mount a permanent over sculpture over a major thoroughfare," declared Echelman "Many cities have mounted major works over major roads and plazas and ports, even over water, but none of them were able to do it in a permanent fashion which requires a much higher level of collaboration with the city." 

It's from sunset through 11:00 p.m. when Echelman herself says the display will be at its most dynamic for viewers, as the saturated colors of light gradually change over time. In fact, with the ebbs and flows of weather, she expects no two viewing experiences of the sculpture to ever be the same.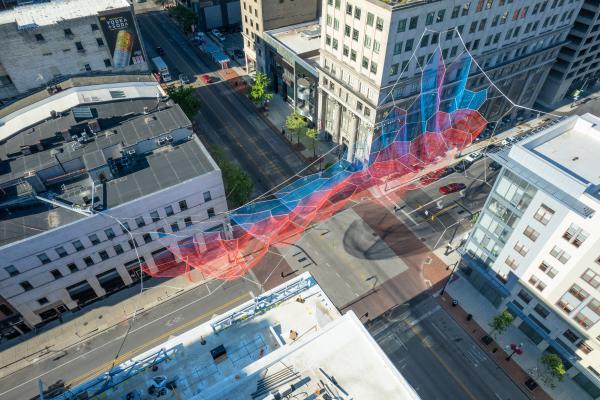 "I had the idea of creating an arch of light again for the Arch City called 'Current,' speaking not only to the currents of electricity but also to the currents of the Scioto River and the current moment of a downtown in the process of becoming a very dynamic, metropolitan urban center," said Echelman. 
"Current" was created using highly engineered fibers of ultra-high molecular weight polyethylene, a material NASA uses in space to tether the Mars rover, and which acts 15 times stronger than steel. 
Jeff Edwards, owner of Edwards Cos., was the urban visionary behind the project. He invited Echelman to Columbus to imagine a work for downtown at the site it currently occupies. Before she began this undertaking, the artist first came to Columbus almost a decade ago to serve as a keynote speaker for a conference.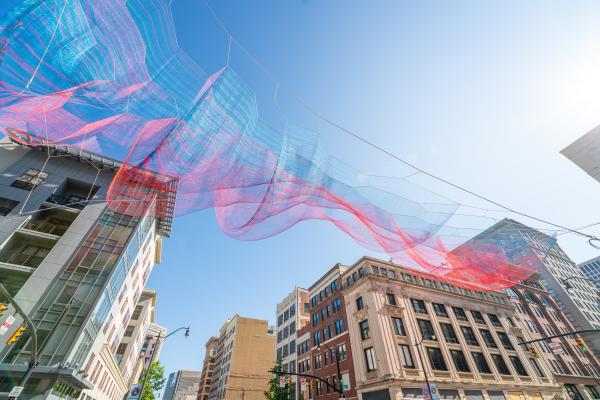 It was during that visit that she developed an affection for the city, falling head over heels after savoring a life-changing scoop of Jeni's Splendid Ice Cream flavored with popcorn. Echelman also credits the collaborative spirit and the unique "Columbus Way" for leaving her "smitten" with Ohio's capital. 
"I think many other cities, they would have tried, and it would have stalled."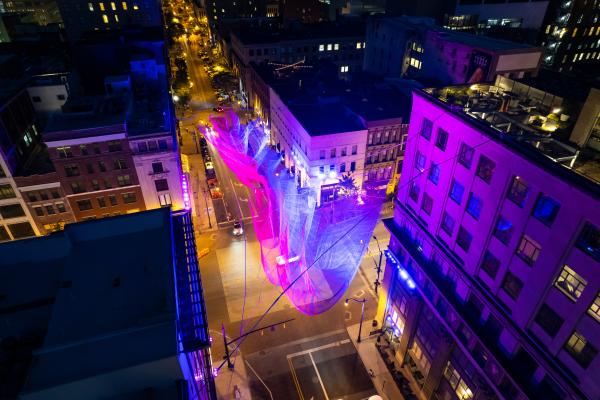 The community is invited to celebrate this transformational addition to Columbus' skyline on Friday, June 9 at 11 a.m. This community celebration, hosted at the intersection that houses the work, will feature local city and arts leaders and a pop-up performance by the Harmony Project to help officially kick off Columbus Arts Festival weekend. 
To learn more about Janet Echelman and her work, you can view her website at echelman.com.