Just because there's a bite in the air doesn't mean you can't go outside, right? Autumn and early winter weather are still terrific for hiking many of central Ohio's parks, where you can enjoy some fresh air, connect with friends and family, and catch the beautiful sights. 
Here are just a few Columbus Metroparks and other outdoor spots to explore this time of year!
Scioto Audubon Metro Park
Just south of downtown, Scioto Audubon boasts great trails with stunning views of the Columbus skyline. Take the pet-friendly Connector Trail for 2.5 miles which will have you exploring multiple areas of the park. If you're looking to go a little farther, we recommend the Scioto Greenway Trail featuring 10 miles of riverfront views. 
Inniswood Metro Garden
Inniswood offers more than 100 acres of woods and streams to explore. Even if the flowers aren't blooming this time of year, the beautiful forest is always so welcoming, with easy trails for hiking. Choose from paved or gravel paths, and bring a pet along for the stroll.
Homestead Park
Situated on 44 acres in Hilliard, Homestead Park includes hiking trails and plenty of attractive scenery, from the replica train station to the barns to the covered bridge and the ponds. It's one of those parks that shows you how easy it is to find peace and quiet so close to the city.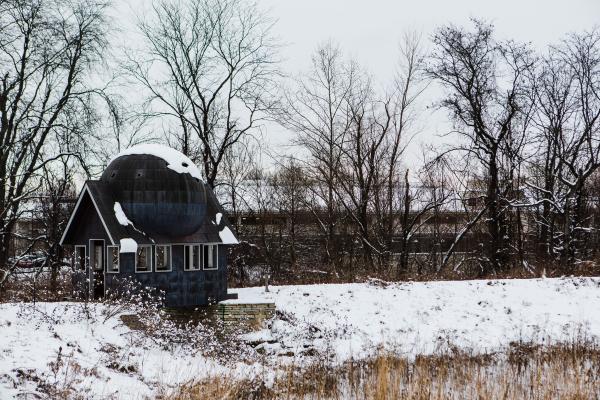 Coffman Park
Dublin's Coffman Park surrounds the Dublin Recreation Center and other features like the amphitheater, skate park, fishing ponds, and more. It's a perfect spot to get out of the house and stroll. Close by is also Indian Run Falls, a natural gorge with trails, observation platforms, and a bridge over the waterfalls. With just a few short steps, you'll feel transported far away.
Battelle Darby Creek Metropark
Battelle Darby Creek offers over 7000 sprawling acres to hike and explore. It's like a sampling of Ohio ecosystems, from forests to prairies to wetlands. We love hiking along the creeks, through the woods, under train bridges, up and down hills. Warm up at the nature center and see if the bison are out roaming.
Highbanks Metropark
Highbanks is a favorite in our family. We've trekked up and down its trails, crossing the bridges over the ravines and spying the bald eagles from the observation deck. The wooded areas feel miles away from the city; one of our favorite memories is hearing a pair of barred owls calling to each other from across the park.
What are some of your favorite hiking spots this time of year? Share your memories with us using #LiveForwardCbus and find more things to do this winter in Columbus, here.