Homegrown in Columbus, Rusty Bucket Restaurant and Tavern has been serving up from-scratch dishes for more than 20 years. With 21 restaurants across the U.S., Rusty Bucket has seen tremendous growth while sticking to its Columbus roots, maintaining the quality of ingredients and deliciousness of its rotating and staple menu items.
*This article is sponsored by Rusty Bucket Restaurant and Tavern and written by Experience Columbus staff.
Our team recently visited their Clintonville location and here are five things to try at Rusty Bucket Restaurant and Tavern this season. Check out their full menu.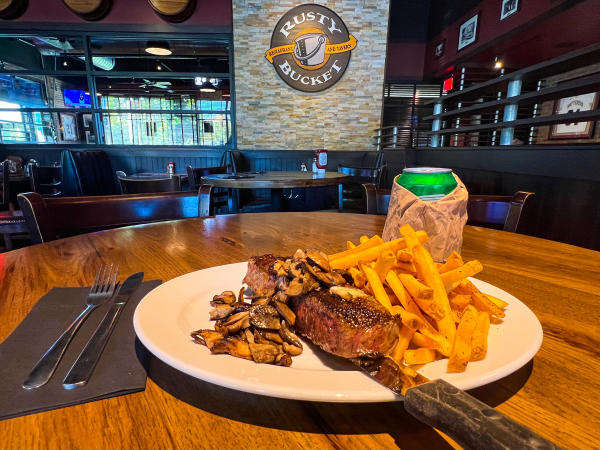 The New York Strip and Brown Bag Beer make for a great combination.

 
The Perfect Pair: Brown Bag Beer + New York Strip
You really can't go wrong when ordering a New York Strip steak, but add a delicious beer for just $1? Now that's perfection. Enjoy the seasoned fries on the side for a combination that will keep you coming back again and again. The best part about their Brown Bag Beer is that it's a complete mystery to guests until it arrives!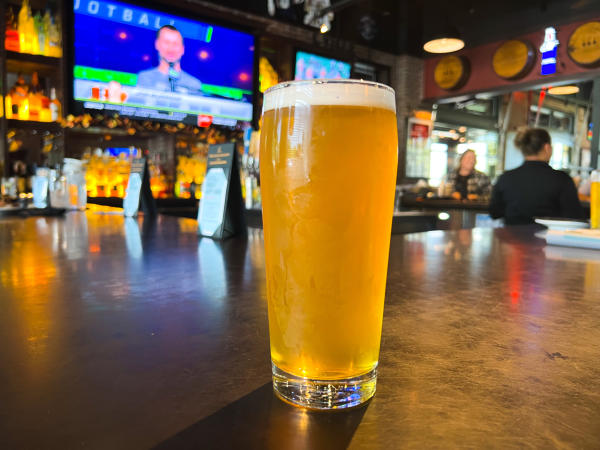 The Nye Guy IPA, a collaboration between Rusty Bucket and Seventh Son Brewing.

 
Nye Guy IPA
The draft list at Rusty Bucket is always worth checking out with a great selection of local and seasonal brews. Recently, Rusty Bucket collaborated with local brewery, Seventh Son Brewing, to produce an ideal West Coast IPA, the Nye Guy IPA.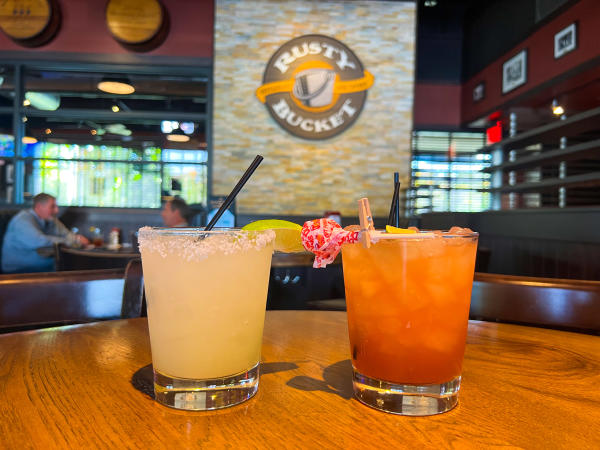 There's always a drink special to enjoy at Rusty Bucket Restaurant and Tavern.

 
Daily Drink Specials
No matter what day it is, there's always something to celebrate at Rusty Bucket. That's why they offer seven different drink specials – one for each day of the week! Check them out.
Monday Motivation: $5 Wheatley vodkas all day long to get your week started right.
 Poppin' Bottles Tuesday: 1/2 priced bottles of wine.
 Whiskey Wednesday: Woodford, Old Forester, Jack & the others.
 Punch Perfect Thursday: The house Bucket Punch on draft by the glass or pitcher.
 Shaken Not Stirred Friday: Belvedere martini, pine fin cosmo, pine fin martini.
 Gary's Famous Margarita Saturday: Share a pitcher (or drink one glass yourself).
 Bloody Sunday: Pepper-infused Finlandia Vodka, house-spiced pickle.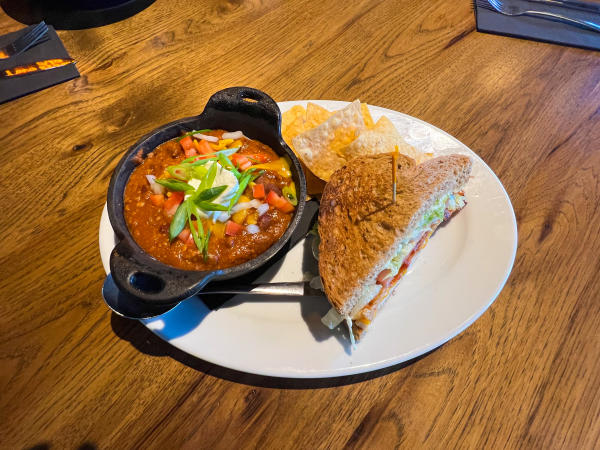 The Duo makes for a perfect lunch combination.

 
Duo
Looking for something light? Order the Duo and get a side salad and soup for just $13.29. Some of our favorite combinations are the Sirloin Chili with the Caesar salad and the French Onion soup with the Double Nickel Salad.
Trio
If you're craving something a little more substantial, try the Trio, your choice of a side salad, soup and half a Club sandwich for $14.99.
With over two decades of serving scrumptious, from-scratch dishes, Rusty Bucket Restaurant and Tavern has managed to maintain the quality of their ingredients and the deliciousness of their menu items, while expanding to 21 locations across the U.S.
Whether you're a local or a visitor to Columbus, Rusty Bucket Restaurant and Tavern is a must-visit destination for a memorable dining experience. Don't hesitate to explore their full menu and savor the culinary delights that await you at this beloved Columbus gem.