Many of Columbus' cultural institutions, from museums to libraries to botanical gardens, invite you visit and to stop and stay a while with a cup of coffee or homemade meal.
Heirloom Café | Wexner Center for the Arts
Located in the lower level of the Wexner Center, Heirloom Café crafts a farm-to-table menu using local and seasonal ingredients. Guests can stop in early for a latte or tea and linger over breakfast burritos, breakfast stir-fries and egg sandwiches. The lunch menu features a range of sandwiches, salads and soups. Heirloom Café also easily caters to vegetarian, vegan and gluten free tastes.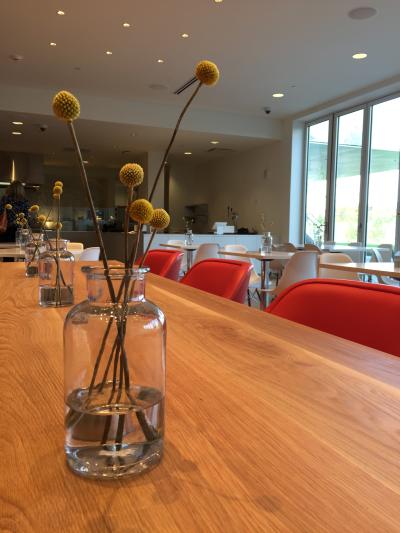 Schokko Art Café | Columbus Museum of Art
The Columbus Museum of Art's in-house café is naturally lit and overlooks the Patricia M. Jurgensen sculpture garden. The café staff excels at the culinary arts with a seasonally rotating menu. You'll find shareable items like charcuterie boards and avocado toast, classics like the Schokko Burger or the French Onion Grilled Cheese, and full entrees of fish, pastas, and quiche. There's even a menu for the kids, and sweet desserts to finish. Plan a weekend visit to the museum to enjoy brunch at the café!
The Public Perk | Columbus Metropolitan Library - Hilliard Branch
The Public Perk is a combined coffee shop and bakery inside the new Hilliard library that features goods from local businesses. Coffee, tea, espresso and smoothies come from The Coffee Mess, a local coffee shop. Baked goods are also on offer, supplied from Coffee Connections on Main Street in Hilliard, plus donuts from the much-loved Lil Donut Factory nearby.
The Garden Café | Franklin Park Conservatory and Botanical Gardens
Complete your visit to the luscious gardens and greenhouses of the Franklin Park Conservatory with lunch or dinner at the Garden Café. The eatery features a menu of local ingredients, including fresh produce and herbs grown in the Conservatory's gardens in season! The made-from-scratch menu includes soups, salads and sandwiches, plus beverages, desserts and dishes for the kids.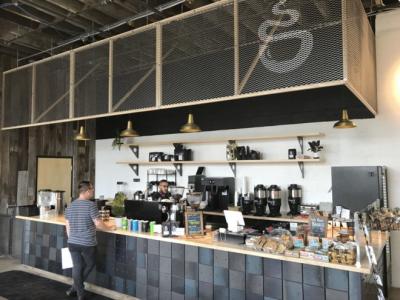 Stauf's Coffee Roasters | Idea Foundry
One of the city's longest-running coffee roasters has an established shop inside the Idea Foundry in Franklinton. The Idea Foundry is a shared maker space where visitors can take classes in all sorts of skills. Stauf's naturally-lit coffee shop, located near the front entrance, offers fresh-brewed coffee, espresso drinks, bagels and local pastries.
Freedom Cafe | Columbus Metropolitan Library - Northside Branch
Freedom Cafe found a home inside the recently renovated Northside Branch of the Columbus Library. The cafe is operated by Freedom a la Cart, a local non-profit meal delivery service that empowers survivors of human trafficking with practical work experience. Formally named Annie Maude's Cafe, the stall provides breakfast and lunch, pastries and coffee to library patrons.