The new LEGOLAND Discovery Center at Easton is a creative and engaging experience for kids of all ages. Here, you can Immerse yourself in the history, technology and sheer joy of one of the world's favorite toys: Legos! The Discover Center features 36,000 square feet dedicated to interactive games, play areas, building challenges, rides and a 4D movie theatre – all about those famous plastic building bricks!
When guests enter the space through the giant, minifigure-shaped doorway, they're first escorted into a room with screens on all four walls. There, they get a peek into how Legos are made, and they can create customized minifigures on the screens. Then they're ushered into the Discovery Center itself, and can follow the path or choose their own adventure.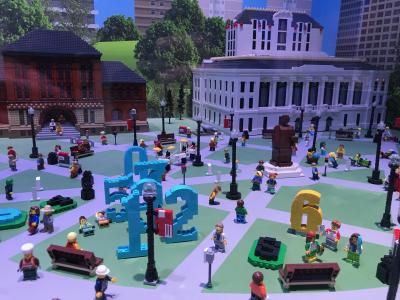 First up is Kingdom Quest, a short ride that lets you fight Lego monsters with infrared laser guns (shaped like Pirate Lego pistols, of course!). See who in your cart can rack up the most points!
In the Miniland room, discover landmarks from Columbus, Cincinnati, and Cleveland rendered in Lego form. Look for downtown Columbus, North Market, Book Loft, COSI, Ohio Stadium and other Ohio State University sites. Spy out Cincinnati's streetcar passing in front of the Museum Center, or the Rock & Roll Hall of Fame and the Christmas Story house in Cleveland.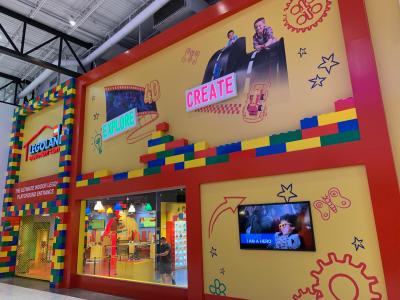 In the central play area, kids (and adults!) can dig into giant bowls of Lego and Duplo bricks. Craft your own structures and vehicles. Build the fastest car and race it on the two ramps. Construct a tower of Duplos and test its strength on the Earthquake Tables.
Next to the building areas, there's a play place where kids can climb and explore. Adjacent to that, the Merlin's Apprentice ride takes you around in circles. The harder you pedal your cart, the higher you go!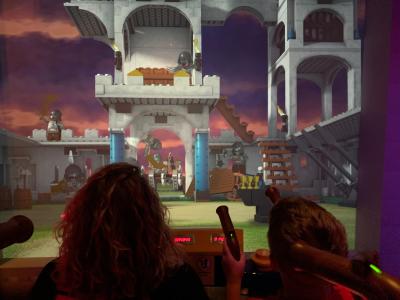 The 4D movie theatre offers an immersive cinematic experience, with rotating programs that run roughly every 30 minutes. Guests are given 3D glasses so the animation leaps out from the screen. The stories about your favorite Lego characters and creations are augmented by wind and rain effects!
On the way out, of course, there's a gift shop with plenty of Lego building sets and other toys. The LEGOLAND Discovery Center invites multiple visits. Guests can purchase single-use passes or an annual pass. The Center also a small cafe and private rooms available for special events.
To learn more…
LEGOLAND Discovery Center
157 Easton Town Center
columbus.legolanddiscovercenter.com