Looking to soak up some great outdoors during your Columbus visit? There are natural wonders right in the Capital City's backyard. Hocking Hills, located just 45 minutes southeast of Columbus, is one of the most scenic spots in the state and includes Hocking Hills State Park, Wayne National Forest, and a variety of nature preserves. Visitors flock to the exposed sandstone cliffs, waterfalls, gorges and labyrinths of rock formations in the main park hotspots. One can easily dedicate an entire weekend exploring the park's wonders, but if you're looking to soak up optimal beauty with minimal crowds, check out these lesser-visited vistas.
Clear Creek Metro Park is home to Ohio's largest state nature preserve and is also one of nineteen Central Ohio Metro Parks. Clear Creek includes over 5,000 acres of woodland to hike and photograph, and over 20 miles of trails to explore. The 4-mile loop connecting Cemetery Ridge Trail to Fern Trail is a great way to see the park at its best as it weaves throughout lush ferns and mighty hemlocks. It's hard to believe you left the city merely an hour beforehand.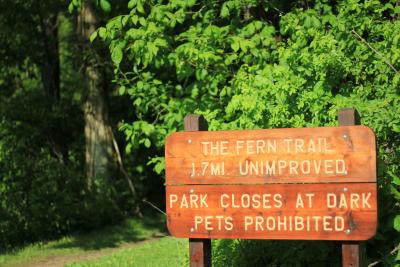 Cantwell Cliffs and Rock House are within the Hocking Hills State Park boundary but offer visitors a secluded view of the exposed sandstone cliffs the area is known for. Cantwell Cliffs is one of the more remote stops, which makes for tranquil trekking through the valley floor. The gorge and rim trails total 2 miles. Use caution as rocks can be slippery. Nestled 150 feet from the valley floor sits Rock House. Take in the surrounding valley from one of the window-like openings in the rock formations or explore the dark nooks and crannies that were used as baking ovens as settlers made their way through this region. A flashlight or headlamp is helpful here, as bats like to surprise visitors from above.
Conkle's Hollow State Nature Preserve offers panoramic views of the forest below. Standing atop the East Rim trail puts into perspective how vast the Hocking Hills region is. The Rim Trail is a 4-mile circumnavigation of the valley below, while the Gorge Trail keeps visitors on the ground for a half-mile walk to a secluded waterfall. This hike is especially beautiful in the fall, as you take in the sea of colored leaves from the rim trail or hike amongst fallen leaves in the gorge below.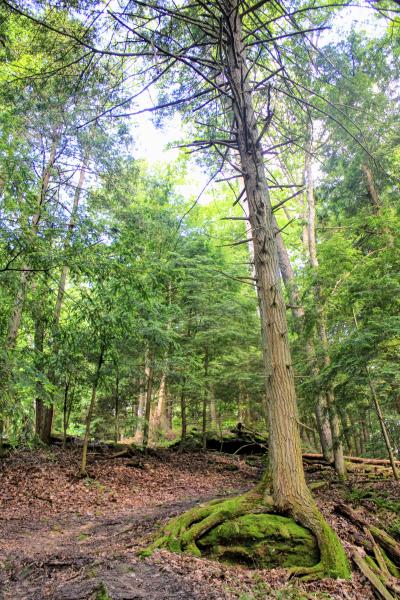 One of the newest trail additions to the Hocking Hills region is the Hemlock Bridge Trail (1 mile) to Whispering Cave (0.25 mile). Access the Hemlock Bridge Trail from the parking lot at the newly constructed lodge, or join up with the trail via the Grandma Gatewood (Buckeye Trail). At 275 feet wide and 100 feet tall, Whispering Cave offers visitors a fun place to explore and is the second largest cave in the park. A whisper at one end of the cave travels to a friend at the other side in seconds. Trail volunteers worked together to rebuild the trail that sat unkempt for 50 years because of shifting rocks and overgrowth. This trail combo is another accessible yet rugged hike through southeastern Ohio.
If you're looking to get off your feet and paddle one of Ohio's most scenic rivers, Hocking Hills Adventures offers river trips via kayak, canoe, or raft. Trips vary in length from a few hours to half-day excursions. Along the way, you'll see a natural rock bridge and remnants of the Hocking Canal. Visitors take a bus to the starting point and paddle downstream to the livery. Heading downstream means minimal paddling if a leisurely trip is more your style.
Hocking Hills is the perfect outdoorsy day trip while you're staying in Columbus. Only 45 minutes from downtown, you'll be able to soak up rugged natural wonders and still be back to wandering the Short North Arts District by late afternoon. Don't forget to bring your Columbus Ale Trail booklet with you for stamps at BrewDog DogTap or Loose Rail Brewery in Canal Winchester and Rockmill Brewery or Double Edge Brewery in Lancaster.