Athletics have been a deeply ingrained part of American culture for centuries, and from the Buckeyes to the Bengals, the state of Ohio has contributed to the world of sports in droves. The Ohio History Connection explores this topic in their newest exhibit 'Ohio – Champion of Sports,' in which they uncover the history of athletics across the Buckeye State and the impactful experiences shared by fans, coaches and athletes.
Rather than being organized by sport, time period or region, the multi-wing, multi-level exhibit is sorted into six "zones" representing abstract themes; Victory, Adversity, Character, Identity, Tradition and Innovation. What separates these zones is also one of the main draws of the exhibit; an incredibly visually appealing graphic design scheme.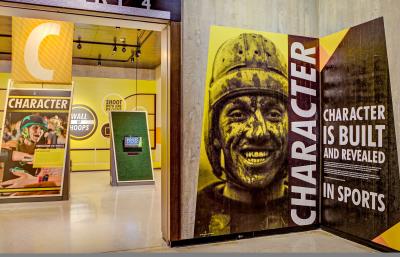 Vibrant, eye-popping colors distinguish each zone and emblazon every surface, in contrast with bold black-and-white text and large-scale imagery. Glass cases display memorabilia, like Lebron James' rookie jersey, Sarah Fisher's IndyCar coveralls and Doug Brown's skateboard, as well as dozens of items from the vintage era of Ohio sports.
While the exhibit provides plenty for they eye, the true appeal of 'Ohio – Champion of Sports' is the profound storytelling. The museum shares the accounts of over 70 history-making moments and legendary people through various photos, artifacts and text.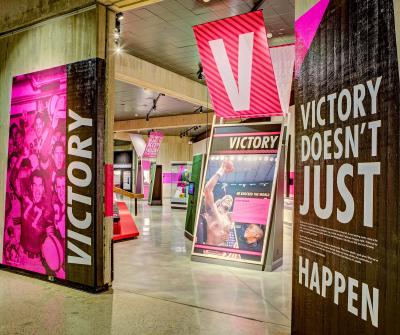 Just for this exhibit, the History Connection has also included in-depth interviews with 35 notable figures on their personal experiences. Visitors can use a series of touch-screen kiosks throughout the exhibit to hear inspirational anecdotes from names like basketball legend Katie Smith, boxers Ray "Boom Boom" Mancini and Buster Douglas, Bengals owner Mike Brown and more.
The highly interactive exhibit also allows visitors to tell their own stories. On the 'My Sports Injury' wall, guests can place a post-it note on a human body diagram indicating their experiences, they can share moments in the 'One Minute Legends' video recording booth and use a bungee cord diagram to illustrate challenges they've overcome.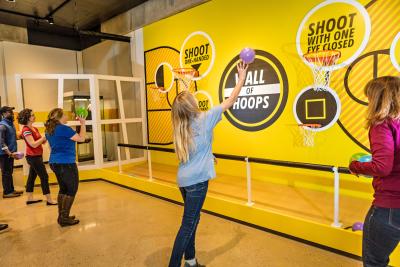 Other interactive features include the 'Wall of Hoops' basketball shooting station, the 'Victory Dance' video activity, a DIY obstacle course, a themed poll and voter bracket and much more to keep guests involved while they browse.
Experience this exhibit yourself at the Ohio History Center March 16, 2019 to September 6, 2020. Free with general museum admission. Visit ohiohistory.com or call 800-686-6124 for more info.