While we head into the final weekend of July and into the early weeks of August, the Columbus festival landscape just continues to expand in the best ways possible. While four out of the five events listed below are in their second or inaugural years, these festivals still highlight the diversity and inclusivity of the Columbus music scene. Although these events may not live up to ComFest occupancy levels, they still share the same spirit of the Columbus community even when one of the festivals listed below has more of a national appeal. So if you feel like you missed out on local music festivals this season, any one of these below will expand your local music passport.
What? Music and Arts Festival 2019 @ 400 West Rich
Back for its second year, the buildup to this local alternative, multi-genre festival has What? Music and Arts Festival looking like one of the best community events to check out this summer. Held in the evolving Franklinton Arts District around 400 West Rich, heavy hitters in the electronic music scene like Yheti, Shooka and Chris Karns will be headlining and a wide variety of visual artists will be present to help your mind become immersed in the music. Locally, What? also brings one of the best festival lineups to the table. Yacht club., Tronmusic, mungbean, Electric Orange Peel, Cousin Simple, and BareFuzz will all be representing Columbus. If you're looking for a city event with all the tricks of a big-time festival, What? will satisfy those needs.
Time: 1 p.m. | Date: Saturday, July 27 | Address: 400 W. Rich St. | Admission: $35  
Orange Soda Fest @ 11athletics
Ready to turn the clock back to the early 2000s? Just in time for the turn of the decade, DJs Mannie Fresh, Envy and Unk will be headlining Orange Soda's summer meltdown, which isn't the first time this music promotional company has dipped its hands in throwing neo-nostalgia hip-hop and R&B parties. Although Orange Soda hasn't hosted an all-day festival before, this time loop to the early 2000s is sure to attract those who love digging into nostalgia. On top of the atmosphere, food trucks and beverage stands will also be onsite to keep the party going all day and all night. Apart from the headlining DJs, make sure to get to the event early to pay your respects to the local DJs. Tronmusic, Raiden Labs, and SMD (a b2b with local DJs Bern and DNTFRT) are just a few who will be spinning.
Time: 3 p.m.-11 p.m.  | Date: Saturday, August 3 | Address: 1600 Alum Creek Dr. | Admission: $20-$75
Frontstage Fest @ Big Room Bar
Simply dubbed as "a party in a parking lot" (that's also above a radio station), Frontstage Fest is CD102.5's second-annual effort in throwing a music festival that shines brightly on the diversity of local music scene. If you're looking for a full-on indulgence in Columbus music, there may not be a better display than Frontstage Fest this summer. In-demand groups like label me lecter and Ghost Soul Trio top the lineup poster for this festival, while exciting acts like rapper Kashis Keyz and soulful duet Honey and Blue popping up show how good of an ear CD102.5 has to the local music scene. With over 15 acts to check out, Frontstage Fest will really help open your eyes even further to the Columbus music scene.
Time: 12 p.m.-11 p.m. | Date: Saturday, August 10 | Address: 1036 S. Front St. | Admission: $12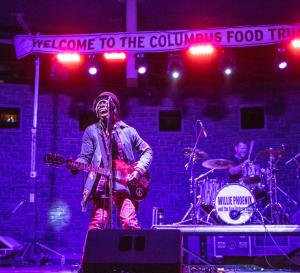 Columbus Food Truck Festival @ The Scioto Mile
The Columbus Food Truck Festival is back for its ninth year, bringing some of the best music and food truck experiences together in one place. The event tried out the Scioto Mile venue a year ago and received highly satisfying responses in regards to the move. Now, the festival will once again take over the river banks. As for the music, there'll be plenty of tunes to get the funk down to with BareFuzz and Funk Worthy on the lineup. Willie Phoenix and the Soul Underground and their mood-altering blues, garage and psychedelic-infused rock will once again be an act that you won't want to miss if you frequent the Food Truck Festival every year. Zoo Trippin's continual rise in local stardom makes these soulful rockers another can't-miss on this lineup of over 15 acts. More than 60 food trucks will be in attendance as well.
Time: 11 a.m.-11 p.m.  | Date: Friday, August 16 — Saturday, August 17 | Address: 233 S. Civic Center Dr. | Admission: Free 
WonderBus @ Chemical Abstracts Service
Another new music festival is coming to Columbus this summer, and this time the two-day event will invade the Lawn at CAS (Chemical Abstracts Service). Although this event isn't truly a local festival, it features enough acts and positive impact to count as one. A mix of mainly nationally-known acts and some local ones sprinkled in, judging by its lineup, WonderBus seems like an avid display of multiple types of alternative pop and rock artists. Before getting to the music, one of the special parts about WonderBus is that the festival will benefit The Ohio State University Wexner Medical Center's Department of Psychiatry & Behavioral Health. Columbus locals Effee, Clubhouse and The Floorwalkers will be proudly representing the bottom third of Saturday's acts. MNQN will also be representing the 'Bus on Sunday.
Time: 12 p.m.-10 p.m. | Date: Saturday, August 17- Sunday, August 18 | Address: 2540 Olentangy River Rd. | Admission: $89 (single day)-$110 (full weekend)