This holiday season, don't miss the unique, once-a-year flavors you can find right here in Columbus! Satisfy your craving for something special with the list below, and don't forget that this is just the tip of the iceberg of Columbus' seasonal specialties.
The 614's restaurants, bakeries, and coffee and dessert shops work hard each year to create food and snacks that inspire holiday cheer and community connections - shop local this year and pick up gifts and treats for family and friends at your favorite local spots from this list and about town.
Holiday Flavors in Columbus
Schmidt's ever-popular cream puffs are a Columbus classic: giant rounds of choux pastry filled to the brim with sweet, custardy cream. It's no wonder they're a perennial hit! November's specialty flavor for these delightful desserts is pecan pie, a fall favorite, and December will usher in a flavor inspired by German Pfeffernüsse spice cookies, with cinnamon, cardamom and nutmeg. To get your hands on these, stop in Schmidt's German Village restaurant or order online through schmidtshaus.com.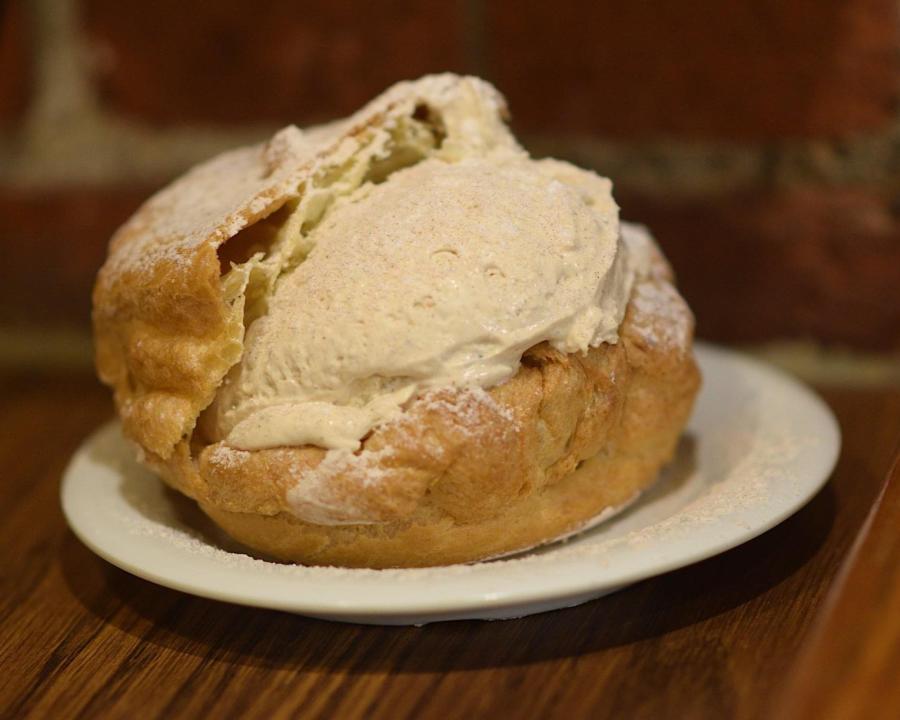 Pictured: A Schmidt's cream puff
From an epic donut bouquet to a holiday gift box, from a donut tree to a "tree-mendous" cupcake creation, Donna's has holiday-themed menu options that are perfect for everyone on your list. After all, who wouldn't enjoy a bouquet made out of donuts? Shop options here. 
Don't forget to pick up some hot cocoa bombs, available individually or in sets.
La Chatelaine
Buche de Noel yule logs are a wonderful holiday treat! Every Buche is made with a white genoise (sponge cake) hand rolled with vanilla buttercream inside. Pick yours here. 
Pick up Land Grant's 12 Beers of Christmas box this year! Whether you're treating yourself or a friend, this box is sure to be a hit for any craft brew enthusiast. Check it out here. 
Tip: You can also enjoy igloos and curling in Land Grant's beer garden all winter long! Head over and celebrate the season. 
This holiday season, enjoy a hot chocolate with your meal - made with organic milk, Belgian chocolate, and organic cane sugar, this delicious drink is topped with organic, maple-sweetened whipped cream.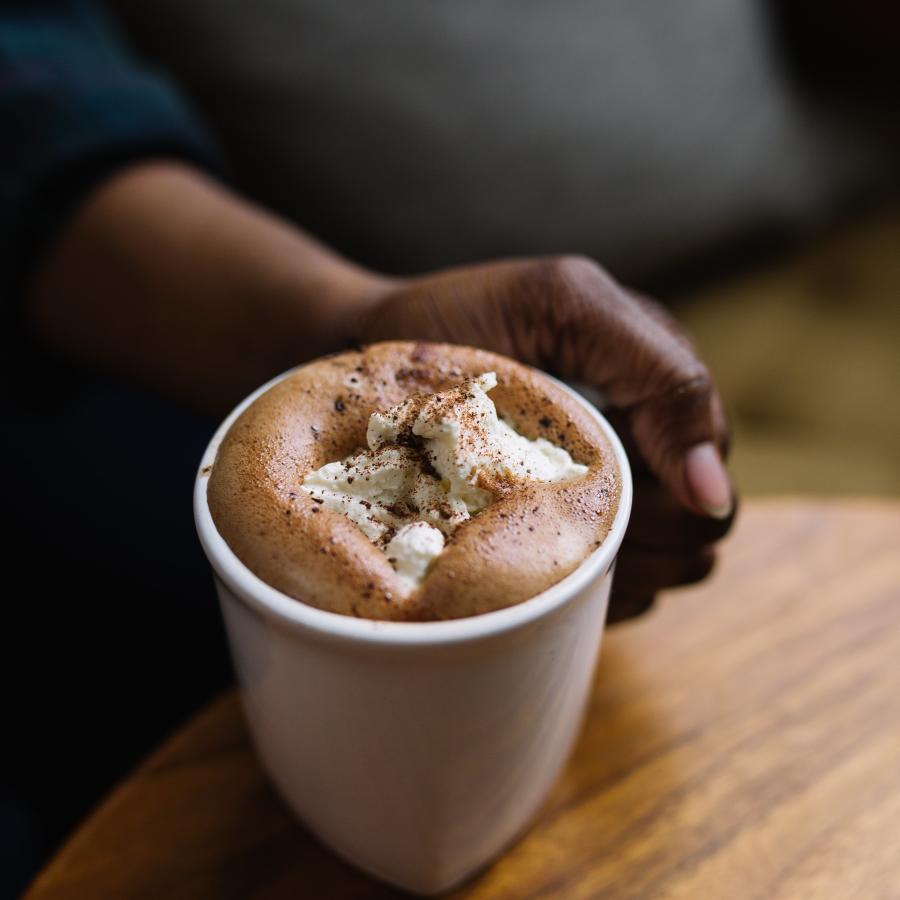 Pictured: Northstar Cafe's seasonal hot chocolate
Each November, Echo Spirits releases a limited amount of Queen's Share Rum. Available only in the Shop at Echo Spirits (985 W. 6th Ave), be sure to catch this annual treat before it's gone!
Whether you need a delicious gift to give or you're just looking to stock up on sweets for the holidays, the Chocolate Café has just the thing. From holiday truffles and the "Christmas box" to their wine tasting sets and gift boxes (in several sizes), you can find something for everyone in the Café's online shop.
Perfect for sipping during a holiday road trip or while getting a start on your shopping about town, catch one of Pistacia Vera's peppermint mochas or eggnog lattes!
They're also offering a macron gift box for the season. From peppermint chocolate to eggnog, enjoy the special flavors yourself or gift them to a loved one. Check out the options here.
In the mood for a special snack? Consider picking up a Simply Sweet set (also featured in the 2021 Columbus Gift Guide!) of chocolate pretzels, mint jewels, and karamel kisses. Or, enjoy the fruit of the holiday collaboration between Winans Chocolates + Coffees and Watershed Distillery! Bourbon Cherry Cordials are a delicious treat for the season, and can be purchased at winanscandies.com, at Winans locations (subject to availability) or at Watershed Distillery's Bottle Shop on site.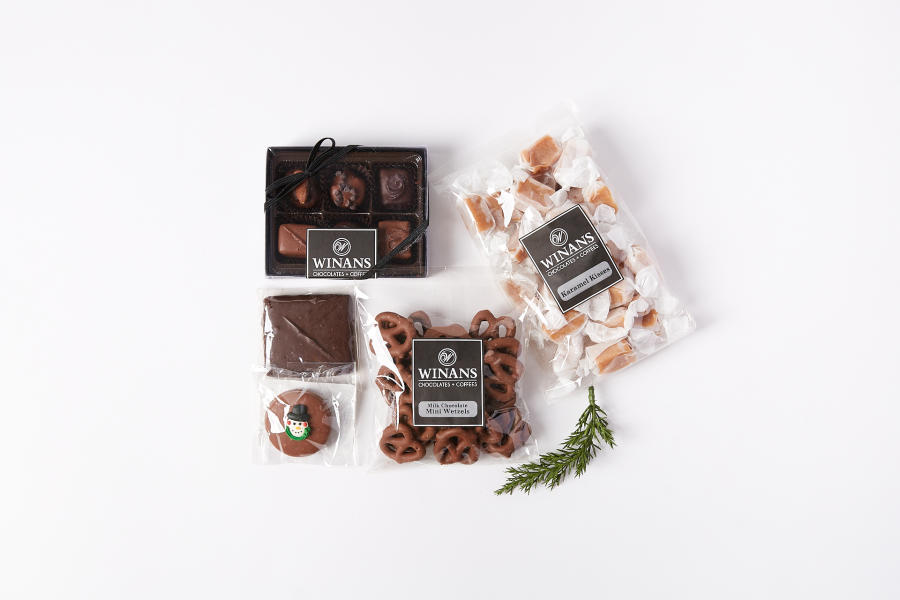 Pictured: Winan's Simply Sweet dessert set
Kittie's Cakes
This charming coffee and pastry shop has delicious flavors available for their bakery items. Whether you're ordering mini cupcakes, layer cakes or a sheet cake, Kittie's has something for you. December – February, enjoy their Jack Frost, Peppermint Aunt Patty, or Rum Kissed Cranberry flavors! 
In collaboration with Winans Chocolates + Coffees, try their bourbon cherry cordials, a sweet treat for the season that will hit the spot. These can be purchased at winanscandies.com, at Winans locations (subject to availability) or at Watershed Distillery's Bottle Shop on site.
Perfect for pairing with coffee, hot chocolate, or eggnog, this limited release whiskey is blended with sweet cream to create the holiday drink of your dreams.
Whether you're already a fan of European desserts or you're just looking for something new this holiday season, don't miss the holiday specialties from Mozart's Café. This year, Mozart's is offering a host of European delicacies for the season – the list includes German pastries Lebkuchen and Springerle, marzipan, Austrian treats Sacher Torte and vanillekipferl, and holiday petit fours. Note that all holiday bakery orders will need to be placed by Saturday, December 11.  
For a bit of tasty holiday fun, Wolf's Ridge is again offering packs of homemade cookies paired with the perfect brew matches – these pairings are available online-only for the season and can be found here. Chocolate chip, oatmeal cherry, gingerbread…there's a cookie + beer pairing for everyone!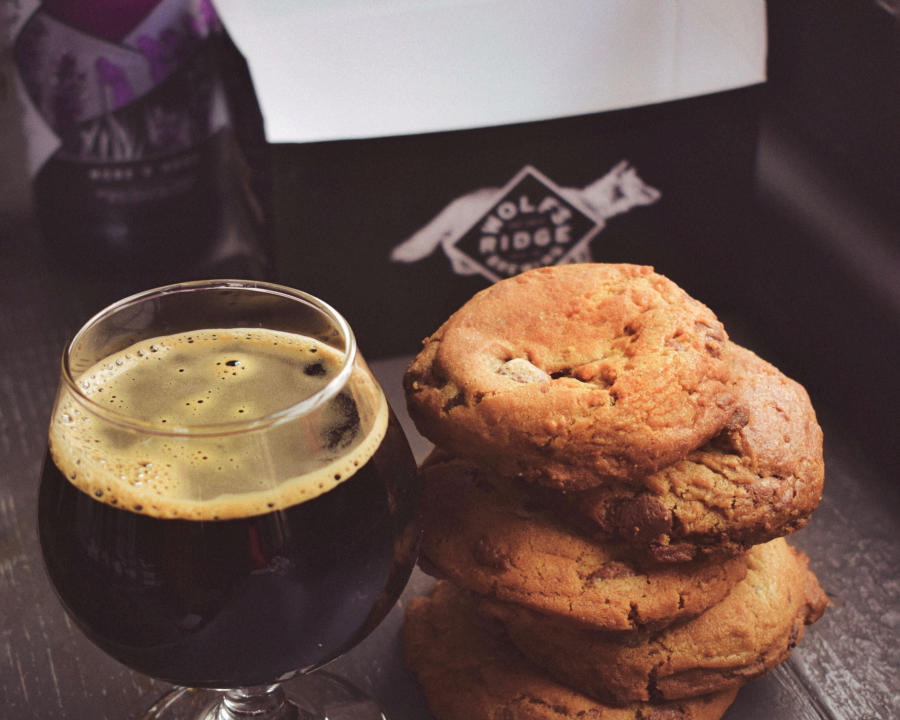 Pictured: a Wolf's Ridge beer + cookie pairing
This Ohio-founded and operated bakery specializes in everyone's favorite European treat. In December, try the Macaron Bar's special holiday flavors: eggnog, gingerbread, or peppermint. January's special flavor will tempt you, too – indulge yourself in some champagne-flavored macarons to bring in the new year.
Enjoy this favorite local restaurant's holiday cranberry mule to bring some cheer into the dark days of winter. The best part is that $1 of each mule purchase is given to Folds of Honor.
This charming local shop offers a unique atmosphere year-round – this December, stop in for a dark chocolate cinnamon reindeer cookie for yourself or in a box set for a friend. Shop options here. 
---
Check out the great activities, experiences and gifting options.