With Governor Mike DeWine's order for restaurants and bars to operate on carryout or delivery, Columbus' food trucks have found themselves ideally suited to serve residents, and to even safely reach them in neighborhoods all over the city. 
There are many food trucks in operation in Columbus, but we're highlighting a dozen that you can track down these days. 
Some tips for visiting food trucks: 
- Track your favorite trucks (or discover a new one!) using the StreetFoodFinder.com. It features a searchable map and lists of food trucks with their upcoming schedules. 
- You can also search colsmfv.com to track vendors at select locations. 
- Order and pay ahead of time. Most trucks are offering pre-ordering online so you can minimize contact. 
- Keep a safe distance when picking up food. If other guests are present, keep at least six feet away from others. 
For food truck schedules in these neighborhoods, please click below.
University District 
Clintonville
Franklinton 
Harrison West 
Upper Arlington
Northwest Columbus
Dublin/Sawmill
Wexner Medical Center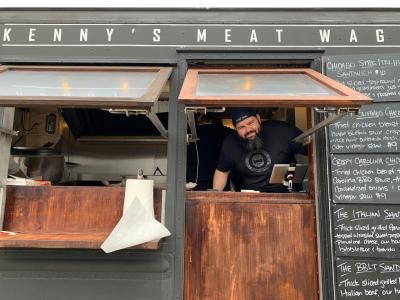 Broke Johnny Food Truck 
This breakfast-centric truck has been traveling around the city, including special brunches in Clintonville. 
Cousins Maine Lobster 
This popular lobster truck has made the rounds from Westerville to breweries in Powell and Pickerington and beyond. 
Kenny's Meat Wagon 
Kenny has brought his sandwiches to different neighborhoods around the city, and has been doing pop-ups at 1400 Food Lab in Marble Cliff. 
Mikey's Lake Night Slice 
Hungry pizza-goers can hire the Mikey's truck to come to their neighborhood on weekends. It has made stops in Upper Arlington, Powell, Dublin, Grove City, Hilliard, Westerville and other suburbs. 
Mojo Tago 
The Mojo truck is bringing family taco packages to various neighborhoods around the city. 
Moody Trudy Food Truck 
Lately this truck has been slinging sandwiches at 4490 Indianola Avenue in Clintonville. 
Phillips on Wheels 
Phillips serves its signature coney dogs, sliders and fries in Westgate, German Village, Dublin and other locations. 
Pitabilities 
The Pitabilities trucks have been bringing gyros, fries and other goodies all over the city. 
Por'Ketta 
This family-run truck continues to make the rounds, and has made itself available for hire to various neighborhoods. 
Schmidt's Sausage Truck 
The Schmidt's Sausage Truck has been bringing Bahama Mamas and cream puffs to various neighborhoods, from Clintonville to Marysville to New Albany to Groveport to Worthington. 
Seventh Son Brewing 
This Italian Village brewery is hosting food trucks regularly from 11 a.m. - 2 p.m. and 4-8 p.m. Check the brewery's Facebook or call ahead to confirm which trucks are on site. 
Street Thyme 
Street Thyme has begun serving its signature burgers and fries at 177 S. Cypress Ave. in Franklinton (home of Red Door BBQ) daily from 11 a.m. - 7 p.m. 
Support local trucks by following them on StreetFoodFinder.com! And for more food truck info, check out this recent segment from FOX28's Cam Around Town.