Independence Day celebrations are the pinnacle events of the summer. As we're working to figure out this new normal of life post COVID-19, many of us are eager to return to our annual celebrations. Unfortunately, the Midwest's largest fireworks display - Red, White & BOOM! - will have to wait one more year before once again lighting up the sky. There are however, many events, parades and fireworks displays still providing light at the end of this long tunnel.
Independence Day Downtown
While downtown's annual mainstay celebration remains on hold, two others are returning in 2021:
The Columbus Symphony continues its grand summer tradition celebrating the Fourth of July with Patriotic Pops, an evening of patriotic favorites and rousing Sousa marches at The Columbus Commons. This year held on July 26, the community is invited to enjoy the smooth stylings of award-winning guest vocalist N'Kenge, plus the time-honored performance of "The Stars and Stripes Forever" and a brilliant display of fireworks! Get tickets here.

 
The DooDah Parade is back for its 38th year celebrating "liberty and lunacy" in the streets of the Short North. Beginning at 1 p.m. on July 4, this parade is free to join and promises to be unlike anything you've ever seen before. Get all the details on this zany tradition here. 

While you're downtown, consider checking out National Veterans Memorial and Museum, which will be open on July 4. This safe, controlled environment provides the opportunity to reflect on our country's history, from the Revolutionary War to today. The facility's beautiful Memorial Grove is also open daily from dawn until dusk for outdoor contemplation and remembrance of those who fought and sacrificed for our freedom.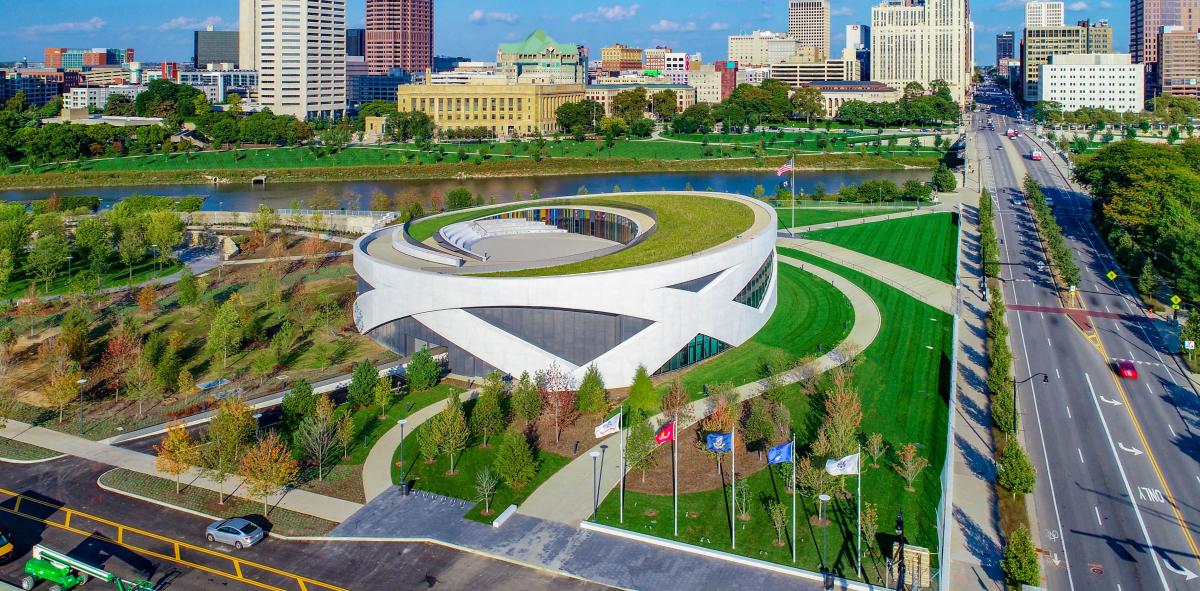 Community Celebrations
Many local celebrations are returning to their traditional events following a modified modes of observing the holiday in 2020. Check out the list below to find out how your neighborhood is honoring Independence Day this year.
Bexley
July 4 in Bexley offers a full slate of events, beginning at 8 a.m. with the John Barr 5K followed by the parade, then later including a community celebration on Capital University's Main Street law, and culminating in fireworks at 10 p.m. 

Dublin
Dublin is celebrating Independence Day on July 3, kicking off the day with its Sherm Sheldon Fishing Derby, followed by the parade (returning to its traditional route through downtown Dublin) and finishing with an evening celebration and fireworks at Dublin Coffman High School.

Gahanna
Gahanna's July 4 celebration will span two days this year, with a community celebration at 5 p.m. on Saturday, July 3 at the Gahanna Municipal Golf Course, followed by fireworks, then a parade on Sunday, July 4 beginning at 1 p.m.

Grove City
Fireworks will once again light the sky over Grove City on Friday, July 2 at 9:50 p.m.

Hilliard
Hilliard's Freedom Fest on July 3 is an opportunity to join the community for the annual parade at 9 a.m. followed by a patriotic celebration, complete with live music, food trucks, and fireworks.

New Albany
New Albany is excited for the return of its annual Independence Day Parade & Festival. Beginning at 11 a.m., the parade will honor the community's frontline heroes. Then at 6 p.m., a festival at New Albany Middle School will feature live music, family-friendly activities, fun demonstrations and plenty of food trucks

Pickerington
Pickerington's July 4th celebration will feature fireworks on Friday, July 2, launched from Pickerington Central High School at 10 p.m., and a parade on Saturday, July 3 beginning at 10 a.m.

Reynoldsburg
Reynoldsburg is celebrating the return of its Independence Day activities with a community celebration from 6:30-10 p.m. on Friday, July 2 at Civic Park, featuring live music, food trucks and fireworks. The community will also host a parade beginning at 10 a.m. on Saturday, July 3. 

Upper Arlington
Outside of downtown Columbus, Upper Arlington is known for having one of the most robust Fourth of July celebrations in the city, which the city is excited to bring back full force this year. Highlights of the day include wake up calls, parade, party in the park and fireworks show.

Village of Obetz
The Famous Fortress Fireworks are back in Obetz and this year they're bigger and better than ever with live music, food trucks, inflatables and fames. Mark your calendar to head to Fortress Obetz to join the fun on July 2!

Westerville
While the Westerville Fourth of July Parade won't march this year, the rest of the city's traditional celebrations are on, scheduled for Saturday, July 3! With an in-person 5K, concert series, food truck festival and fireworks, there are still plenty of ways to celebrate Independence Day in Westerville.
Plus, one of the pandemic pivots Westerville employed during COVID-19 is here to stay: Lights of Liberty will once again shine bright from June 25-July 2.

Worthington
Worthington's Fourth of July celebration features a family picnic at Thomas Worthington High School leading up to the fireworks display. In addition to food trucks, musical entertainment, costumed characters and other fun games, the McConnell Arts Center will offer a Bier Garden and Worthington Pools will host a tailgate outside the pool area. 

Other Events