Last year, Scotland-based BrewDog officially landed state-side with the opening of their 100,000 square foot production facility and brewpub, named DogTap Columbus, in Canal Winchester, and they're poised for continued rapid growth. They've broken ground on a new sour facility attached to a hotel, and they've opened not one, but two, brewpubs in Columbus this spring – one in the Short North Arts District and one in Franklinton. Let's take a look at them!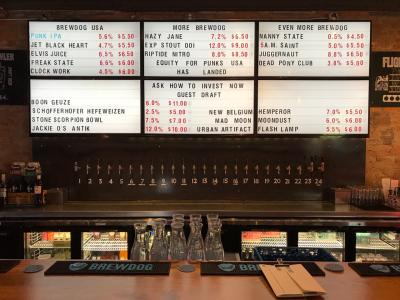 BrewDog Short North
1175 N. High St.
The Short North bar is BrewDog's first stand-alone brewpub in the United States. The bar features 24 taps populated by house brews created state-side and in Scotland, as well as a collection of guest drafts. There's bar seating, smaller tables, communal gathering spots, and a small back patio. To supplement their brews, they offer house-made pizzas.
Check out the Short North hours and updated tap list here.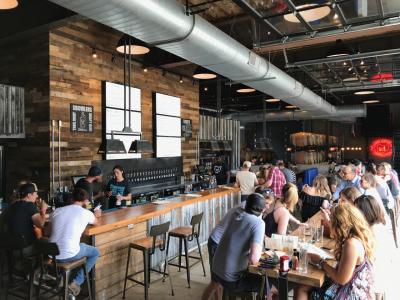 BrewDog Franklinton
463 W. Town St.
BrewDog's second stand-alone U.S. brewpub opened in the growing Franklinton neighborhood mere weeks after the Short North location. It's steps away from 400 West Rich artist studios, Land-Grant Brewing, Strongwater Food & Spirits, Rehab Tavern, and other spots. The square footage is larger than Short North, with two bars, 48 taps, a full kitchen, and patio spaces both at street level and on the rooftop. The rooftop patio features terrific views of the neighborhood and downtown Columbus.
The Franklinton menu features bar favorites such as burgers, fried chicken sandwiches, salads, desserts, and small bites like wings, hummus, meat and cheese plates, and peanuts fried in bacon fat and BrewDog's Elvis Juice grapefruit IPA.
Check out the Franklinton hours, menus, and updated tap list here.