The family-run Hoyo's Kitchen opened on the city's northeast side in 2014, in the Columbus Square Shopping Center. Taking its name from the Somali word for "mother," the eatery focuses on traditional Somali fare served in a fast casual style.
Behind the restaurant are brothers Abdilahi ("A.B.") and Mohamed Hassan, who opened the first location with their mother, Hayat Dalmar. Their goal with both eateries is to serve the significant Somali population in Columbus (the second largest in the U.S.) and to introduce more audiences to Somali cuisine.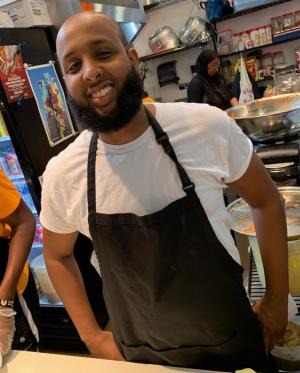 This past summer, Hoyo's took a big step toward achieving the latter goal when they added a second location in North Market. This marks the first North Market merchant dedicated to African fare. The eatery's stall is located near the northeast corner of the market where Better Earth used to sit.
Hoyo's North Market location emphasizes the fast casual service style, and is an excellent introduction to the flavors and ingredients of Somalia. Guests can assemble their meal one step at time, choosing a bowl, a wrap made with Somali flatbread or a salad.
They then start first with a base of basmati rice (which is vegan), spicy rice, or injera, a thin, spongy bread that's torn into pieces and used to scoop up bites of food. Then they can choose from vegetables or different proteins: goat, chicken or beef suqaar (serving in a rich gravy), or safari chicken (a spicier chicken dish). The meats are incredibly flavorful and tender.
And then guests get to add lentils, cabbage, chickpeas or spinach, plus a selection of cold toppings like tomatoes, cucumber, onions. Depending on your choices, your meal can be made completely vegetarian or even vegan.
Don't forget to order a sambusa, a triangular fried pastry stuffed with beef, chicken or vegetables, as well as a cup of Somali tea, a rich milk tea that's loaded with sweet and zesty spices.
Find the new stall at 59 Spruce St. inside North Market, or their original location at 5788 Columbus Square. See the full menu and hours at hoyoskitchen.com, and keep up with them on Instagram at @hoyoskitchen.