Are you "sober curious"? Maybe you're taking a break from drinking for personal reasons – or you're observing Sober October or Dry January. Whether you're calling it quits from alcohol for good or going AF just for a few weeks, you aren't alone! More and more people are hunting for ways to enjoy the unique community vibe that's offered by bars but without alcohol. 
Read on to learn about a few of the restaurants and bars where you can enjoy happy hours and meals with friends, family, and coworkers – sans alcohol.
This is not an exhaustive list of dry options in Columbus; also, please note that the menu URLs below may link out to each restaurant's full beverage menus, not only their non-alcoholic options.
---
The Hills Market Downtown
Shop their inventory for a variety of zero-proof beverages (and stay tuned to their website and Facebook page for info on the happy hours). Alcohol-free products available for purchase include dry soda, gin and gin & tonics, cocktails, whiskey, tequila and rum, and beer and fruit juices. Non-alcoholic sparkling wine coming soon!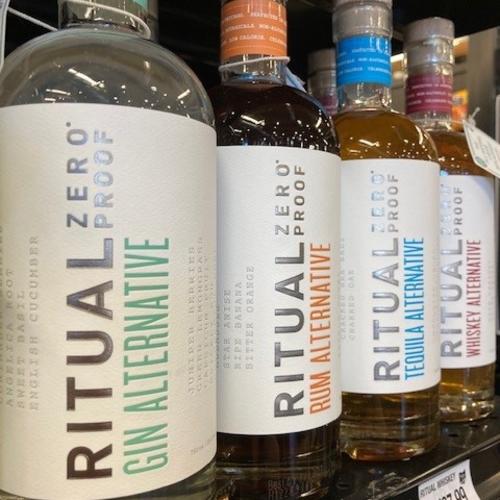 Zero proof inventory at The Hills Market Downtown
Headed to Strongwater? They're proud to offer 4 - 5 unique, zero-proof cocktails. Options include the Pineapple Smash, a Mango Shrub (they can also add Seedlip Spice 94 to create a Seed and Shrub), and house-made ginger ale or lemonade. Finally, you can enjoy a root beer on draft from Warped Wing Brewing Co. in Dayton.
If you find yourself at Lumin Sky Bar looking out over the city, indulge in the Garden Gimlet (Seedlip Garden 108, lime, sugar and thyme) or their Spritz Free cocktail (Giffard Aperitif, Q Grapefruit Soda, club soda and citrus). Menu available here. 
At Watershed Distillery, peruse their existing cocktail menu for drinks that are marked with a star, and then ask for an AF version of your pick – easy and delicious.
The Guild House has created three zero-proof menu options for when you're headed to happy hour with your friends or coworkers. Choose from a lemon tonic, cherry ginger, or their Blackberry Smash.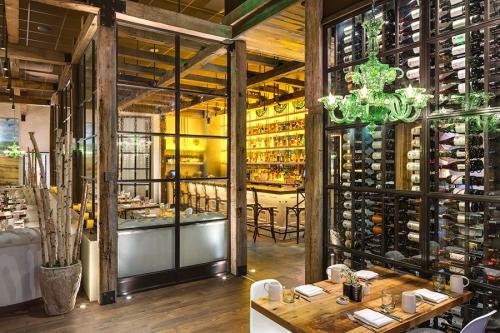 The Guild House
Vaso Dublin
Settling in for the evening at Vaso Dublin? Check out the zero-proof G&T or try their zesty Spice Orange. The menu can be viewed here. 
BrewDog
While what's on tap in each BrewDog restaurant will vary, you can always purchase their AF drinks online at brewdog.com! They have four different non-alcoholic IPAs to pick from – Hazy, Elvis, Nanny State, and Punk. 
Even though High Bank Distillery is famous for its whiskey, you really can't go wrong with their zero-proof drinks, either. They offer four creative mocktail menu options – a seasonal mule with apple cider syrup and ginger beer, their blackberry puree Berry Burlesque, Beachside Coffee (a blend between cold brew, honey syrup, blood orange puree, and fresh citrus), and the Lost Jewel, which is a cranberry vanilla, mint and citrus creation.
If you want to stick with non-alcoholic beverages at Lincoln Social, ask for a zero-proof "bartender roulette" to switch things up! Or, keep it classic and sip on some cold brew or sparkling water. Lincoln Social also offers seasonal chef soda (syrup over crushed ice with soda water), cucumber lemonade, Red Bull, and strawberry almond limeade. View the menu here.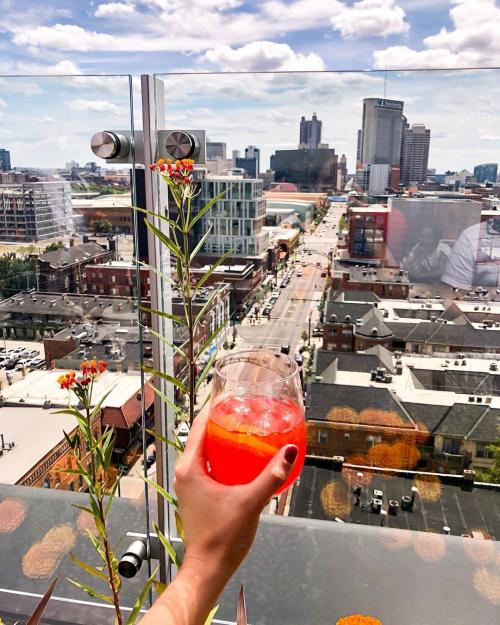 Lincoln Social
Wolf's Ridge offers an array of AF menu choices – enjoy their Zesty Green Iced Tea, some Berghoff Diet Root Beer, Maine Mexicane Cola, or Maine Root Root Beer.
Huli Huli
Enjoying the tropical menu at Huli Huli? Sip on AF versions of their Blue Hawaii, Honolulu Mule, or Baby Aspirin. 
---
We encourage you to try these drinks and more at restaurants and bars around Columbus! Share your discoveries with us using #LiveForwardCbus and @experiencecolumbus.