Celebrated annually during the month of May in the United States, this year's Asian American and Pacific Islander (AAPI) Heritage Month is going to have more significance for many Asian Americans and their allies as they reflect on the unprecedented spike in anti-Asian hate during the pandemic.
According to the advocacy group, Stop AAPI Hate, crimes targeting Asian Americans – especially the elderly – rose by 150 percent in 16 of the largest cities in 2020, whereas, overall hate crimes dropped 7 percent. Anti-Asian hatred gained national attention after one of the most traumatic events took place in March when eight people were gunned down inside three Atlanta-area spas, six of the victims were Asian women. The suspect claimed his alleged crime was not racially motivated.
Across the U.S., Asian Americans and their allies began speaking out amid the racial incidents, rallying together for social change. West Chester Township Trustee Lee Wong – fed up with people questioning his patriotism because he's Asian American – delivered an impassioned speech during a trustee meeting that included him raising his shirt to expose scars from his service in the U.S. Army.
In April, the Senate overwhelmingly passed the COVID-19 Hate Crimes Act by a vote of 94-1, a bill to address the rise in hate crimes and violence against the AAPI community. Among other things, the bill would create a position at the Department of Justice to expedite the review of hate crimes and would provide support for local law enforcement to respond to such incidents.
While this month-long celebration recognizes the accomplishments and contributions of the AAPI communities to Central Ohio and beyond, it will also be a time of working toward unity and healing beginning with learning and sharing each other's experiences.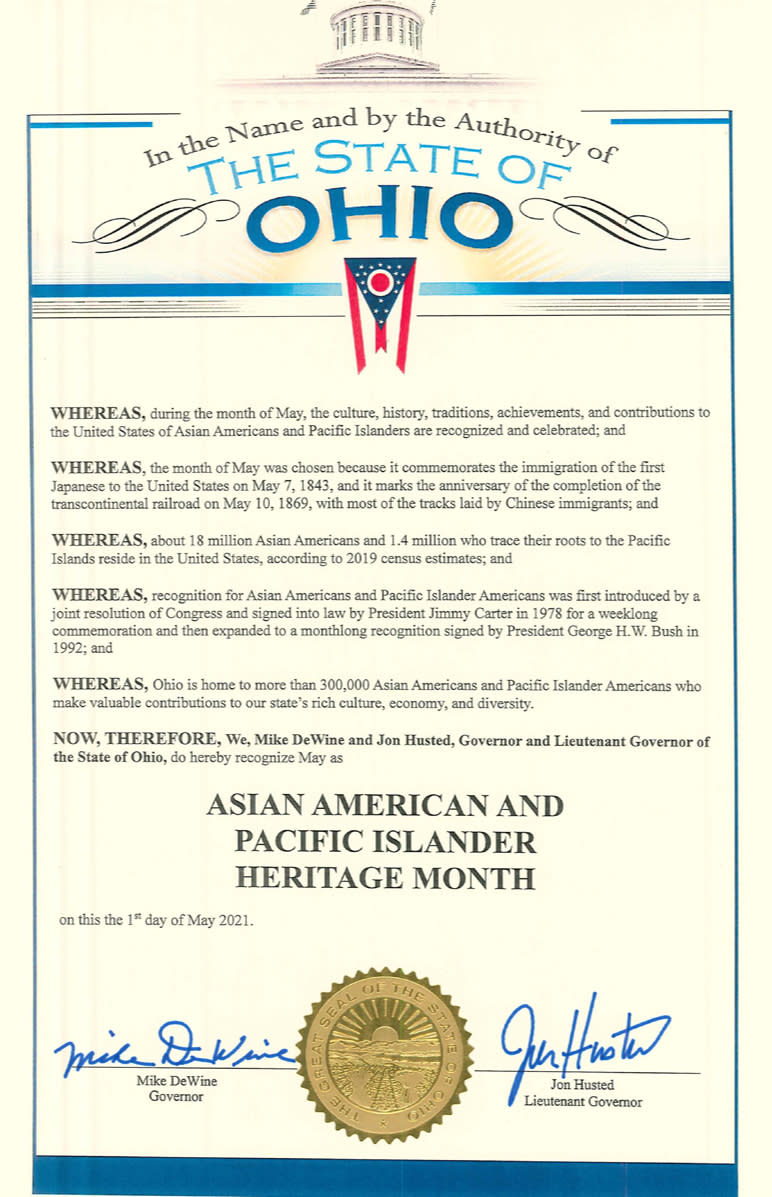 A BRIEF HISTORY OF AAPI HERITAGE MONTH
Designating the month of May to celebrate AAPI heritage was picked for two reasons: To acknowledge the immigration of the first Japanese people to the U.S. on May 7, 1843, and to honor the Chinese workers – often forced into labor under horrific working conditions – who helped complete the transcontinental railroad on May 10, 1869.
Initially, the celebration recognizing AAPI was established during the first 10 days of May after President Jimmy Carter signed a joint Congressional Resolution in 1978. It wasn't until 1990 when President George H. W. Bush and Congress voted to extend AAPI Heritage Week and since 1992, May has been officially designated as AAPI Heritage month in the U.S.
WHO MAKES UP THE AAPI COMMUNITY?
The AAPI community is made up of a wide range of cultures and people who have immigrated to the U.S. from over 30 countries in the Far East including those having origins in any of the original people of Hawaii, Guam, Samoa, or other Pacific Islands. This diverse community includes 50 ethnic groups speaking over 100 languages and dialects.
HERE'S HOW TO CELEBRATE AAPI HERITAGE MONTH
Check up on your AAPI friend. Ask them what AAPI Heritage Month means to them.
Celebrate with Asian American Commerce Group's virtual event, Portraits of Resilience on May 12, featuring Gov. Mike DeWine and Angela An as the moderator and a panel of AAPI leaders across Ohio. Register here for the free event.
Read a book by an AAPI author from Ohio.
Watch an AAPI movie – Yellow Rose, Minari, Joy Luck Club, and more.
Visit an Asian Market and purchase fresh and unique items. There are plenty of options including Saraga, Tensuke, Yayolee and more!
Dine-in or order take-away from an AAPI restaurant. Pro-Tip: If the restaurant has a menu in its native language, explore a new dish from that menu!
Support a local AAPI business. If you're unsure where to start, stay tuned on our blog for recommendations coming soon!
The Asian Festival, held annually Memorial Day Weekend, is going virtual this year, so be sure to check it out on Saturday, May 29 on ABC 6 at noon, and Sunday, May 30 on FOX 28 at 11 a.m.