When we began navigating through this crisis, events were the first commodity to go. While many events have been postponed or rescheduled for later in the year to give everyone something to look forward to, some events like birthdays or bridal and baby showers are time-sensitive and don't allow for postponement. Instead of canceling outright, consider making the celebration virtual!
We know this may sound daunting. As many have been working from home in recent weeks we've all encountered varying levels of confusion surrounding virtual meetings – and I'm sure we've all seen the memes. To help your virtual event be the best it can be, we asked the experts at Markey's Rental & Staging to share their top 10 tips to make your next virtual event a success.
1. Find a quiet room with as little background noise as possible.
2. Sit in the center of the camera shot to ensure proper camera framing.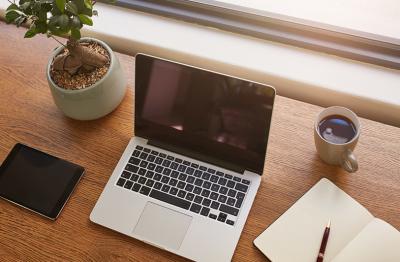 3. Make sure that your face is well lit by sitting in a room with plenty of light. If you can't find a well-lit room, place a small lamp in front of you but out of the camera view.
4. Always be aware of what is in the camera shot. Make sure there is nothing sitting in the background that you wouldn't want viewers to see.
5. Do not sit in front of a window. This will cause the camera to adjust for the light, making your face look very dark.
6. Adjust the camera to be level with your eyes. This will produce the best camera angle. If using a laptop, you may need to put your laptop on an elevated surface in order to achieve the desired height.
7. Use headphones or earbuds to listen to the audio. This helps with the sound quality and ensures you will always be able to hear clearly.
8. When speaking and not wearing a headset or earbuds, keep your speaker volume at the lowest setting while still being able to hear. This helps get rid of echoes coming back through your microphone.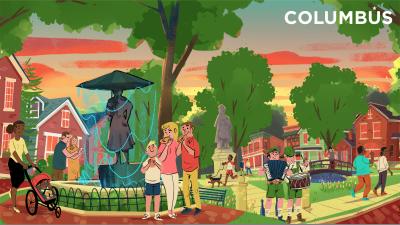 9. Use a cabled internet connection when possible. Most connection issues are due to a bad wireless connection.
10. Do a test call beforehand to make sure your microphone, speakers and webcam are all working properly.
If you follow these guidelines and share with your guest list, you'll be setting yourself up for a successful event! So, don't cancel or delay, celebrate with your friends and family when the situation is time-sensitive and it's sure to be a bright spot on anyone's social-isolation calendar.
Also, if you're looking to add some additional fun and pretend you're anywhere but your house – check out our virtual Columbus backgrounds for Zoom or WebEx meetings!