Don't let the darkness get you down this holiday season; once the sun sets, the night sky is illuminated by fantastic holiday lightshows taking place all across the city. Check out our curated list of holiday light displays and start marking your calendars to make sure you can enjoy everything Columbus has to offer! We hope this helps end your 2022 on a bright note.
Light Displays
Columbus' top attractions deck their halls each year to help the community get (and stay) in the holiday spirit. Don't miss these awesome displays of Christmas lights in Columbus. The options include light shows, drive-through Christmas lights and more.

Wildlights! 
Nov. 18 – Jan. 1 | 5 p.m. – close
Central Ohio's favorite family holiday tradition is Wildlights! at the Columbus Zoo and Aquarium. Originally just a few strands of lights and a few trays of cookies, the show has grown to millions of LED lights, animated musical light shows, Santa, reindeer and other holiday festivities, offering a whole new way to experience Jungle Jack Hanna's home zoo. Don't miss what MSN calls one of the most magical Christmas light displays in the country. Get discounted tickets with our Holiday Lights Pass, here. 
Conservatory Aglow
Nov. 19 – January 8 | 5-9 p.m.
The annual Conservatory Aglow at Franklin Park Conservatory and Botanical Gardens features thousands of lights twinkling and glowing in stunning displays, and new this year is a completely reimagined Topiary Collection. Accompanying the lights are familiar holiday favorites – such as the rainbow tunnel, ornament trees, gingerbread competition and more! Plus, the whole Conservatory is open during Conservatory Aglow so guests can check out the seasonal displays of Holiday Blooms as well. Trust us when we say, Columbus conservatory Christmas lights are not to be missed. Get discounted tickets with our Holiday Lights Pass, here. 
Scioto Mile Holiday Lights
Nov. 23 – Jan. 2 
Magical light displays return to downtown Columbus' Scioto Mile this holiday season, visible from dusk until dawn. Enjoy this free display that stretches from Bicentennial Park all the way up to Broad Street. 
Butch Bando's Fantasy of Lights
Nov. 18 – Jan. 1 | 5:30 - 9 (Sun.-Thurs.)/ 10 (Fri.-Sat.)
Butch Bando's Fantasy of Lights is the perfect activity if you want to see holiday lights and stay warm. The three-mile drive-through experience at the Alum Creek State Park Campgrounds takes about 30 minutes, featuring twinkling holiday displays and dazzling tunnels, with the perfect holiday music pairing piped through the radio. Plus, Mrs. Claus will be on hand to collect letters to Santa from Nov. 27-Dec. 23! Learn more here. 
Columbus Commons Holiday Lights, presented by American Electric Power Foundation
Nov. 18 - Jan. 1 | 5 - 11 p.m.
Come celebrate 12 years of festive lights at the Columbus Commons! See more than 400,000 LED lights dazzle as you walk through the scenic park. Be sure to visit Fridays in December (2, 9, 16 & 23) for complimentary hot cocoa and carousel rides from 5-9 p.m.
Flying Horse Farms: Light Up Camp
Nov. 25 – Dec. 26 | 6-10 p.m.
Don't miss Flying Horse Farms' free seasonal half-mile drive-through Christmas light display in which camp buildings transform into a twinkling, musical wonderland of safe, physically distanced family fun. A new animated light show will join the party this year and the display will be open on Thanksgiving. Donations are encouraged to support the work Flying Horse Farms does to enrich the lives of children with serious illnesses through the power of camp.
New! Magic of Lights at Historic Crew Stadium
Nov. 23 - Jan. 1
For the first time ever, enjoy Magic of Lights, a drive-through display located at Historic Crew Stadium in Columbus. Travel through the 1.5-mile experience to see everything from Santa's workshop to the 12 Days of Christmas around every turn. Learn more here. 
Holiday Light Tours
Overwhelmed with all the great options for holiday light displays? Explore all the decor downtown has to offer this holiday season, accompanied by your favorite Christmas carols, with one of these curated tours!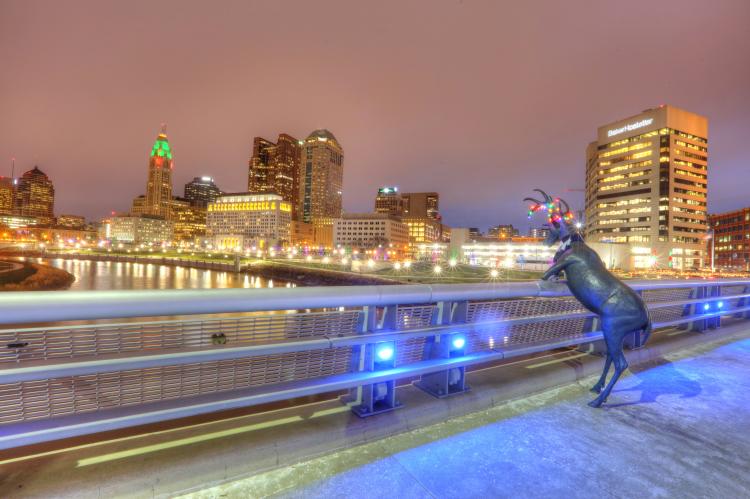 SegAway Tours of Columbus
Dec. 1 – Dec. 23 | 6 & 8:15 p.m.
Enjoy the beautiful sights and sounds of the holiday season as you glide downtown on a Segway during this delightful SegAway Holiday Lights Tour. Listen to your favorite holiday music through a wireless sound system while seeing holiday displays through the Scioto Mile, Arena District and Columbus Commons and more. The beautiful Columbus skyline at night is not to be missed! Tours are 1.5 hours each, including training, and cost $49 per person.
Columbus City Adventures
Fridays & Saturdays in December | 5 p.m.
Immerse yourself in the spirit of the season with a Columbus City Adventures Holiday Lights Tour. Hear tales and stories of central Ohio holiday traditions while checking out displays and decorations throughout downtown, including a new stop at The Museum of Catholic Art and History for a private tour of their incredible Nativity. Tours are 2.5 hours each and depart from Hotel LeVeque, the perfect spot for a before or after tour dinner and drink.