Columbus has long been a gay-friendly city, though more recently its reputation as a writers' town is growing too. At the first annual Columbus Book Festival, you can experience a cross-section of both!
The festival, featuring local and nationally recognized authors, is coming to the Main branch of the Columbus Metropolitan Library on Saturday, July 15th, and Sunday, July 16th. A number of local queer authors will be highlighted, though there are many more who call our city home. Here are just a few of the local queer writers we love.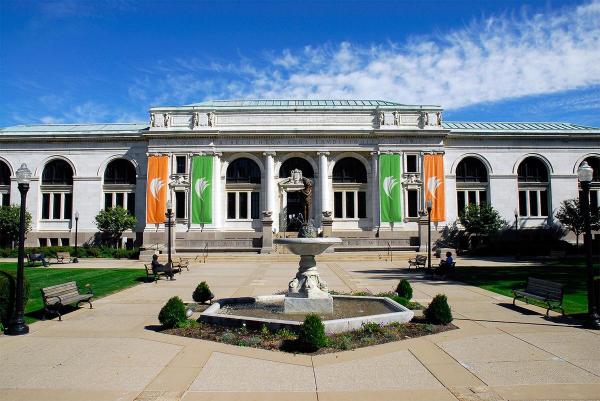 Columbus LGBTQIA+ Authors Attending the Columbus Book Festival
Grace Ellis 
Grace Ellis burst onto the comics scene with Lumberjanes, a tale of monster-fighting girl scout, and rose to the New York Times bestseller list. Next came Moonstruck, a graphic novel about a werewolf barista, and Flung Out of Space, inspired by the writer Patricia Highsmith's early days in comics. All those graphic novels are in addition to the work Grace has done for DC Comics. She's won an Eisner Award and a GLAAD Media Award for her work, and did I mention she's a scriptwriter too? If you love queer fantasy, Grace and her books are not to be missed. 
Mar Romasco-Moore
Young adult and middle-grade author Mar Romasco-Moore takes spooky tales to the next level. Her debut novel, Some Kind of Animal, follows a girl in Appalachian Ohio with a secret feral twin sister, and her sophomore YA, I Am The Ghost In Your House, tells the story of an invisible girl who just wants to be loved by the one girl she can't get off her mind. In Romasco-Moore's first middle-grade novel, Krazyland, the protagonist stumbles into an arcade with a spooky ball pit where children have been known to disappear. If the scary and the fantastical are your genres, don't miss Mar Romasco-Moore. 
Helen Yee
No matter where Helen Yee is, it's safe to say she's the most interesting person in the room. She immigrated from China to the Midwest with her parents in the 1960s and later went on to train for the U.S. Olympic Taekwondo Team, and co-founded The American Institute of Alternative Medicine, which offers training in acupuncture and massage therapy, among other disciplines. Along the way, she came out as a lesbian and wrote her memoir, I Belong Here: Living the Life I Was Born for In America. Find her in the festival's Indie Author Alley. 
Samantha Tucker
Samantha Tucker is one half of the roller derby writing powerhouse duo who penned Collective Chaos: A Roller Derby Team Memoir. Along with Amy Spears, a veteran derby player, she wrote an account of Ohio Roller Derby, one of the earliest teams in the game. The memoir is a love letter to this still up-and-coming sport and the many women and nonbinary people who have made it the joyful feats of athleticism and the tight-knit community it is today. Find them both in the Indie Author Alley. 
Skye Quinlan 
Queer band geeks rejoice! Skye Quinlan's YA novel Forward March is a long-awaited, much-anticipated story of queer kids in marching band. A secret fake dating profile, a catfishing situation, a Republican politician dad, and the threat of trouble at school all come together to add to the drama. Because what's a band room without some drama? IYKYK. Stay tuned for Skye's sophomore novel, Don't Be a Drag, too. 
LGBTQIA+ Authors From Columbus
Nick White 
Columbus is proud to be home to literary fiction writer, Nick White, who wrote the novel How to Survive a Summer and the collection of short stories, Sweet and Low. He's a professor in the creative writing program at Ohio State University. We're eagerly awaiting the new novel he's currently working on.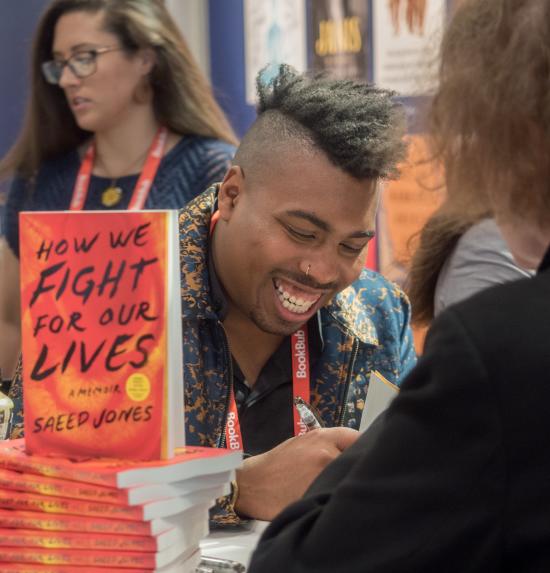 Saeed Jones 
As the award-winning author of two poetry collections, Prelude to Bruise and Alive at the End of the World, and a memoir, How We Fight For Our Lives, decided to make Columbus his new home, the writers of the city celebrated. Between his books, his Vibe Check podcast, and his cultural criticism, Saeed Jones is a force to be reckoned with. Learn more about Saeed.
Kristen Lepionka 
Mystery writer and creator of the Roxane Weary Mystery Series, Kristen Lepionka, knows how to keep readers on the edge of their seats. She's the author of The Last Place You Look and What You Want to See, as well as the award-winning, The Stories You Tell and Once You Go This Far. If you're looking for a good whodunit, look no further.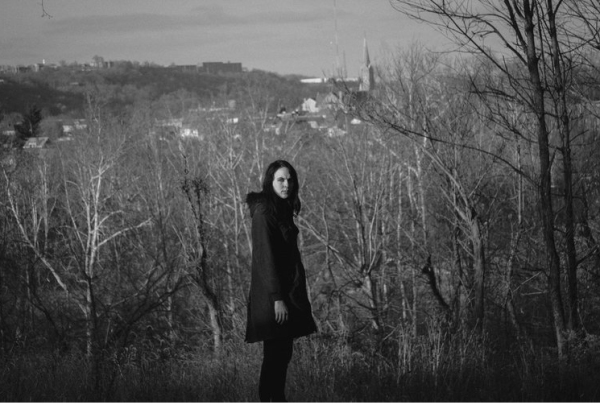 Stacy Jane Grover 
Stacy Jane Grover––author of the recently released debut Tar Hollow Trans, a collection of essays about her experience growing up trans in Appalachia––has found a more urban home in Columbus than what she was used to growing up. This fresh-off-the-press literary nonfiction read is already making a splash in the book world and signals big things in Grover's future. Learn more about Stacy.
Matt Mitchell 
Matt Mitchell writes poems like no one else. His latest collection, Vampire Burrito, spans his Appalachian upbringing, romance as an intersex person, and IVF. It's an epic ode to queer bodies and the beauty that can be birthed from the LGBTQ+ community. His first collection of poetry, The Neon Cowboy, is full of pop culture explorations through the lens of gender identity as an intersex person.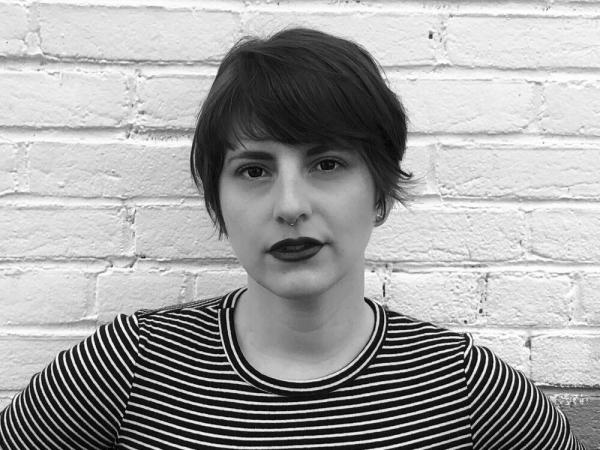 Credit Yonina Hoffman  
Kamal "Kae" Kimball
Author of the chapbook, The Mouth That Sucks the Bone, Kae Kimball is a prolific poet with upwards of two dozen poems published online alone. With her chapbook having only just come out in 2022, the poetry lovers of Columbus can't wait to see what's in store for her. Learn more about Kae.
Luma Mufleh
Luma Mufleh is the daughter of Syrian refugees who grew up in Jordan and was one of the only girls on her school's soccer team. She came out as queer and was disowned by her family, then found her way to the U.S. for college, where she navigated the broken immigration system to build the life she most wanted to live. Her experiences gave her a passion for refugee education and she garnered national attention by turning the soccer team she coached into a network of schools catering to the needs of refugee children, particularly those who suffered the traumas of war and poverty. She detailed her story in Learning America: One Woman's Fight for Educational Justice for Refugee Children.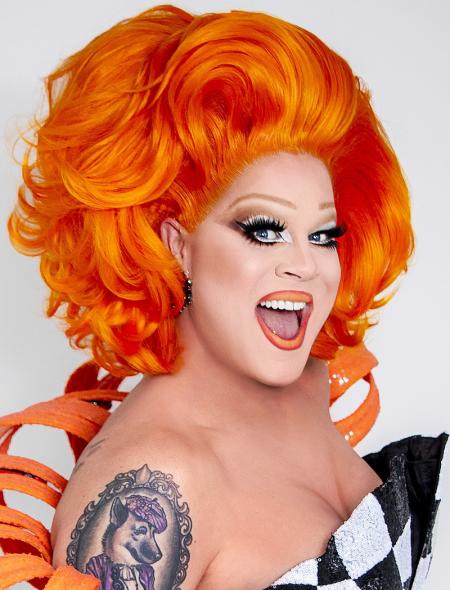 Nina West
And last but certainly not least, Columbus' own legendary drag queen, Nina West, wrote a children's book called The You Kind of Kind. The protagonist, little Nina, goes on an adventure to find kindness in the wild in its many forms, including the kindness inside herself. Heartfelt and colorful, the book is a meaningful testament to the power of loving yourself and others. Learn more about Nina West.