It's date night! Whether you're opting for a fancy night out or a casual spot where you can eat quickly and get on with your evening, these LGBTQIA+-owned restaurants in Columbus will satisfy your every craving. 
Spanish-inspired tapas are a specialty at Barcelona in German Village

 
For a Fancy Night Out: Barcelona
For more than 25 years, Barcelona has been tucked away in the historic German Village gayborhood, serving up a taste of Spain for locals and visitors alike. The menu changes frequently to reflect the availability of the freshest ingredients around, the artistic whims of the chef, and to keep things interesting. However, you can always count on authentic Spanish dishes with gorgeous plating, succulent desserts from their pastry chef, a generous selection of wine and cocktails, and a meal you won't soon forget. Choose from large single entrees or several tapas—small plates—to share, or both! Whatever you do, just be sure to save room for dessert. 
Pro tip: Plan your evening so you'll have time to take an after-dinner stroll around German Village. Not only will that help you digest your rich meal, but the gayborhood is also gorgeous at night with its cobblestone roads, lamplit tree-lined streets, and historic architecture.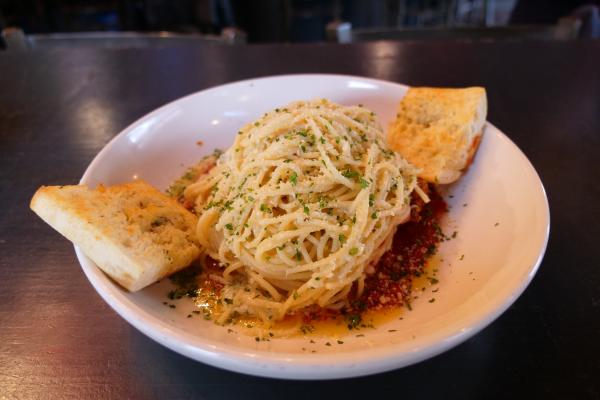 Upscale pub dishes are a must at Moran's Bar & Grill. Credit Facebook.

 
For a Night of Upscale Pub Fare and Drinks: Moran's Bar & Grill
If you're looking for English pub food, Moran's Bar and Grill has a succulent fish and chips plate, though the menu really shines when it comes to the food from this side of the pond. Apps like the jalapeno and cheddar hush puppies, entrees like the massive taco salad bowls, and sides like the perfectly crispy fries ensure that you can't go wrong. If you're in the mood for something a little less greasy, opt for the salads or the pasta—or both! 
Pro tip: Get the grilled chicken rigatoni. I repeat, GET THE GRILLED CHICKEN RIGATONI. The chicken is tender, while the sauce is bursting with flavor and is thick enough to stick to the noodles well while leaving just enough at the bottom of the bowl to sponge up with your hunk of parmesan cheesy bread. You can thank me later.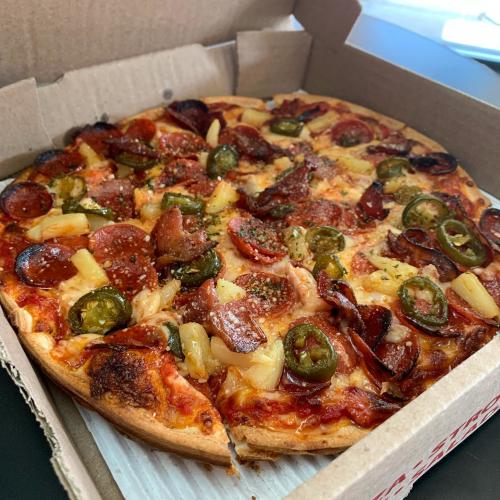 Who doesn't love a pizza date? Credit Facebook.

 
For Pizza Night: Carlucci's Pizzaria
If your perfect date night involves having strings of melty cheese dangle between your lips Lady and the Tramp-style, head to Carlucci's Pizzaria. It's your classic pizza joint, complete with a variety of pies and the famous cup-and-char pepperoni on crispy thin crust, in addition to having salads, subs, lasagna, spaghetti, stromboli, and sodas you can buy by the two-liter. If that's not enough to have you pinching your fingers and shaking your wrist, 🤌 check your pulse. 
Pro tip: Go for the pizza, but don't sleep on the Munchies section of the menu! The mac and cheese bites, fried corn nuggets, jalapeno poppers, and fried potato skins add even more flavor to the mix. 
Tasty Dawg specializes in all things hot dogs and delivers! Credit Facebook. 
For Something Tasty and Unpretentious Without Leaving Home: Tasty Dawg
Hot dogs are classic and Tasty Dawg does them right. The founders are Chicagoans-turned-Columbusites, so you know they know their hot dogs. Choose from favorites like the classic chili cheese dog, the Italian beef dog, the Philly cheesesteak dog, the pizza dawg, and—of course—the Chicago dog, among others, or build your own. And if you're a couple where one of you is a healthier eater than the other, fret not. You can get a Dawg Bowl—a salad complete with pieces of hot dog. At the moment, Tasty Dawg is open for delivery only, so if you don't want to leave home, this is a good way to go. 
Pro tip: Get a side of the white cheddar mac and cheese. I don't know if magic is the secret ingredient or what, but that stuff is good!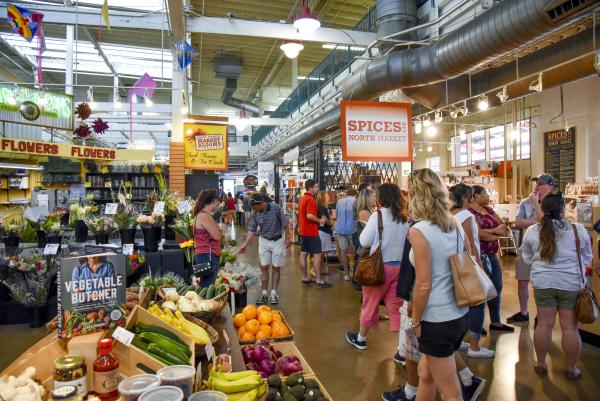 North Market offers so many different culinary options for your next date night.

 
For When you Both Want Wildly Different Things to Eat: North Market
Don't let indecisiveness spoil your night. Just head to North Market, with locations downtown and in Dublin's Bridge Park, for a variety of options. North Market is a food business incubator, so there are vendors with offerings from ready-to-eat meals to specialty desserts and drinks to upscale groceries and everything in between. Can't decide between Mexican and Mediterranean? Indian and Polish? Somali and Vietnam? Nepali and Thai? Hot chicken and deli sandwiches? Sushi and pasta? Pizza and poke? Ramen and soul food? At North Market you don't have to choose—you really can have it all. 
Pro tip: If you've been to the downtown location in previous years, you might remember an on-site parking lot. It's gone now due to construction, so be sure to park in the Vine Street Garage just a short walk away. There are more specific instructions here.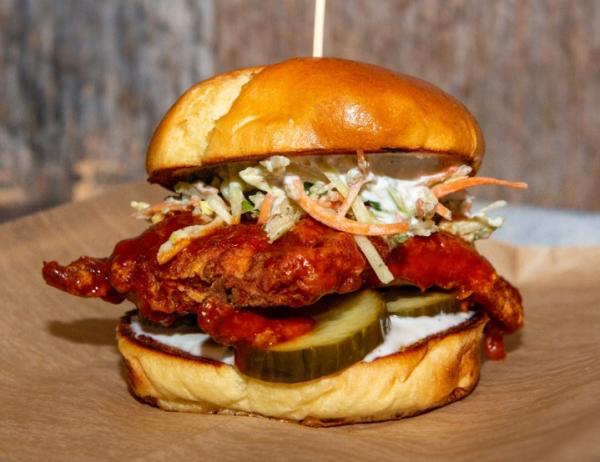 Pick from a wide selection of delectable bites from Pat & Gracies. Credit, Pat & Gracie's website.

 
To Satisfy that Burger Craving in a Chill Environment: Pat and Gracie's
Gotta love a place with upscale-tasting food with an ambiance where you wouldn't feel out of place in a sweaty work shirt. Don't change before dinner, just head to Pat and Gracie's. On the menu of hefty burgers, beautifully greasy appetizers, and fresh salads, there are some standouts that set P&G's apart: the house made tater tots that are thicker, fluffier, and more flavorful than any you've had anywhere else; the smoked bacon onion dip served with naan; and the fried bologna sandwich made with Falter's bologna, thick-cut for juicy, nostalgic perfection. There are even banana beignets for weekend brunch. And they have two locations, so you can choose where you try all these tasty meals: downtown and Clintonville/Graceland. 
Pro tip: Okay, hear me out. Order a salad and a side of fries, then put the fries in the salad. I like mine best with their spinach salad, but all of the salads are excellent options. Something about the starchiness and crispiness of those hand-cut fries in a bed of greens, hard-boiled eggs, onions, and tomatoes just hits different. 
Brunch is always a good idea at Dough Mama. Credit Facebook.

 
For a Breakfast/Brunch Date: Dough Mama
Grab breakfast together at Dough Mama! They're open every day from 8 a.m. to 3 p.m., so you don't have to wait for the weekend for brunch. While they're best known for their pies—because of their irresistible, swoon-worthy flavors like lemon lavender chess pie and orange chocolate cream pie—they make some mean savory meals too. True to their name, the biscuits are thick and full of bready goodness, the sandwiches are elevated by fresh ingredients and artisanal bread, and they make toast shine on the menu. And no matter what flavors they're cooking up in their seasonal quiches, you won't be disappointed. On top of that, no breakfast place would be complete without coffee and between their year-round options and their seasonal brews, your cuppa is sure to be a good one.
Pro tip: My favorite thing there is the avocado biscuit. Between the creaminess of the avocado, the doughiness of the cheddar scallion biscuit, the crunch of the greens, the bite of the pickled onion, and the warm ooze of the egg yolk, it's a mouthful of perfection. Plus, just about anything on the menu can be made vegan and they have a small section of locally made goods, so you can grab treats in multiple senses of the word.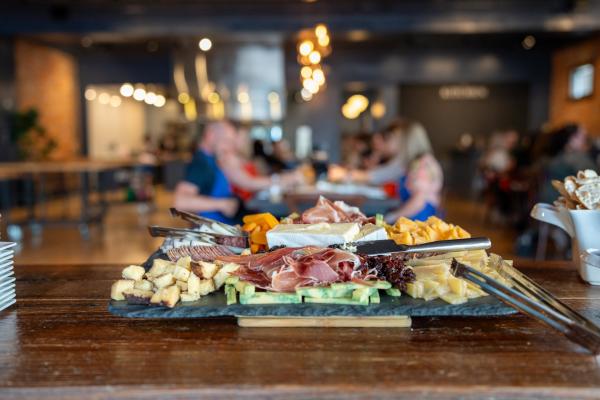 Sign up for a participatory dinner at The Kitchen in German Village.

 
For a Truly Memorable Experience: The Kitchen
The Kitchen isn't your typical restaurant. While the space is mostly for private events, they occasionally offer public events, including participatory dining experiences. Translation: You join a group in the experience of cooking and enjoying your meal together. It's not quite a cooking class, but if you love the satisfaction of making food with your own two hands because you know it tastes better, this is an ideal way to take the stress out of making a decadent meal. The Kitchen staff gathers all the ingredients and guides you in the cooking so you can just enjoy the process without all the prepping and shopping beforehand. 
Pro tip: They can only accommodate a small number of people for these dining experiences, so spots sell out pretty fast. Be sure to sign up for The Kitchen's email list to be among the first to know about these participatory dining experiences and other unique food events.