Columbus native and resident Mitchell Bienvenue is an active explorer in all areas of the city. In his own words:
"One of the things I love most about our growing city are the new adventures that are introduced every year! The adventure scene in Columbus is always evolving along with the city and there is truly something for everyone, and every season. I have been on the move ever since I got my driver's license and am always looking for new thrills in our city!"
We've teamed up with Mitchell to learn about some of his favorite spots to get thrills in Columbus. Check it out and follow Mitchell on Instagram (@mitchellbienvenue) for more!
7925 N. High St., 43235 (at Camp Mary Orton)
You won't even realize you're in the country's 14th largest city when you get to ZipZone, just north of downtown. This thrilling outdoor experience offers something for the whole family, including zip line tours, a tree top obstacle course, and a ground level kids park. Locally woman-owned and operated since 2012, ZipZone is open to all experience levels and new in 2021 offers free photos to commemorate the experience!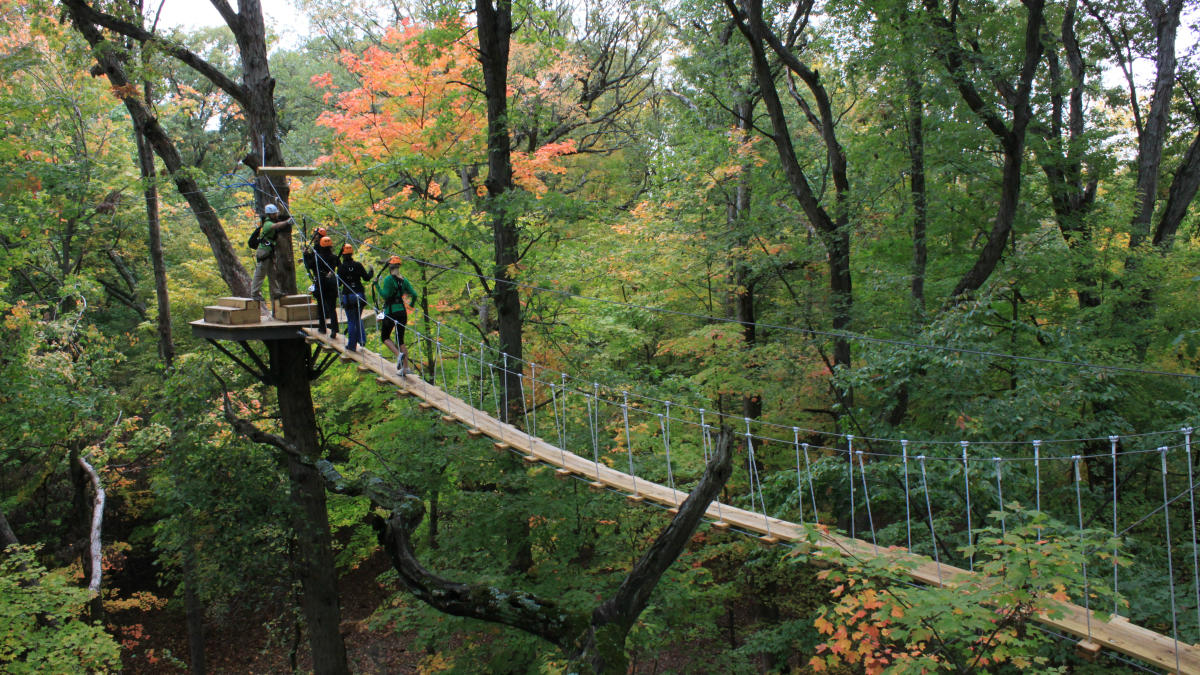 2. Kayaking/Paddle Boarding along the Scioto Mile 
233 S. Civic Center Dr., 43212 (Bicentennial Park)
There is absolutely no better way to take in the downtown skyline than from the Scioto River itself. Windrose Outdoor will meet you at the river with all the equipment you need for a successful kayak or SUP (stand up paddleboard) experience. If you've never tried these activities before, they offer lessons too!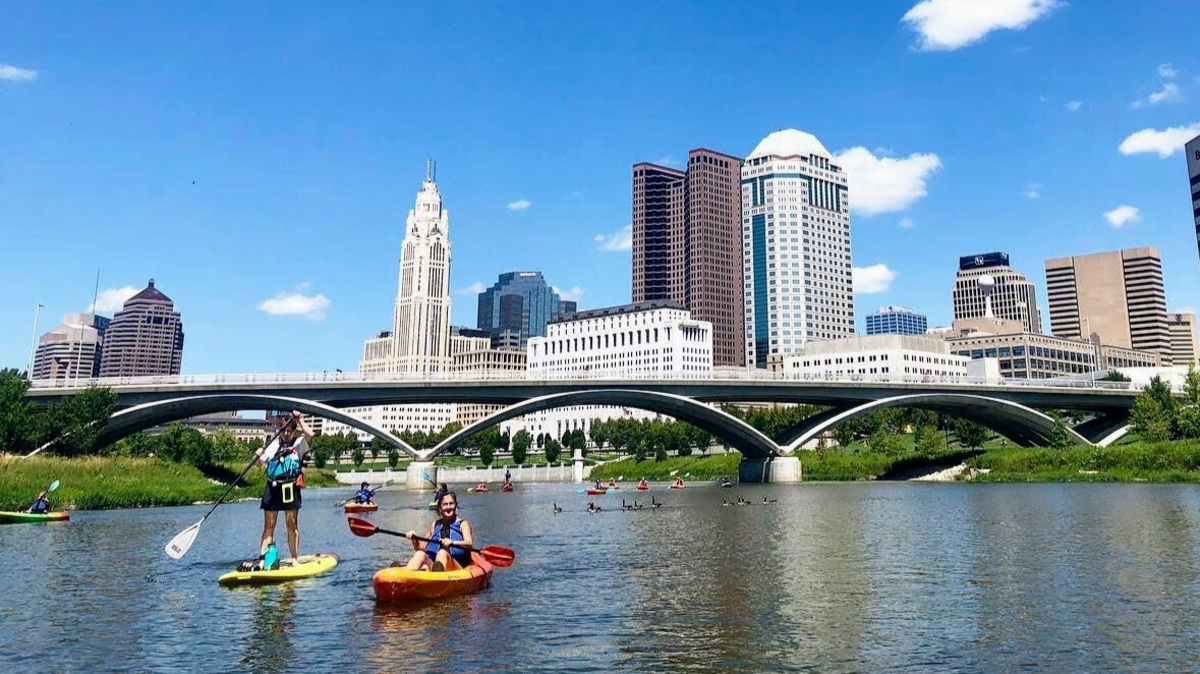 3. Berliner Single Track Mountain Bike Trail 
1300 Deckenbach Rd., 43223
Lou Berliner Sports Park, located just south of downtown, is well-known for having the nation's largest ball diamond complex. However, one of the park's more unique features that remains a bit of a hidden gem is its nearly 3-mile singletrack mountain bike trail, including a skills park. This is a great way to practice and hone your skills before heading out to a real mountain. The trail is right off the Scioto Greenway Trail so you can get there by bike or car. Learn more about rules and etiquette here.

4. Play: CBUS 
This indoor adventure park located near Worthington is offers fun even when there isn't sun. In addition to ninja warrior courses, rock climbing and ziplining, Play: CBUS also has the world's largest indoor rope course. With thrills for all ages and an on-site bar/restaurant, plan to spend the whole day.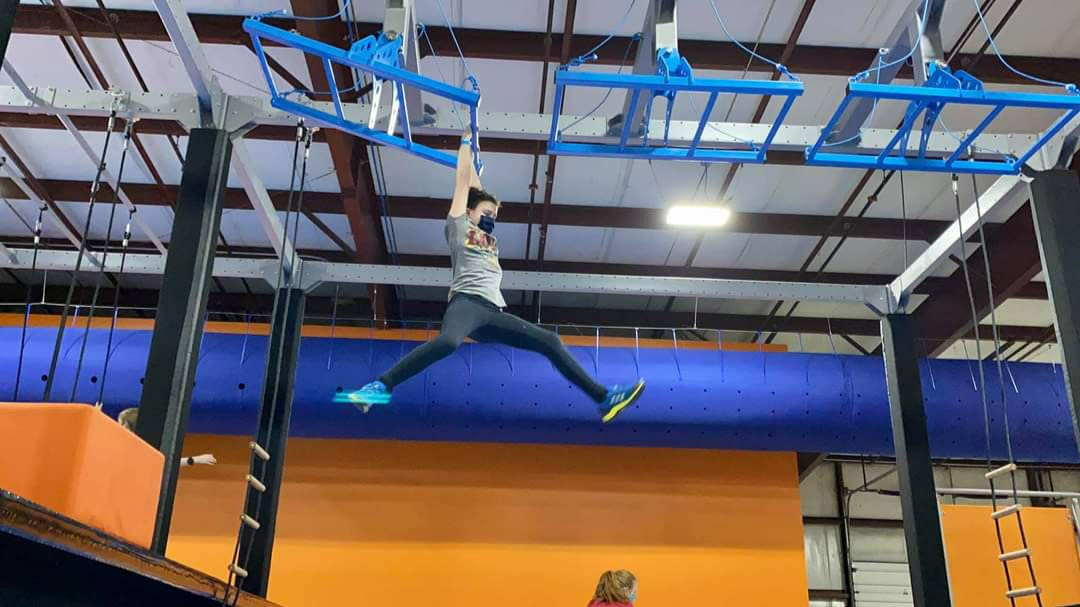 1777 E. Broad St., 43203
This 2-acre garden offers plenty of thrills for the little ones in your life. Focused on connecting children with the natural world and promoting active learning with an emphasis on health and natural sciences, there are many unique features such as the nature play zone, canopy walk and wetland exploration.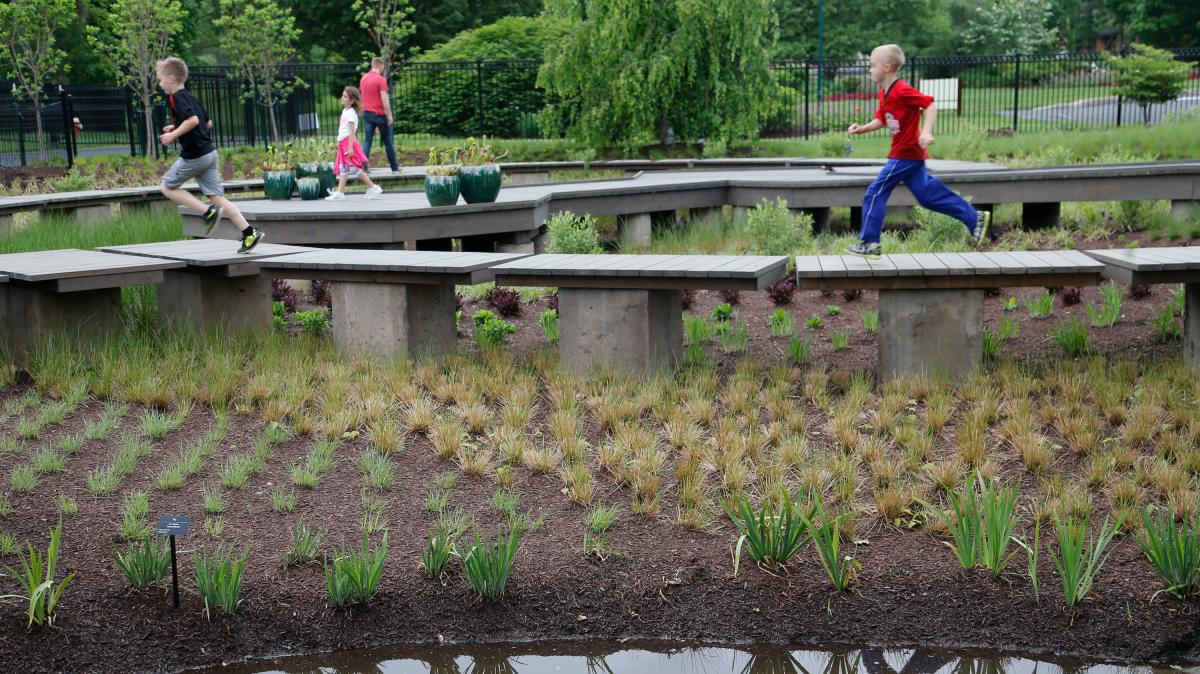 400 W. Whittier St., 43215
One of the Audubon's most well-known features is that it offers the world's largest free outdoor climbing wall. Three towers reaching 35 feet offer unparalleled views of the skyline and are available to climbers 13 years and older with their own harness. The park also offers a much more accessible adventure in the form of an obstacle course constructed by the Columbus Rotary. Highlights of the feature include a quarter-mile running track, a tunnel crawl, an 8-foot climbing wall, balance beams, monkey bars, a tire course, a cargo climb, an over/under, a belly crawl and a log run.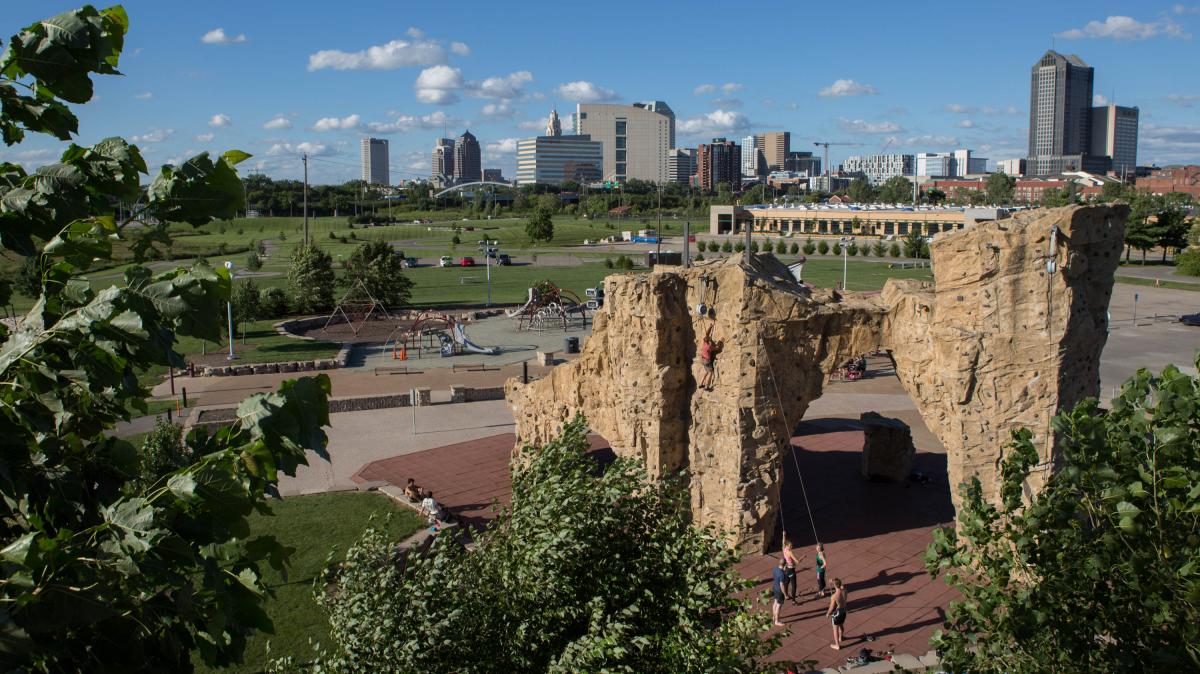 7. Visit Hayden Run Falls & Indian Run Falls  
4326 Hayden Run Rd., 43017 & 700 Shawan Falls Dr., 43017
These 30-foot waterfalls located in Dublin offer a respite from the hustle and bustle of city life while getting your adrenaline pumping. Indian Run Falls also has a walking trail with views of smaller waterfalls along the way.
6513 Kingsmill Ct., 43229 
This indoor climbing facility offers 16,000 sq. ft. of rock-climbing terrain for all skill levels, plus classes. For just $30 you have access to the gym to climb. Additionally, you can try your hand at one of the latest extreme sports growing in popularity - bouldering - in which you free climb (without ropes or harness) on a small rock formation.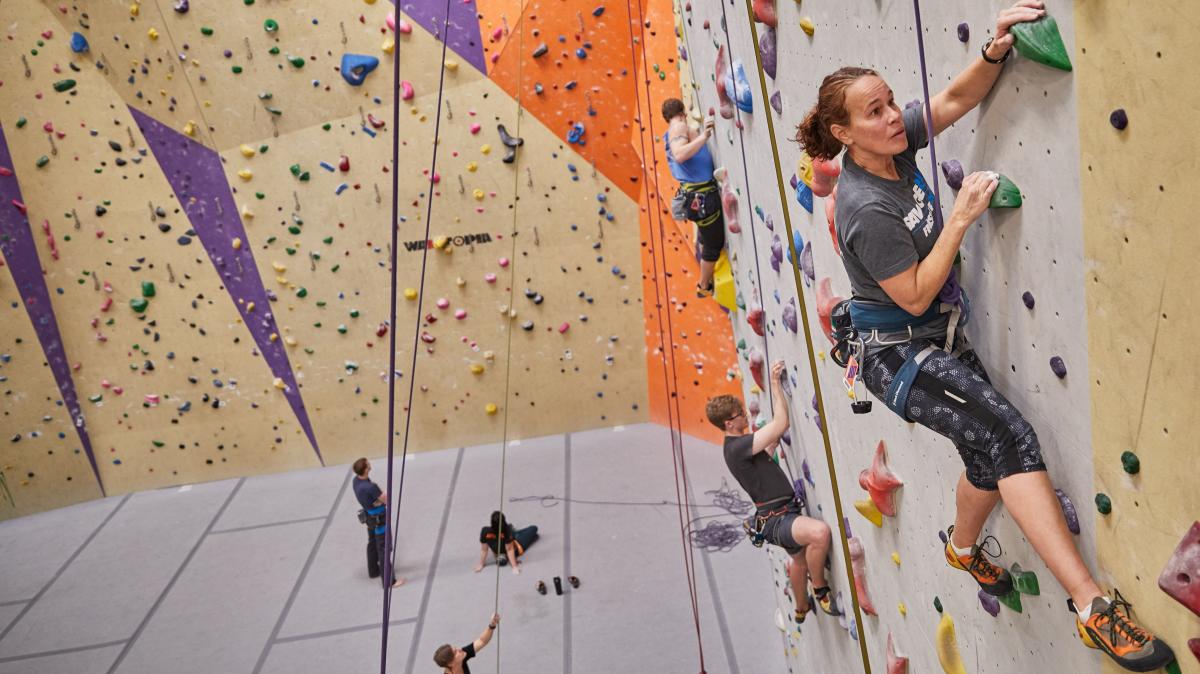 5172 Jackson Pike, 43123
This 620-acre riverfront park offers mature forests and scenic bluffs. With more than seven miles of trails, it also uniquely offers free backpacking along the REI River Trail. This is a great opportunity for those just getting into the sport, or seasoned backpackers who just want a quick overnight in the wilderness. Find additional information and make reservations here.

10. Axe Throwing
Various Locations
Axe throwing is the latest craze to sweep the nation, and you don't have to have any skills going in. Participants take part in a short training and then compete against each other in a variety of games, similar to those used in darts. Downtown's premiere axe throwing lounge, Dueling Axes, invites guests to BYO beer, wine and food, while the Brewery District's Columbus Axe Throwing has an on-site bar. Capital Axe Throwing was one of the OG spots in the city, and recently introduced casino-themed axe throwing games to amp up the fun.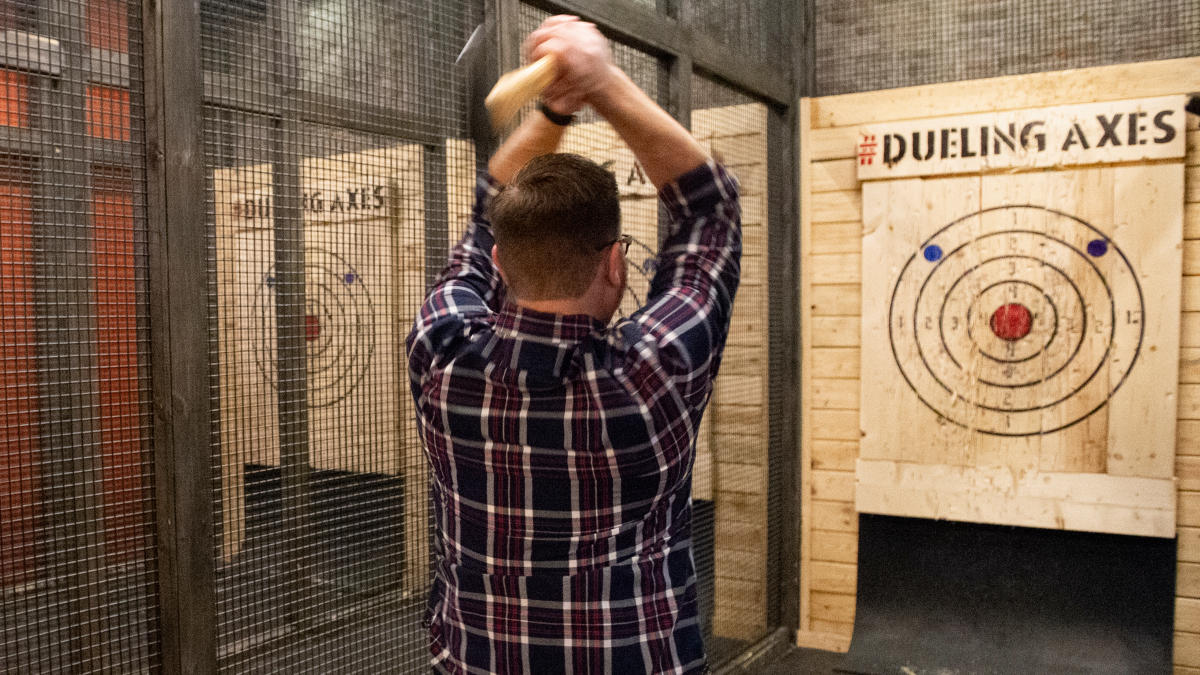 11. Bike Paths
Columbus is a biker's dream, and here are some of Mitchell's favorite spots around the city:
Alum Creek Trail (25 miles): This trail starts in Three Creeks Metro Park  in Groveport – named for the confluence of where the Alum, Big Walnut and Blacklick creeks join – and runs through Bexley, around Franklin Park Conservatory, up to Easton and Westerville with views of Alum Creek - one of the city's most scenic river corridors - along the way. It's mostly shaded and includes minimal hills. For those who want to extend their rides, this is part of the cross-state long distance Ohio to Erie Trail. 
Olentangy and Scioto Trails (25 miles): This is a quintessential Columbus ride. Mostly flat, it runs along Olentangy and Scioto rivers, taking riders from Scioto Audubon Metro Park, through downtown, campus, Clintonville and Worthington, offering great skyline views along the way. There are plenty of places to hop off trail for exploring Columbus restaurants and breweries as well. Route includes multiple road crossings and can be crowded, but is mostly shaded and great for commuting downtown.
Blacklick Creek Greenway Trail (12 miles): With trailheads at Three Creeks, Portman Park, Pickerington Ponds Metro Park and Blacklick Creek Metro Park, this is a beautiful scenic trail on the east side of the city. 
Big Walnut Trail (10 miles): This paved trail is accessible from Hoover Reservoir, Academy Park and Elk Run Park, taking riders straight through Creekside in Gahanna for a perfect mid-trip stop.
Camp Chase Trail (16 miles): The Camp Chase Trail is integral to the cross-state Ohio to Erie Trail, Central Ohio Greenway Network, and U.S. Bicycle Route 50, which connects Indiana to West Virginia. The trail is unique in that it is built along a rail line, for which it gets its name. Easy access points include Battelle Darby Metro Park and Wilson Road Park, among others.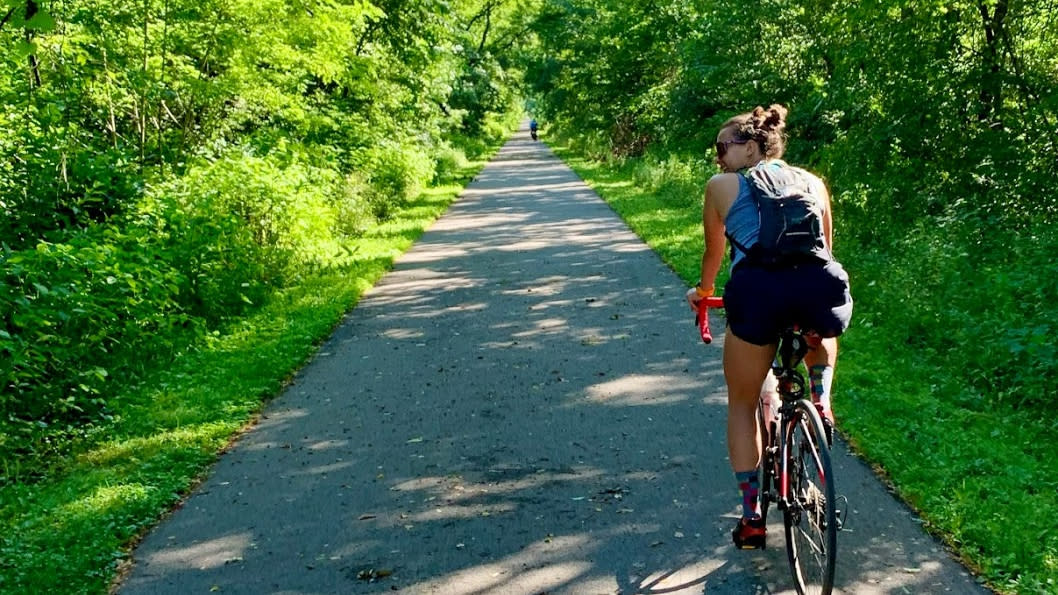 12. Do a kickflip at one of Columbus's Skateparks 
There are eleven skateparks around Columbus, and the ones listed below are some of Mitchell's favorites. Most of the skateparks in the city are open sunrise to sunset and have a variety of features including open bowls, ramps, rails, jumps and more. All skill levels are welcome, and bikes allowed in most places as well, but visitors need to take their own equipment.
Dublin (Coffman) Skatepark: 6565 Commerce Pkwy., 43017
Westerville Skatepark: 455 Park Meadow Rd., 43081
Worthington Skatepark: 600 W. Wilson Bridge Rd., 43085
Powell Skatepark: 300-366 Adventure Park Dr., 43065
Gahanna Skatepark: 199 Walnut St., 43230
Grove City Skatepark: 3728 Hoover Rd., 43213