Our recurring series, Live to Explore, features Columbus' thriving neighborhoods through the eyes of people who live, work and play in the area. Discover their favorite locales and best-kept secrets about the neighborhoods that make our city so special from the people who experience them every day! This week, we're highlighting German Village.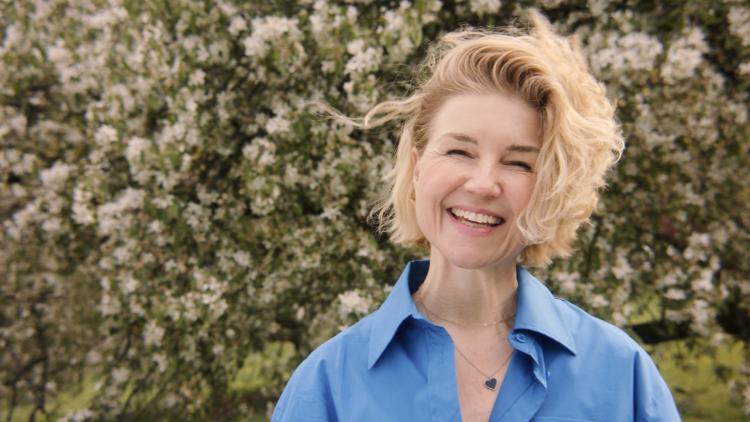 You may have heard of Jeni Britton, founder and Chief Creative Officer at Jeni's Splendid Ice Creams, a nationally-recognized, artisanal company known for its innovative flavors, but did you know Jeni lives in Columbus, Ohio? Out of all the Jeni's Splendid Ice Creams in Columbus, the German Village location holds a place in her heart - she's a former resident of German Village, having lived there for several years while growing her business. 
We asked Jeni how she would spend the perfect day in this idyllic neighborhood; here's what she said.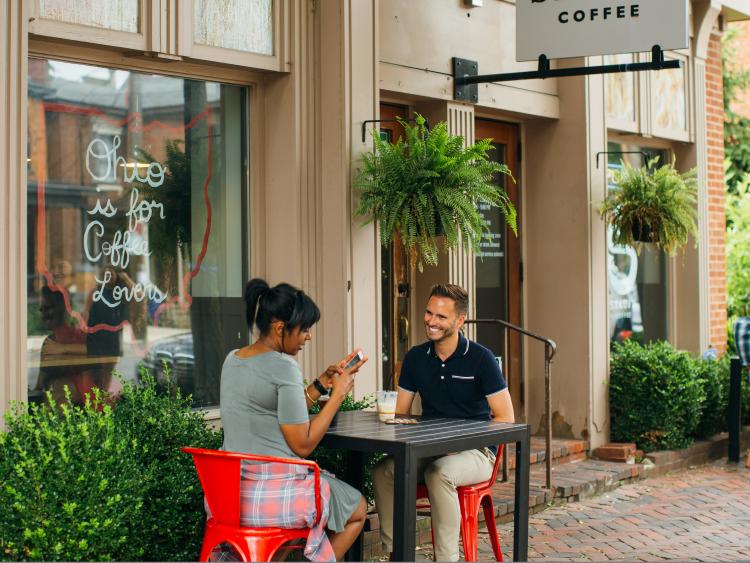 Start with Coffee at Stauf's
Every good day begins with coffee and Stauf's Coffee Roasters in German Village is a great place to caffeinate. All coffees on the menu are roasted by hand in small batches, making for the perfect cup every time. Jeni frequents local coffee shops as a meeting place for business and friends, and now that this Stauf's location has its newly renovated back room, there are plenty of places to sit and sip before you take on the day.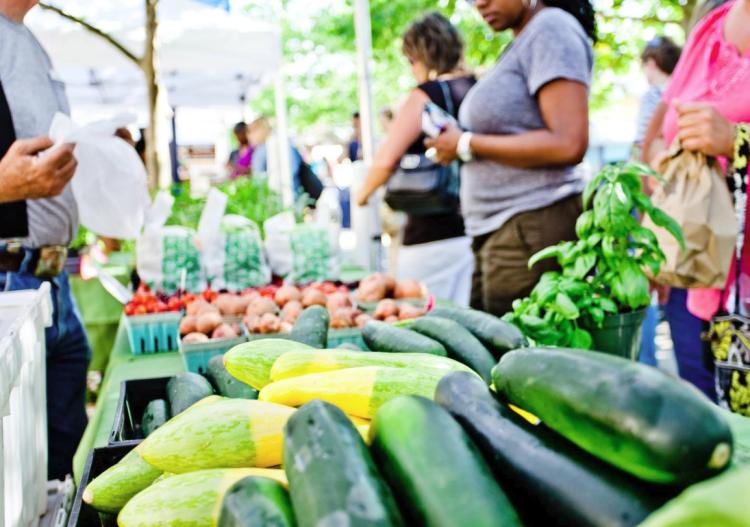 Shop for Freshness at St. Mary's Farmer's Market
There's always something new to uncover at farmers markets in Columbus, and according to Jeni, there's no better way to enjoy a weekend morning. Open Saturdays from 9 am – 1 pm, the St. Mary's Farmer's Market is the place to be on the weekends in German Village. Whether you're looking for the freshest produce from The Farm on Winchester Pike or sourcing your newest bouquet from Rosie the Flower Truck, an ideal day in German Village would not be complete without a cruise through the St. Mary's Farmer's Market.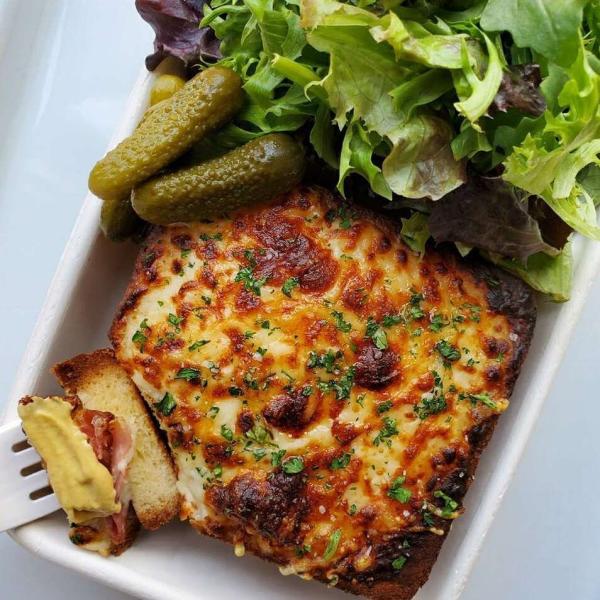 Croque Monsieur from Pistacia Vera
Lunch at Pistacia Vera
Elevate your lunch date with a trip to Pistacia Vera. Jeni's go-to menu item: the Croque Monsieur. Enjoy smoked cottage ham, aged cheese, dijon mustard and mixed greens served on top of brioche with lemon shallot vinaigrette. Don't leave without one of their famous macarons!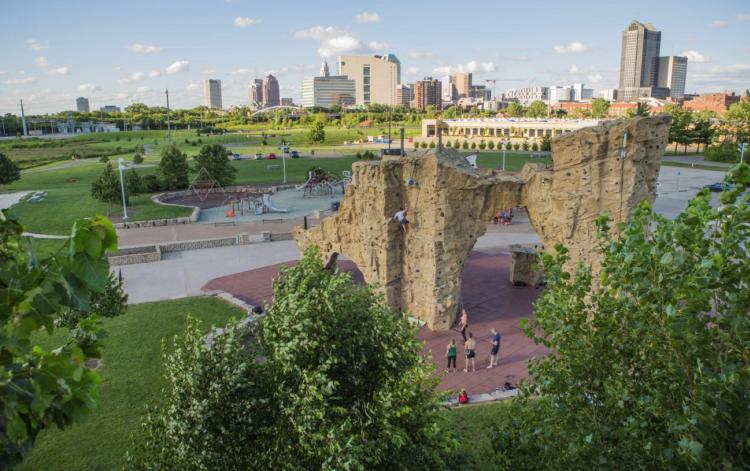 Immerse Yourself in Nature at Scioto Audubon Metro Park
For Jeni, getting outdoors plays an intricate role in her creative process. Scioto Audubon Metro Park - just steps away from German Village - has so many activities and spots to explore! Scioto Audubon is home to the country's largest outdoor climbing wall, launch sites for kayaks and canoes and several trails, all perfectly situated for connecting with nature close to the city.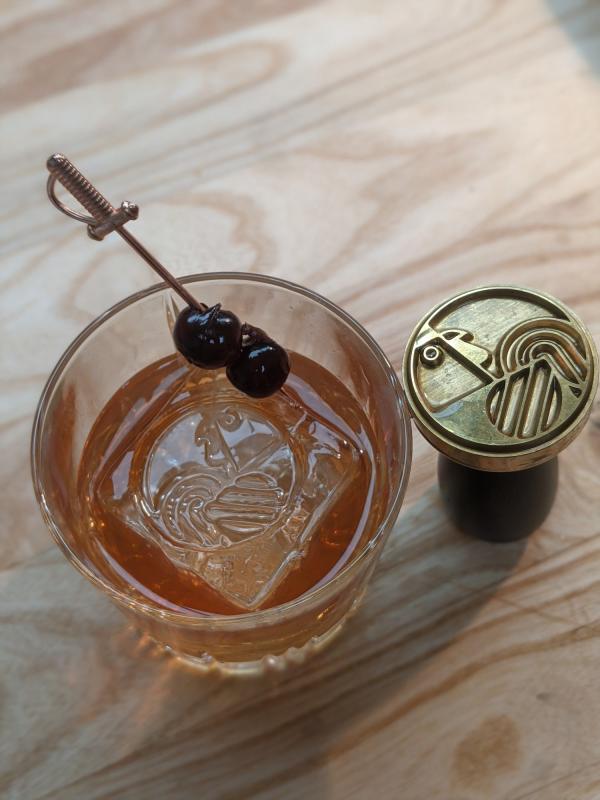 Savor Chapman's Eat Market for Dinner
In Jeni's opinion, one of the great things about the Columbus dining scene is that nationally-recognized establishments and high-quality cuisine are accessible and affordable here. Chapman's Eat Market, right here in German Village, was recently named one of the New York Times' Favorite Restaurants in America. A must-try: their hand-crafted cocktail/mocktail list - see the menu here.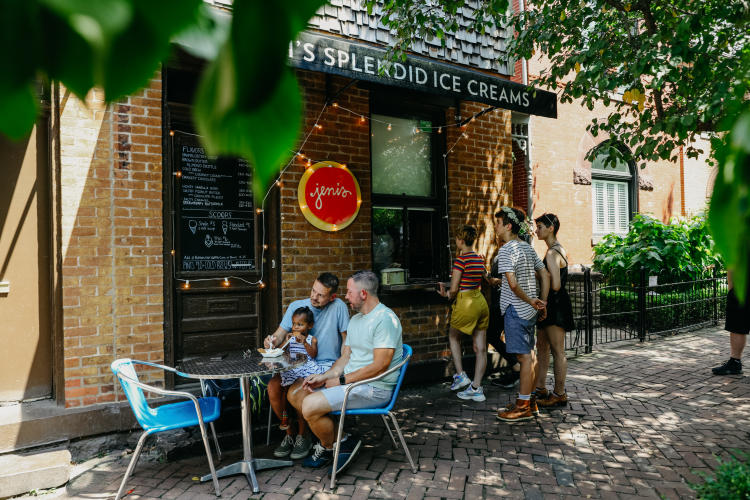 Jeni's Splendid Ice Cream (German Village)
No trip to German Village would be complete without an after-dinner stop at Jeni's Splendid Ice Creams. Unique to the German Village location is a Jeni's walk-up window. allowing customers to grab their scoop and continue exploring the area. Pro tip: Ask for Jeni's seasonal favorite flavor, Sunshine, that supports the work of the On Our Sleeves movement in raising awareness for children's mental health.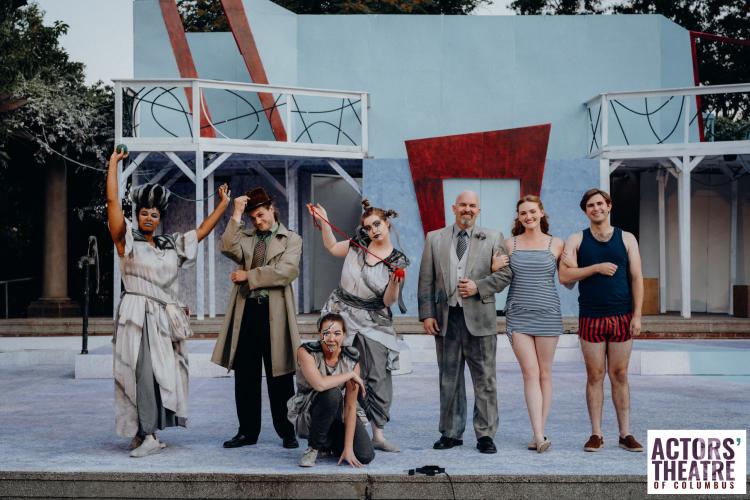 Shakespeare in the Park
The best conclusion to the perfect day. Each summer, The Actor's Theatre of Columbus performs Shakespeare (and other notable playwrights) productions on the amphitheater stage at Schiller Park. The best part? Admission is free! This season, enjoy productions such as Hamlet, A Tale of Two Cities and Queen Margaret. This is the perfect opportunity to grab your folding chairs and end the ideal day in German Village outdoors.
There you have it! Spend a day in German Village, Jeni's way. Find more travel inspiration here and share your memories with us using #LiveForwardCbus.