Our recurring series, Live to Explore Cbus, features Columbus' thriving neighborhoods through the eyes of people who live, work and play in the area. Discover personal stories, favorite locales and best-kept secrets about the neighborhoods that make our city so special from the people who experience them every day! 
This week we're highlighting Hilliard, a much-loved area that embodies small-town living but sits just west of Columbus outside the 270 loop. Like much of Columbus, Hilliard's history goes back many years, and the area has grown and developed extensively in the last few decades. One thing that remains the same is the sense of hometown community and family life that is a significant piece of Hilliard's identity.
Our featured Hilliard residents are Nate and Sharon Grenier, founders of popular local coffee shop Coffee Connections. Read on to learn their inspiration and mission for starting a coffee shop "where all people are welcome", as well as why they decided to move to Hilliard from Pennsylvania to open one!

You were living in PA prior to starting Coffee Connections. How did everything get started, and what made you choose Hilliard as the site for your new business? 
The short answer is faith; we were trusting God to send us where we needed to be in order to establish a coffee shop that could give back to the community. The long answer is that as we were processing that idea for a coffee shop that gives back, a friend of a friend recommended that we check out Hilliard. The first time we came and drove through Old Hilliard, we fell in love and knew it would be a great fit! Nate took the first job he could find at the YMCA, as a lifeguard (he actually has prior experience there), and we moved our family to Hilliard. Soon afterward, we started making connections in the community, roasting coffee in our basement and setting up pop-up shops around town.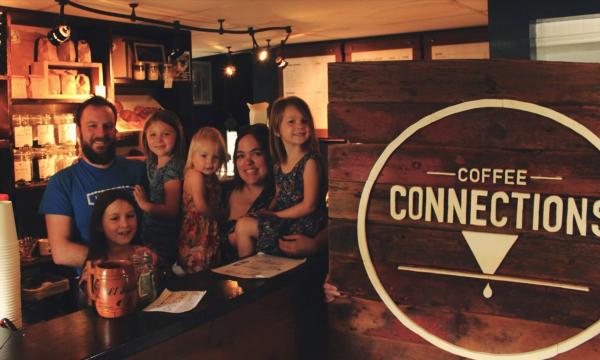 What was the inspiration that got the idea going, and why coffee? 
Before we started getting into coffee, Nate was a children's pastor and I (Sharon) was a kindergarten teacher. We've definitely had a longtime heart for kids and for families. However, once we had kids of our own, we realized how hard it is to take your kids out with you. We wanted to create a family-friendly coffee shop that could provide great coffee – with no sacrifice of quality – and be welcoming to families with kids. We didn't want to create a play café, but simply a spot where kids are as much a part of the customer base as the parents: one where all people are welcome.
We also really believed that people were created to live life together, love our neighbors and to serve our city. We decided to combine our love for kids, people and community, and paired it with coffee. It just made sense! Coffee is such a point of connection in our culture.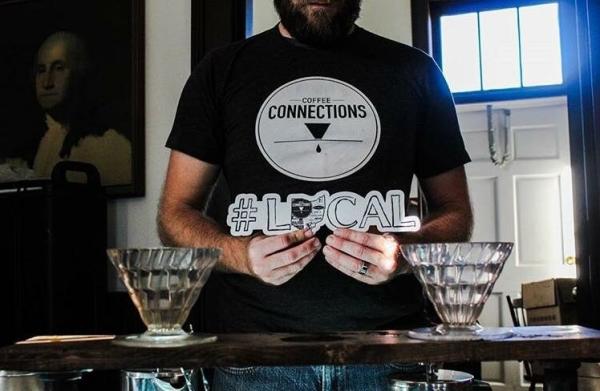 Can you tell us about Coffee Connections' presence in Hilliard and how you've worked to support the community? 
We're located on Main Street in the heart of Old Hilliard, which positions us to be present at all community events. Even before we had our brick and mortar location, we would volunteer at city events; we would give out free hot chocolate at the tree lighting, pass water out on July 4th…tangible ways for us to connect with the community. We actually started cleaning up the parks, too and encouraging our customers to join us. While we can't do everything, we can each do something.
From day one of Coffee Connections, we've donated 100 percent of our tips and paid our employees a fair wage. We donate the tips to various non-profits, such as Hilliard Food Pantry, the Hilliard Arts Council, and School Boosters. It's been awesome to see how generous Hilliard can be. In fact, we turned five years old in September of 2021, and in that short time our little shop has been able to donate over $115,000! That's all because of the community's generosity.
In terms of the community at our shop, we strive to be a place where everyone can come. All are welcome. And, if you need help, we try to help you! We regularly have donation boxes and serve as a place where supplies can be dropped off to help others. Really, we just try to be good neighbors, not only in Hilliard but also globally. We've been connecting with countries that roast coffee, as we ultimately want to directly source from farmers we know. In El Salvador, we've been connected to an NGO in Soyapongo; we take trips with supplies down to help with their medical and education clinics, all while learning more about coffee. It's been eye-opening to spend time in other cultures, and we feel we truly have so much to be thankful for here in America.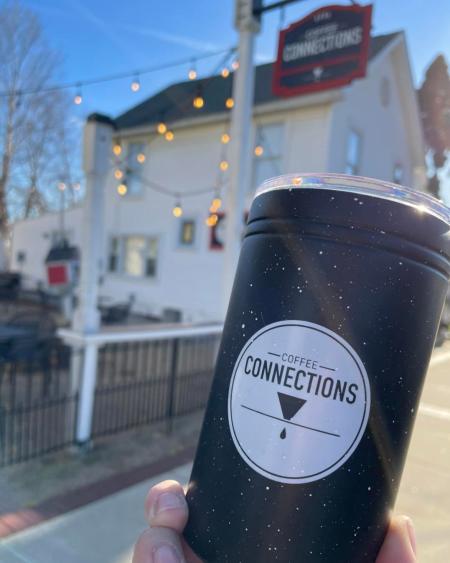 What's special to you about both living and working in Hilliard? 
Nate and I (Sharon) have lived in five different states since we've been married (WV, OH, NY, VA, and PA). That's given us a unique perspective on what makes a community special. Hilliard has those big-city amenities (we can drive to two different Targets in 10 minutes!) but with a small-town feel. We know our neighbors, and when someone needs help, the community is there.
COVID has been rough for us and for everyone. Last year, sales were tough and we actually were concerned we might have to close our doors. We put up a heartfelt post on social media and Hilliard responded in spades; we got our doors blown off the next day, and over 100,000 people interacted with our post. We couldn't even keep up. It was as though Hilliard said to us, "No, you're our coffee shop, and because you're willing to help us, we're here to help you." It was honestly so humbling.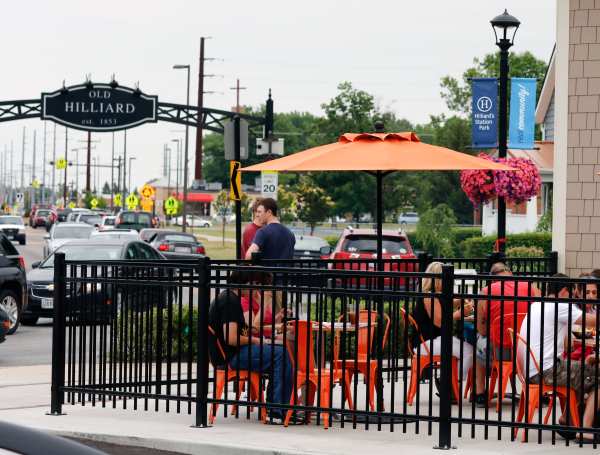 When you think of Hilliard, what comes to mind?  
Home; it's a great place to call home. People care for you – they are real and genuine and the possibilities are truly endless!  
Tell us about local secrets or hidden gems that residents and visitors alike should know about in Hilliard.  
Old Hilliard! You have to come check it out. Most people don't even know about First Responder's Park… it's on the same block as our coffee shop and it has actual wreckage from the Twin Towers. Freedom isn't free and it's important to honor those who sacrifice to help us enjoy the freedoms we have here.
We also have essentially a mini North Market here in Hilliard, which is where we have a second shop location. It's in the Crooked Can Brewery and Center Street Market, right across from Splash Park, and it is an awesome place to check out!  
What does a perfect day in Hilliard look like to you and your family?
We love to ride our bikes from our house down to the coffee shop. Our four girls love to make their own drinks and breakfast sandwiches, and then we play at the splash pad and walk part of the rails to trails. We'll stop by Center Street Market, since the girls love to get fries from Pitabilities and cookies from Bakes by Lo. Then, we might head to the park or catch a movie. We often find ourselves getting donuts from the Lil Donut Factory or ending the day with water ice from Rita's. We're foodies, so we love to check our restaurants around town; from the Starliner Diner to Olive Tree or Taj Palace, there are so many choices. If we're letting the girls pick activities for a day, they'll want to be sure to stop at Get Air – they love those jump parks! If Nate is choosing, we'll definitely find ourselves at a Metro Park. It's truly great to have so many options!
Experience Columbus' ideas and recommendations for must-see stops in Hilliard
Early Television Foundation and Museum
The Early Television Foundation and Museum is the only one of its kind in the nation; it's dedicated to the preservation of technology from the early days of television. Tucked away in Hilliard, you can't find a more unique stop than this one! Spend a few hours here and come out with a new understanding and appreciation of how design and technology have changed (and how they've changed our lives!) over the past decades.
The Olive Tree Lebanese and Mediterranean Cafe
The Olive Tree is definitely worth a stop on your Hilliard itinerary. Ranked as one of the best international restaurants in Columbus, it's a truly unique and enjoyable place to try Lebanese and Mediterranean dishes.
Hilliard Historical Village
Hilliard Historical Village is a charming collection of historic buildings that will make you feel as though you've stepped back into the past. From a caboose to a chapel, from a voting booth to a log cabin, there's something for everyone. The church building is even still used for weddings, funerals, and tour visitations. 
Visit a Hilliard Park or a one of the local Columbus Metro Parks
From Homestead to the Heritage Trail in the Hilliard parks system to Glacier Ridge up north and the farther west Battelle Darby Creek (home of several bison!), there are plentiful opportunities to get outside and explore green space in the area. While not all parks in the area are strictly within the Hilliard city limits, you don't have to go too far to check out the adventures that await in the nearby Metro Parks!