Are you a Columbus musician who is having a difficult time getting the reach of your social media presence to a wider audience? Perhaps you're in the business of running your own independent label or starting your own local festival and need some advice to help get it off the ground. Or you could be someone who runs a blog or a venue-jumping photographer, trying to connect with untapped corners of the Columbus music scene. Maybe you're even attempting to establish a home base in the capital city as a music producer.
Regardless of which areas of the Columbus music scene you may belong to, the Columbus Music Commission's Music Business Mondays series has been offering an abundance of advice ever since its inception in April. The monthly series has served as a useful and enlightening forum for people from all parts of the music industry. The Columbus Music Commission has played an important role in the push to put Columbus on the map as a destination for music, and not just a jumping-off place to cities like Nashville or New York.
"I wouldn't expect to go here to become discovered, but it is cool that these big-name people in the industry are coming here to see us and are recognizing the talent we have had here in Columbus," said Lisa Gain, singer-songwriter and guitarist for Lisa Gain & the Rusty Silos. "These are the kinds of seminars they have in Nashville, and it's nice that we now have these opportunities right here in my hometown of Columbus."
Leading the charge for MBM is the first-ever Executive Director of the Columbus Music Commission, Bruce Garfield, who began his tenure in August 2018. His resume boasts accolades such as guiding the careers of Issac Hayes, Natalie Cole and Sinead O'Connor and pushing the boundaries of Capitol Records as Vice President of A&R. After moving to Columbus in 2017, Garfield has passionately stood by the mantra of, "why not Columbus?" Why can't the place where Grammy Award-winners Twenty One Pilots planted their seeds and CAAMP hosted three sold-out shows at the Newport this past December be the place where musicians and artists start, continue and finish their careers?
After working as a big-time music executive and living in cities like New York City and Los Angeles, Garfield first became enamored with Columbus after a blind date with his future wife in NYC. In 2017, Garfield moved to the Buckeye State to be closer to his wife's family. Subsequently, a position with the Columbus Music Commission opened up, and he saw an opportunity to grow Columbus into a music hub. He's made a point to personally meet the movers and shakers of the music scene with excitable and charismatic energy. From his past experience, he has a wealth of knowledge to pass down, and the camaraderie the MBM events have brought is just the tip of the music community's continual and progressive growth.
"Bruce is one of those guys you think will be impossible but ends up being a dude you'd love to grab a beer with and excited to see at a show," said Ryan McKee, owner and co-founder of What? Productions. McKee adds that the Columbus Music Commission has a lot to offer but it requires motivation and dedication to the cause to get something out of it.
MBM events in the past have featured prominent figures in the music industry from organizations like Broadcast Music, Inc. (BMI), SoundExchange, RCA Records, Atlantic Records and Urban Music Digital Marketing. Even on a local level, the Columbus Music Commission has given influential leaders in the scene like PromoWest owner Scott Stienecker, CD 102.5 owner Randy Malloy, Celebrity Etc. promoter Timothy Eddings, CAAMP manager Adam Sensenbrenner and mixing engineer and producer Mark Abrams the floor to shed light on how they've navigated and succeeded in Columbus.
Through six events so far, MBM has presented on a number of topics that can benefit almost everyone in the local scene. From tips on how to navigate a career without a label protecting your artistic rights, the Columbus Music Commission is just getting started in terms of the utility it provides to the local scene. Artistic institutions such as Gateway Film Center, Strongwater Food & Spirits, and Big Room Bar have played host to the brainpower Garfield and the Columbus Music Commission have consistently brought to the city. In just under a year, the organization has created a grandiose sense of community that has connected musicians and artists of all walks of life.
Whether you're connecting with a musician who could potentially be the headliner of the next edition of your festival or looking to push your freelancing career into a full-time position, many who have attended these events have cherished the networking atmosphere MBM has created.
"The biggest takeaway I get is being able to network with music professionals, local artists and venue and show promoters," said Dan Mitchell, Columbus music photographer and owner of Mitchell Multimedia. "It's about building lasting professional relationships."
"Each one I've gone to I've really enjoyed the networking aspect of it because it brings people together from different corners of the scene," said Ryan Getz, founder of Tuned Up.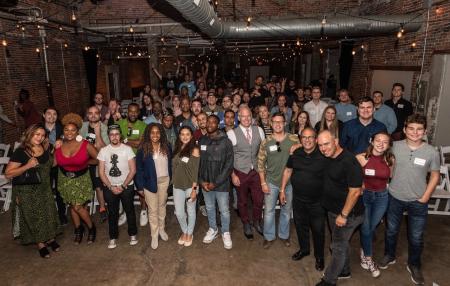 The upcoming MBM—in partnership with the American Association of Independent Music (A2IM)—will serve as the launch for the collective voice of independent music's A2IM Artist program. The showcase, scheduled for Feb. 24 at Strongwater, will detail the tools of success A2IM Artist can provide to artists who are on the independent grind through advocacy, education and community. 
"It is indeed an honor for Columbus to be selected as the kick-off host city," Garfield said. "A2IM has done fantastic work in giving a voice to the independent label sector, leading the fight for equitable royalties—and now the artists themselves."
On top of speakers representing A2IM, this special edition of MBM will also feature representatives from Spotify, Facebook and Bandcamp. Although these platforms shouldn't be new territories for attendees, hearing first-hand knowledge from the horse's mouth will be useful to most in the Columbus music community so they can navigate these tools to their fullest utility and potential.
As the Columbus music scene continues to expand in extraordinary ways, independent artists, start-up companies, students and self-starters alike could always use additional expertise from some of music's most powerful institutions to understand the intricacies of the digital landscape.
"I'm excited to hear what the speakers will share with us and I hope that they'll give some insight on growing your fan base and getting in front of new faces on each of their platforms," said Josh Miller, co-founder of 2x2 Hip-Hop Festival and Matchbox LTD.
So whether you're in your third year of running a three-day local festival, an award-winning singer-songwriter who is looking to draw more eyes on Columbus, or a photographer trying to make a living doing what you love, there is a variety of resources provided by the Columbus Music Commission that could very possibly serve as a bridge to the big breakthrough you've been laboring hard for.
"At the MBM event I attended, I was impressed with the diversity of the assembled artists. The idea that this platform could put people together who might otherwise never cross paths is really exciting," local writer Mike Thomas said. "Tips from industry experts are great, but perhaps even more valuable is the chance to build bridges between the city's often isolated pockets of talent."
MBM is just the beginning of Garfield's plan in making Columbus a destination for music. He's here to stay, and he wants the music to as well. Through collaboration, inclusivity, inventiveness, transparency, nurturing and accountability, the Columbus Music Commission is helping to make that a reality.
If you're interested in signing up for the free MBM event on Feb. 24, don't hesitate; sign up by clicking here.
The event will run from 6 p.m. until 9 p.m. at Strongwater Food and Spirits, located at 401 West Town Street. Free food and door prizes of no-cost studio time are just a couple of incentives that should inspire you to sign up today.
MBM event photos by Dan Mitchell of Mitchell Multimedia
Bruce Garfield portrait by Rick Buchanan