While many of us are cooking more at home, we're hopefully still ordering carryout and delivery from our favorite chefs and restaurants. We can draw inspiration from them in many ways, and a few Columbus chefs were kind enough to share recipes we can make at home! 
Ambrose & Eve/Preston's Burgers | Peach Ketchup 
Matt Heaggans, chef and owner behind Ambrose & Eve and the Preston's Burgers locations, shares the recipe for one of his favorite condiments. 
Ingredients
6 cups peeled and sliced peaches (frozen is fine) 
1 tsp cinnamon 
2 fresh ground cloves 
1 tsp fresh ground allspice 
1 tsp fresh ground fennel 
½ tsp fresh ground mustard seed 
½ tsp fresh ground coriander 
1 clove garlic, minced 
1 minced shallot 
1 cup vinegar 
1 cup brown sugar or to taste 
salt and pepper to taste 
 
Instructions
Combine ingredients, chill and use in place of your favorite condiments! 
Ajumama | Pantry Tuna Pasta 
Laura Lee creates a blend of Korean street food and Midwestern flavors at her food truck Ajumama. Here she shares her recipe for a comforting pasta dish that you can make using ingredients you typically have in your pantry. 
Ingredients
1 can of tuna in olive oil, drained 
olive tapenade or just chopped good olives  
1-2 cloves of garlic, minced 
1/4-1/2 cup frozen spinach 
2 cups plain tomato sauce (can use bottle sauce or puréed canned tomatoes) 
½ box of pasta 
olive oil 
parmesan 
chili flake to taste  
 
Instructions
Boil the pasta to al dente and drain. In the same pan sauté the garlic and chili flake in olive oil for a minute then add the olives and tuna. Sauté another minute, then add the sauce and spinach. Stir until the spinach is defrosted and add the pasta. Mix well, serve with parmesan. 
The Table | Akoori spicy Indian scrambled eggs 
Sangeeta Lakhani shares the most popular brunch item from her farm-to-table Short North restaurant. 
Ingredients
1 large shallot (finely chopped) 
2 small Roma tomatoes, diced 
½ cup washed and chopped fresh cilantro  
8 eggs 
1 tsp coriander seeds 
1 tsp cumin seeds 
1 tsp fennel seeds 
1 tbsp ghee or coconut oil 
1 heaped tsp garlic, minced 
½ tsp turmeric powder 
½ tsp chili powder 
¼ tsp salt (to taste) 
1-2 chiles, minced (optional) 
 
Instructions
Lightly beat the eggs in a bowl and set aside. 
Lightly toast cumin, coriander and fennel seeds in a dry skillet. Keep your eye on them so they don't burn. 
Heat the ghee/coconut oil in the wok. Add the onions and fry for 5 minutes until golden brown. 
Add the tomatoes and chillies and cook for further 5 minutes until softened, and let the juices cook off (you don't want wet eggs!) 
Add the garlic, turmeric powder, and chilli powder. Fry for 2 minutes until fragrant. 
 
Reduce heat to low and add beaten eggs. Stir well to mix onion paste and eggs. Cook for 1-2 minutes, depending on how you like your scrambled eggs (soft or firm). 
Turn off the heat. Add salt, toasted spices, and fresh chopped cilantro. Stir gently until just combined. 
Serve on toast! Serves four.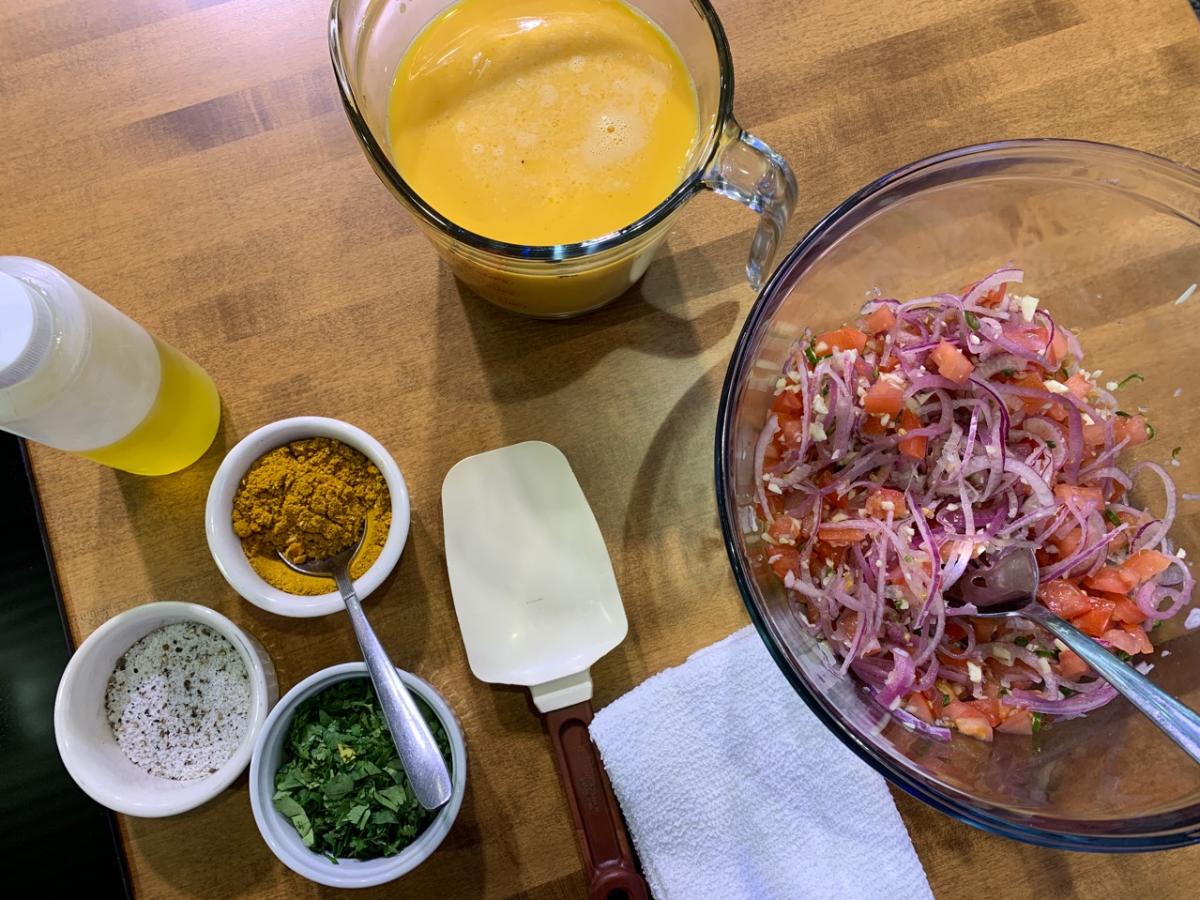 Kenny's Meat Wagon | Giardiniera 
Known for his towering sandwiches, food truck owner Kenny Donnelly shares his recipe for giardiniera, the zesty Italian relish that goes well on everything. 
Ingredients
¼ cup table salt 
1 cup carrots, diced small 
1 cup tiny cauliflower florets 
8 serrano peppers, sliced 
2 cloves garlic, minced 
1 celery stalk, diced small 
2 cups canola oil 
1 tsp dried oregano 
½ tsp fresh ground black pepper 
 
Instructions
Dissolve salt in 2 cups water in glass or non-reactive bowl. Add carrots, cauliflower, serrano peppers, garlic, celery and bell peppers and stir to combine. Cover and refrigerate overnight. 
The next day, drain and rinse vegetables very thoroughly. Mix together the canola oil, oregano, and black pepper, then add the vegetables and stir to combine. Let marinate overnight. After two days at most in the bowl, place mix in mason jars. Will keep for 2-3 weeks. 
Fox in the Snow Cafe | Buttermilk Biscuits 
And at the beginning of the COVID-19 lockdown, Lauren Culley, one of the owners of Fox in the Snow, shared her recipe for buttermilk biscuits glazed with salted honey butter.