The service industry has been heavily impacted by the shutdowns due to the coronavirus, but many restaurateurs have banded together to support the community, whether it's providing meals for the unemployed, feeding frontline workers, or caring for food insecure families. 
Service! grew out of a partnership with Matt Heaggans and Catie Randazzo from Ambrose & Eve, Sang Lakhani from The Table, Letha Pugh from Bake Me Happy, and Reed Woogerd from Muse Hospitality. Through donations and volunteers, the group feeds about 200 meals daily to out-of-work industry employees. Many other restaurants and individuals have banded together to donate meals, ingredients or engage in fundraising ventures for Service! You can donate or sign up for meals at servicerelief.org.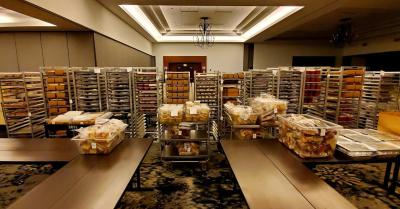 Chef Bill Glover and the team at the Hilton Downtown Columbus have been cooking up family meals and selling them for curbside pickup outside the hotels. Meals are offered Monday-Friday and vary each day. They're available for only $8 per person (the hotel's cost), and are sold in increments of two, four and six. Keep up with the schedule and offerings on the Hilton's Facebook page: facebook.com/HiltonColumbusDowntown. The hotel has also been providing free meals to furloughed staff from the Greater Columbus Convention Center. 
A collection of restaurants have joined together under We Feed Cbus, a project of the Can't Stop Cbus initiative. These restaurants have been collecting donations in order to provide free meals for frontline workers. By donating to them, you can provide business to local restaurants and feed workers and community organizations in need. Participating restaurants include Bonifacio, Huong Vietnamese Restaurant, Mazah Mediterranean Eatery and others. 
Free Meals for Kids 
Several restaurants have been offering free meals for food insecure kids. Red Door BBQ in Franklinton has been serving up great barbecue and offering food for the kiddos. Through the end of May, Piada is offering a free kids pasta with sauce, cheese, and a fountain drink to K-12 kids from 11 a.m. to 1 p.m., Monday to Friday. 
CbusTogether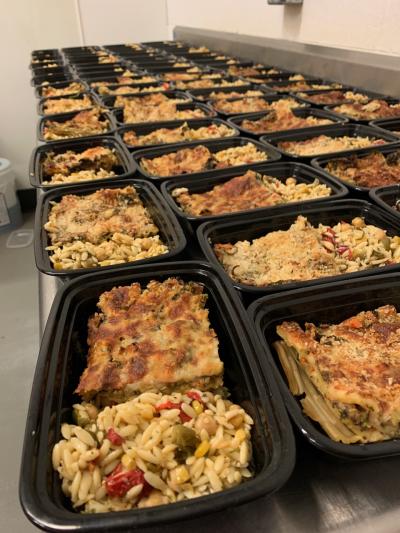 A growing group of local restaurants – including Jeni's, Hot Chicken Takeover, The Roosevelt Coffeehouse, and many others – are raising funds with the goal of feeding 20,000 meals to the community. You can join the efforts at cbustogether.com. 
You can also read our list of Who's Making Hand Sanitizer and Masks in Columbus.