Columbus has added some new places to spend Valentine's Day just over the past year, making having plans not a problem, but deciding what to do much more difficult. Otherworld, The Parlor and the new Natalie's location in Grandview will all be hosting high-demand events this Valentine's Day weekend for the first time in their existences. A lot of the musicians in Columbus must be poets of love because there's a very high and diverse supply of local Valentine's shows this year. While most of these concerts are indeed packed with local talent, I made one exception for a very talented duo who will be tearing up Otherworld for what will definitely be the funkiest Valentine's Day date ever. However, there's something for everyone on this list, couples and singles, so there's no excuse to spend Valentine's Day at home by yourself this year.
Doc Robinson Valentine's Day Show @ Natalie's Grandview
Getting things started off early with a double performance, Doc Robinson is back again to melt hearts the day before Valentine's Day and then again on the actual holiday. This time they'll be playing the debut Valentine's show at the new Natalie's location in Grandview. Doc Rob has been a popular fixture in the Ohio music community ever since they hit the ground running in 2015, and for good reason. Their smooth Motown sounds and intoxicating lyricism are infectious any day of the week, let alone back-to-back serenades on this holiday. Check out their latest album, 2019's Travelogues, to get in the mood for a set of uplifting love songs.
Time: Doors 6:30 p.m. | Date: Thursday, Feb. 13 and Friday, Feb. 14 | Address: 945 King Ave. | Admission: $20 GA/$25 TABLE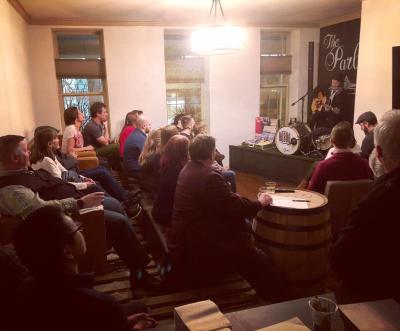 Day After Valentines @ The Parlor
Just over a year old, The Parlor is one of the most fitting Columbus venues for a Valentine's show. If you're one of those people who doesn't like to deal with the hectic nature of booking plans on Valentine's Day, this show is the perfect way to still have intimate plans while avoiding just that. Local and veteran singer-songwriter Anthony Mossburg will be bringing his soothing and courageous acoustic sound to The Parlor's secret location for an ideal music-themed date. Singles are encouraged to come as well because this special first-time event will feature a red wine tasting and an assortment of chocolates for all provided by Winan's Fine Chocolates and Wines. North High Brewing will be providing an assortment of local craft beer for attendees as well. Entrance is limited to 30 guests, so don't wait to secure your spot. The location will be disclosed once a ticket is purchased. The best places to park are the Columbus Commons garage or meters near High and Mound streets. 
Time: 8 p.m. | Date: Saturday, Feb. 15 | Address: 346 S. High St. | Admission: $40
Valentine's Night w/ Lydia Brownfield & the Jagged Hearts @ Shrunken Head
You may just want to spend Valentine's Day at your favorite local music venue, and if the Shrunken Head is that spot for you, this show fits the venue's mold perfectly. Seasoned folk/rock singer-songwriter Lydia Brownfield will lead the Jagged Hearts behind her impassioned vocals and lyrics for this special performance. Her control and wavering emotions are reminiscent of other great singer-songwriters like Aimee Mann or Beth Gibbons. Anna Paolucci and Kelly Vaughn will be providing supporting vocals, while Martin Rippel will be joining in on the trumpet. Sharing the bill with the Jagged Hearts will be other Shrunken Head favorites Clemens and Co. and The Cicconetti Brothers. 
Time: Doors 8 p.m. | Date: Friday, Feb. 14 | Address: 251 W. 5th Ave. | Admission: $10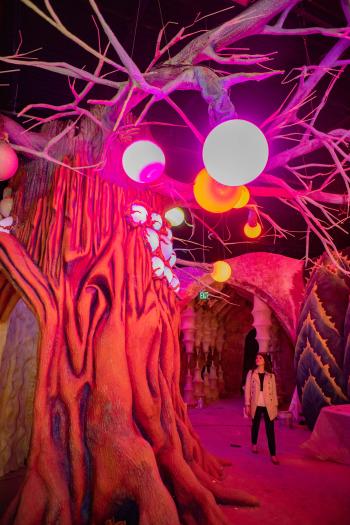 Chromeo @ Otherworld
If you aren't familiar with the funk lords who are Chromeo, then definitely get familiar. Currently making some of the sappiest, fun-loving funk music, the duo of Dave 1 and P-Thugg have been bringing life to dance floors since the early 2000s. Even though this won't be a traditional Chromeo set, the two are more than capable of handling DJing duties; Dave 1's brother, A-Trak, is even one of the most prolific DJs alive and will also be performing at Otherworld a week after his older brother shreds the imaginative venue. It's truly amazing the talent Otherworld has been able to attract in less than a year's time. A Chromeo DJ set is up there with one of their biggest, as it's a match made in heaven for Otherworld on Valentine's Day. Support will include the Damn Girl DJs and visuals from Donnie Mossman.
Time: Doors 10:30 p.m. | Date: Friday, Feb. 14 | Address: 5819 Charity Dr. | Admission: $28/UP TO $31
Singles on Valentine's Day w/ Citizen Prick and Guests @ Rumba Cafe
It wouldn't be an Experience Columbus local concert suggestion listicle without the mention of a cover show. (The fact of the matter is, there's always a plethora of intriguing cover shows every month.) For lonely fans of the 1992 movie Singles and the fictional grunge band Citizen Dick, Citizen Prick embodies '90s Seattle, coffee, rain, and of course the soundtrack to Singles in its music. The self-proclaimed greatest Citizen Dick tribute in history, the new group will be sharing the stage with some secret musical guests. The event will be a costume party as well, so make sure you're sporting your finest '90s grunge apparel for this special occasion. Couples are still encouraged to come.
Time: Doors 8 p.m. | Date: Friday, Feb. 14 | Address: 2507 Summit St. | Admission: $10/U21 +$2 
Kinfolk Valentine's Day Show @ Natalie's Coal Fired Pizza
If a choice at two Natalie's Valentine's Day shows wasn't enough, the original location has a third one just in case. Kinfolk is made up of some of the most talented and well-versed musicians in Columbus. They need to be highly skilled to take on some of the music that they cover, which includes Robert Glasper, Leon Bridges, and D'Angelo; the group also performs material of their own. With a tight rhythm section, powerful horns, and a strong lead vocalist, Kinfolk will definitely be bringing a sophisticated and emotional take on love to Natalie's Coal Fired Pizza. 
Time: 9:30 p.m. | Date: Friday, Feb. 14 | Address: 5601 N. High St., Worthington | Admission: $12 GA/$15 TABLE