From trendy cocktail bars to buzzy breweries, there are so many places to get a good drink in Columbus. But with so many watering holes to choose from, how do you know where to go? Next time you plan a night out, stop by one of these popular, but lesser-known haunts that might not make the headlines. You just might end up discovering your new favorite bar.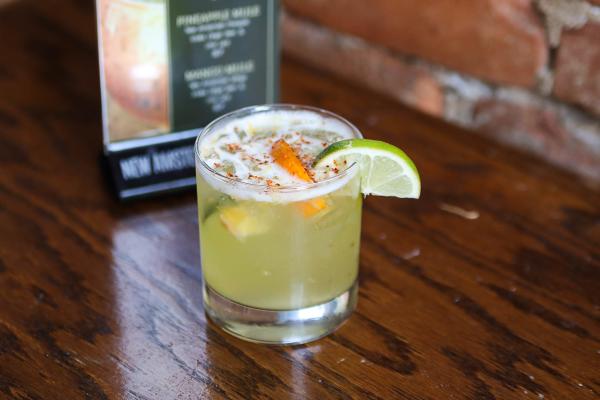 Photo credit: Hey Hey Bar & Grill Facebook
Hey Hey Bar & Grill
Back in the days of Prohibition, bootleggers would walk into a local speakeasy (now the building that houses Hey Hey Bar & Grill) and yell, "Hey hey – the beer is here!" When it came to naming the spot as a real bar, the greeting stuck. Today, barflies can head to this Ohio dive for cheap drinks, horseshoe matches, a patio with live music and maybe a little culinary confusion. It's a German Village bar that leans Irish, serves Indian food and is famous for its, wait for it, sauerkraut balls. 
Visit Hey Hey at 361 E Whittier St.
Tip Top Kitchen & Cocktails
Tip Top Kitchen & Cocktails is a love letter to Ohio. Located in the heart of Downtown Columbus, this bar prides itself on providing "Ohio comfort food" – whiskey, draught microbrews, pinball, smiles, local bands, made-from-scratch cakes from Columbus bakeries and, unlike typical bars, Brioso coffee that's so good it alone keeps patrons coming back. Grab a $2 PBR draft, then order from Tip Top's menu of food coma favorites, like fried green beans, spicy vegetable corn chowder or its signature Blue Ribbon Pot Roast. 
Visit Tip Top at 73 E Gay St.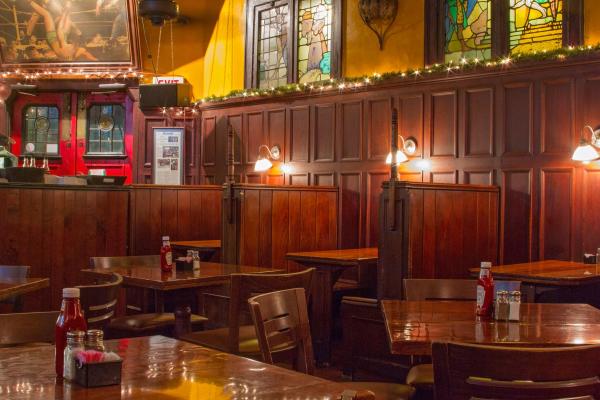 Photo credit: Ringside Cafe Facebook
Ringside Café  
This heavyweight bar and café isn't for the faint of heart, and we're not just talking about it's ode to boxing's greatest. Marked by a wall mural of Columbus' own James "Buster" Douglas famously knocking out Mike Tyson in 1990, this cozy, laid-back bar packs a punch with menu items like Bare Knuckle stout and the Ali burger, a three-quarter-pound Angus beef patty topped with sharp cheddar, a fried onion ring and coleslaw. Fun fact: Having opened in Downtown Columbus in 1897, Ringside Café is the oldest continually-operated business in Ohio's capital city.
Visit Ringside at 19 N Pearl St.
Betty's Bar
If you're a diehard Columbus Crew fan, grab a drink at Betty's Bar, in the Arena District, and you just might spot some players. A popular pregame spot before concerts and soccer, baseball or hockey games, there's no place like Betty's. For one, a sign out front reads "Open when I get here, closed when I leave," and hours tend to depend on what events are happening that day. The bar serves cheap drinks and "meat twinkies" (Betty's name for corn dogs), and every Thursday is Thong Thursday. Customers don't have to show up in a thong, but if it's Thursday happy hour, you better believe the bartender on duty will. 
Visit Betty's at 435 W. Nationwide Blvd.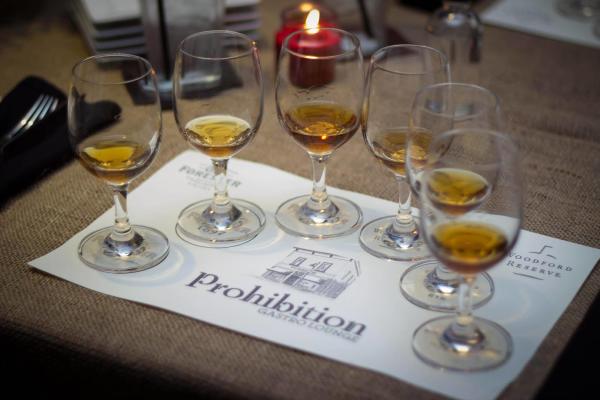 Photo credit: Prohibition Gastro Lounge Facebook
Prohibition Gastro Lounge
Prohibition Gastro Lounge in Powell, is a two-story bar and restaurant with a sports bar upstairs, an upscale, speakeasy-style bar downstairs, a comfortable patio with fire pits and candlelit tables, a separate cigar patio and a "bourbon barn." Pop into the speakeasy and order the Prohibition Manhattan and a Capone burger, which tops a Black Angus beef patty with a fried egg, or head to the barn and choose from over 250 types of whiskey, scotch or bourbon.
Visit Prohibition at 21 W. Olentangy St. in Powell.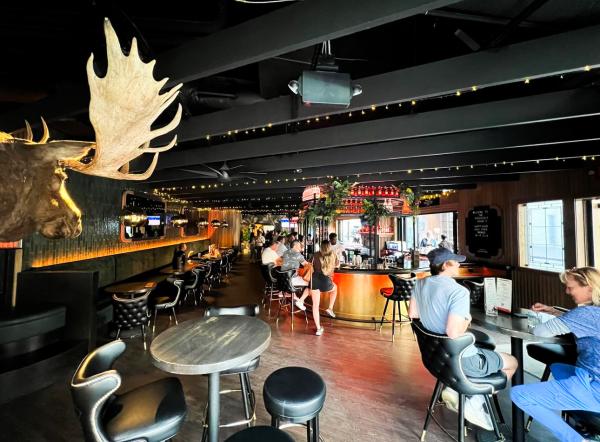 Photo credit: The Roosevelt Room Facebook
The Roosevelt Room
Pinkies up for President Teddy! This upscale, drinks-only bar in Bridge Park pays homage to America's 26th president through drinks and decor. Order one of just eight signature cocktails, like the bubbly Speak Softly or the potent The Big Stick, and note the portrait of a rearing horse (a nod to his days as a "Rough Rider") and mounted moose head (a symbol of his Bull Moose Party). Rotating beer and wine selections and an impressive collection of tequilas and bourbons round out the drink menu, and guests are welcome to bring in food from other local establishments. 
Visit The Roosevelt Room at 6544 Longshore Loop in Dublin.
Gresso's
Columbus is full of West Virginia transplants, and nowhere celebrates that more than Gresso's, in the Brewery District. Spread across three floors, this casual bar is covered in WVU memorabilia and whips up dishes that remind West Virginia locals of home. Don't miss The Huggie Bear Burger, which is topped with crispy bacon, sautéed mushrooms, onions, Swiss cheese and one of Gresso's Famous Pierogies. The pierogies are the founder's own mother's recipe, which are stuffed with potatoes and cheese and served with sautéed mushrooms and onions covered in garlic butter and sour cream.
Visit Gresso's at 961 S High St.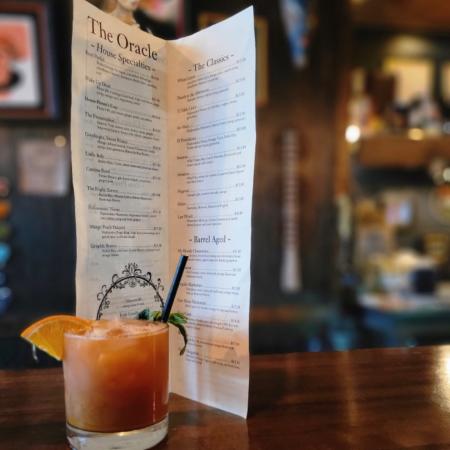 Photo credit: The Oracle Facebook
The Oracle 
Step back in time at The Oracle, in Olde Town East, where you'll drink "wisdom + cocktails" surrounded by apothecary-esq antiques, incense and vintage art and Shakespeare. A sign on the door asks all who enter to answer three riddles, and once inside, you'll find everything from weekly palm and walk-in tarot card readings to donation-based yoga classes and weekly dance parties and DJ sets. Don't miss the Beat Lounge Funk 4 My Soul vinyl session every Thursday night, or the monthly Outside dance party or Funkdefy's Funk n' Soul Shindig. The latter started in 2005, making it the longest-running, all-vinyl session in Columbus.
Visit The Oracle at 1159 Oak St.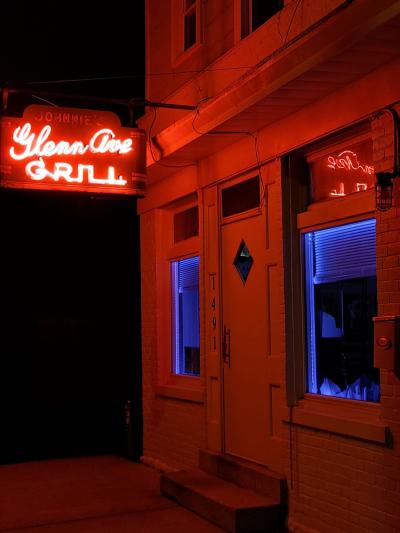 Photo credit: Johnnie's Glenn Avenue Grill Facebook
Johnnie's Glenn Avenue Grill
If you're looking for 1) a true dive bar or 2) free cheeseballs, Johnnie's Glenn Avenue Grill is where you want to be. Decorated like your grandparent's living room, this Grandview hole-in-the-wall is where you go to see familiar faces and order cheap drinks made with liquor poured out of antique bottles. There's a tiny corner bar where you can buy candy, and shelves and shelves of animal figurines, old telephones, plaques, trophies, photos and ceramic jugs once filled with liquor during Prohibition. You can't miss the lit, neon-green sign outside, or the pay-to-tell-your-weight machine by the front door. Lucky for patrons, the machine doesn't work – so eat as many cheeseballs as you want. 
Visit Johnnie's at 1491 Glenn Ave.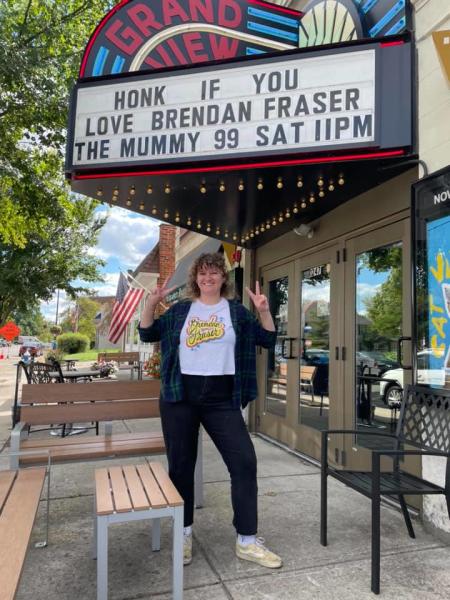 Photo credit: Grandview Theater & Drafthouse Facebook
Grandview Theatre & Drafthouse
Movie theaters and bars go together like movies and popcorn, and luckily, Grandview Theater & Drafthouse has both. A popular bar with or without the movie, this Grandview Heights watering hole always has 40 beers on tap, every kind of movie snack you could imagine and an onsite Fibonacci's Pizza. Check out its schedule of events for a packed calendar of movie showings and beer tastings, like The Eras Tour movie debut and tasting for beer-loving Swifties.
Visit Grandview Theater & Drafthouse at 1247 Grandview Ave.
This weekend, belly up to one of these local bars and discover something new in Columbus! Find out more about the Columbus bar scene here, and as always, tag your photos with #LiveForwardCbus.