Beginning in November, Columbus residents and visitors will have the rare, prize opportunity to view 17 paintings, prints, and a drawing by renowned painter Vincent van Gogh, alongside over 100 works from artists who are known to have inspired him during his lifetime. The Columbus Museum of Art (CMA) has partnered with the Santa Barbara Museum of Art (curator: Eik Kahng) on Through Vincent's Eyes: Van Gogh and His Sources, displaying the exhibit in both cities (with slight variations). With items coming from museums and private collections across the United States (including major Ohio museums in Cleveland, Cincinnati and Toledo), and from one European museum, this exhibit is a must-see!
Left: Vincent van Gogh, The Outskirts of Paris, 1886. Oil on canvas, Private Collection in memory of Marie Wangeman
Right: Vincent van Gogh, Houses at Auvers, 1890. Oil on canvas. Toledo Museum of Art, Purchased with funds from the Libbey Endowment, Gift of Edward Drummond Libbey
Through Vincent's Eyes offers the chance to view his world-famous art, with its distinctive textures and styles, up close and personal. Side-by-side with some of van Gogh's own creations, the exhibit highlights the impact of other art and artists on his life and works, showcasing how he was affected and inspired by the art he loved; it examines his ability to transform and assimilate other styles into his own. Among those items are early editions of books he read that influenced his mood and the subject of his paintings.
"There's so much to discover," said David Stark, curator emeritus at CMA. "It's a glimpse into van Gogh's world. I think visitors will enjoy comparing Vincent's art with the art that inspired him, and will be surprised by the wide spectrum of works with which he came in contact. Through Vincent's Eyes shows the art he saw, which was a filter of sorts through which he perceived the subjects that he painted."
Whether you've never ventured into the world of art history or you're a devoted aficionado, you'll be able to take new knowledge away from this exhibit. And, throughout the display, informative labels will be posted explaining and highlighting the connections between the works of art. "Van Gogh painted art for the people," said Stark. "I feel that those are unfamiliar with art history or van Gogh will be touched and affected by his down-to-earth, heartfelt imagery, and his powerful, innovative style."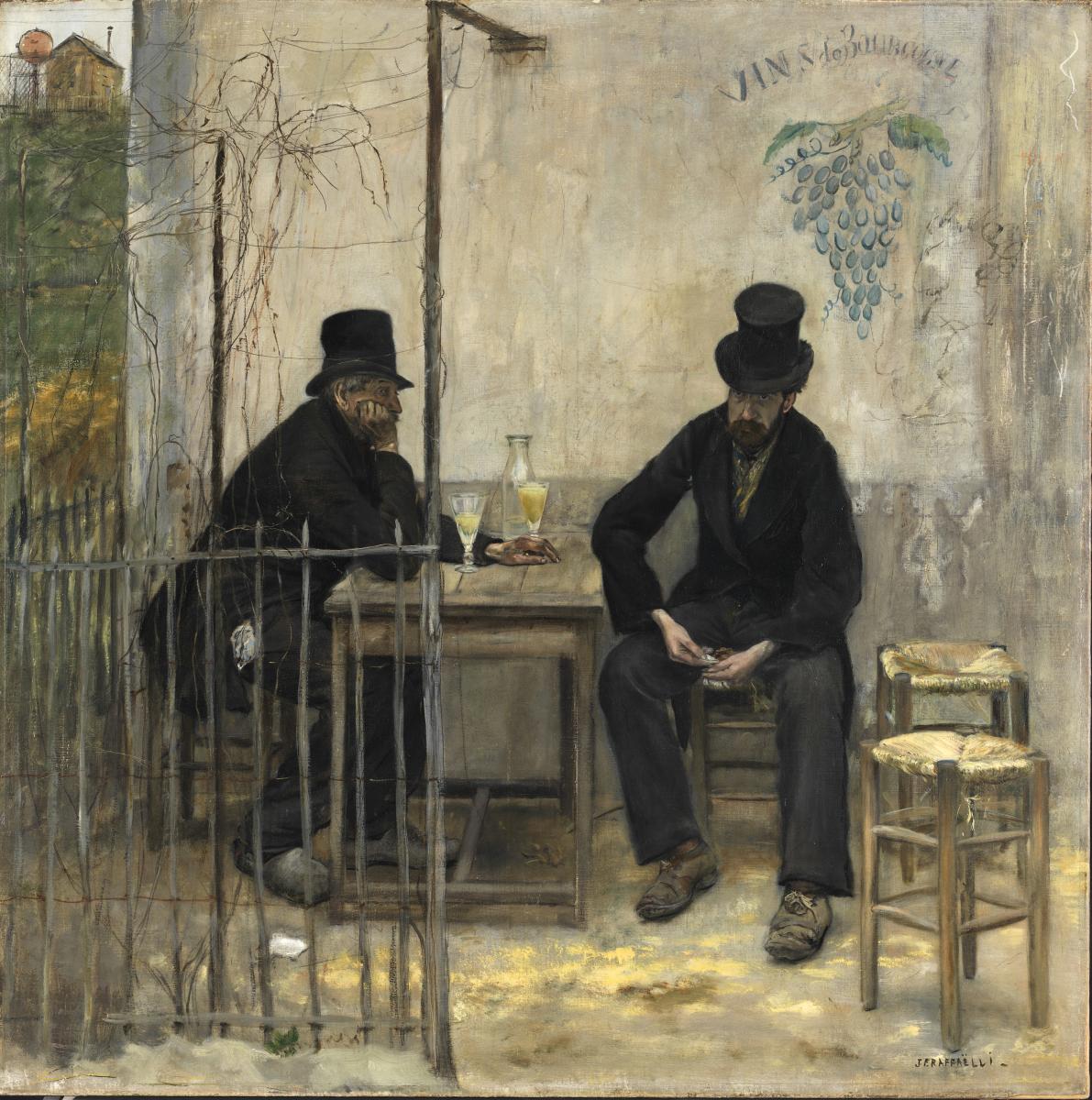 Jean-François Raffaëlli, The Absinthe Drinkers, 1881. Oil on canvas. Fine Arts Museums of San Francisco, Museum purchase, Roscoe and Mar- garet Oakes Income Fund, Jay D. and Clare C. McEvoy Endowment Fund, Tribute Funds, friends of lan White Endowment Fund, Unrestricted Art Acquisition Endowment Income Fund, Grover A. Magnin Bequest Fund, and the Yvonne Cappeller Trust
The van Gogh items in this exhibit depict periods from his brief but brilliant career, showcasing his groundbreaking style – a style that would later serve to inspire many other artists and movements. During the short ten years in which he painted (van Gogh began painting at age 27 and lived just a decade afterward), he moved frequently; the various cities in which he lived affected the works he created, but he was also impacted by the art and artists with whom he came in contact in each new place.
"He depicted the people he encountered and the places he lived with passionate engagement," said Stark. "He painted not just what he saw, but what he felt."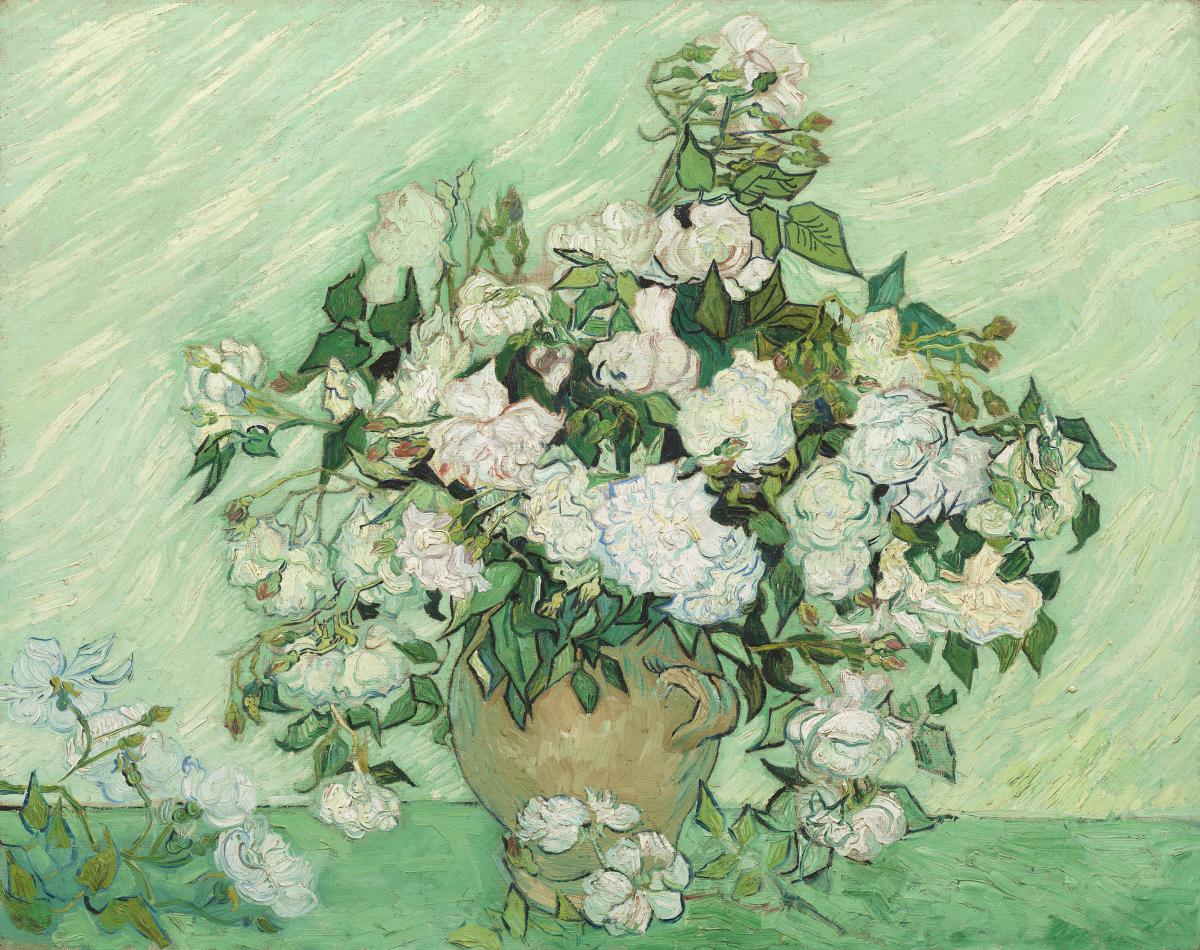 Vincent van Gogh, Roses, 1890. Oil on canvas. National Gallery of Art, Washington, DC, gift of Pamela Harriman in memory of W. Averell Harriman
Through Vincent's Eyes is accompanied by two publications. The first is a catalog, Through Vincent's Eyes: Van Gogh and His Sources, and the second is a book by Steven Naifeh, Van Gogh and the Artists He Loved. Steven Naifeh also serves as guest curator at CMA as co-author of the best-selling biography Van Gogh: The Life. The CMA exhibit is showing 67 works that are not part of the Santa Barbara display, but that are instead from Naifeh's collection that he built with the late Gregory White Smith (who grew up in Columbus).
Don't miss Through Vincent's Eyes, available for viewing in Columbus from Nov. 12, 2021–Feb. 6, 2022. Advance tickets can be purchased here.
Experience Columbus thanks David Stark, Curator Emeritus at CMA, for contributing information to this blog.
This exhibition was organized by the Santa Barbara Museum of Art in partnership with the Columbus Museum of Art. A shared exhibition, Through Vincent's Eyes, is presented at each museum with two distinct curatorial perspectives and two accompanying books.
This exhibition is supported by an indemnity from the Federal Council on the Arts and the Humanities.