Columbus has a rich and storied military history. A variety of military experiences throughout the city highlight the vital role Columbus residents played in our nation's conflicts, dating back to the Civil War. Plus, Columbus is the only place in the country that has a single facility that honors all veterans and their families, past and present, from all eras of conflict and branches of service at the National Veterans Memorial and Museum.
This Veterans Day, Ohio's capital offers a number of events and activities to honor and celebrate the sacrifices our servicemen and women have made for our country. Many of this year's events are taking place virtually, so everyone can feel safe participating.
Honor a Veteran: Join NVMM's 2020 Veterans Day program by sharing the names and stories of service of a friend or family member who served in the line of duty. Names and stories can be submitted here until Nov. 9.
5 Mile, 5K and 1 Mile Run/Walk, Ruck and Heroes Honor Challenge: Honor America's heroes who have helped keep our country safe and free. Due to the COVID-19 pandemic this year's event will be virtual. You can complete your chosen distance or challenge anytime and anywhere between Nov. 1-22. Learn more.
Veterans Day Ceremony - Commemorate Veterans Day with an inspiring ceremony at 10 a.m. (ET) Nov. 11 live on Facebook here and YouTube with special messages and remarks from Montel Williams, U.S. Marine and Navy Veteran and Emmy-Winning Talk Show Host; Bruce Thorn, U.S. Army Veteran and President and CEO of Big Lots, Inc.; and NVMM President and CEO Lt. General Michael Ferriter, U.S. Army (Retired). Following this brief ceremony, continue to honor our servicemen and women on social media with #NVMM #VETERANSDAY2020 to let us know how you celebrate Veterans Day.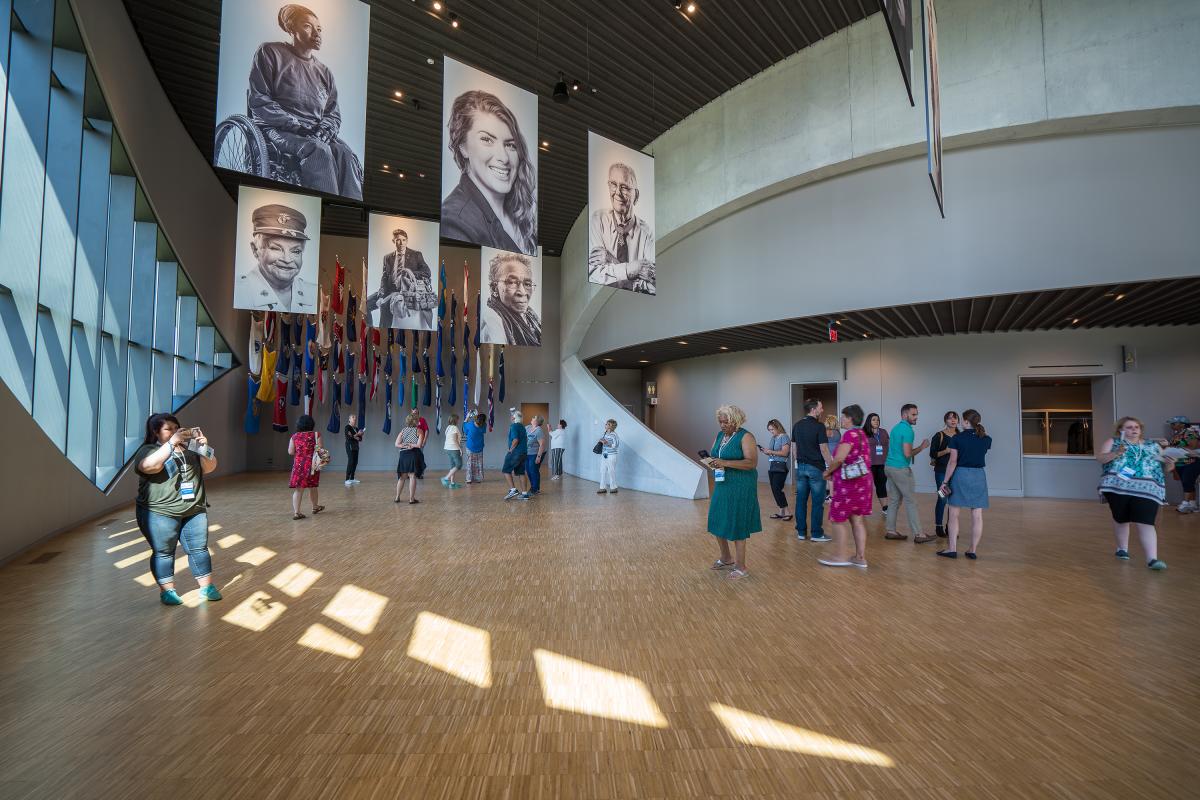 Soldiers Through Time: A Re-enactor Panel Discussion: Explore Ohio's military history from your own home with the virtual March Through Time program on Sat. Nov. 7 at 6 p.m. Learn about military history from those who (re)live it in a dynamic virtual panel where you'll hear from historic re-enactors about changes in a soldier's camp life, uniform and more. General admission is $5.
Echoes in Time Theatre – Military: If you're in Columbus, join the Ohio History Connection on Sun. Nov. 8 at 1 p.m. in their auditorium to enjoy three back-to-back live performances sharing Ohio-based stories featuring: Chuck Malone, The Truth about Hanger 18, Anthony Gibbs, Courage in the Skies: the Story of the Tuskegee Airman and Grace Matchett, The "Meat Grinder" War -The Korean Conflict. General admission is $5. Learn more or buy tickets here.
Re-story: Transforming Veterans Stories into Art: This virtual film screening, airing Fri., Nov. 13- Sun., Nov. 15, explores questions such as: How can the arts help Veterans heal? Can sharing one's story be transformative? Developed as a creative learning project between CCAD and the Veteran Arts Initiative (VAI) of the VA Central Ohio Healthcare System, the documentary is debuting as part of a series of virtual film screenings and panel discussions leading up to the inaugural National Veterans Film Festival in collaboration with the Gateway Film Center and the National Veterans Memorial and Museum, taking place in 2021.