It's easy to find good bagels in Columbus, from new bakeries offering their take on the classics to old school bagel shops serving authentic New York style bagels.
From their small storefront on Broad Street across from the Ohio Statehouse, Broad Street Bagels & Deli bakes their own bagels fresh daily. You'll find flavors like everything, onion, wheat and garlic, and can special order varieties ranging from poppyseed to cheese, blueberry to cinnamon. Guests can taste breakfast or lunch sandwiches using their bagels, or just enjoy a fresh toasted bagel with butter or cream cheese.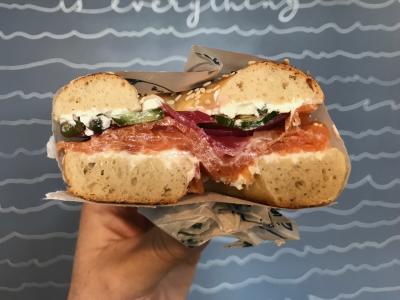 The Lox Bagel Shop
The newly opened Lox Bagel Shop in the Short North is the brainchild of Kevin Crowley, a former partner in Northstar Cafe. Their bagels are carefully crafted by hand, then boiled and baked in an oven. They're currently starting out with four bagel flavors – plain, everything, sesame and sea salt + herb – but will slowly expand to more. The bagels are offered with creative toppings like roasted garlic or the brightly colored beet and thyme cream cheese, or as sandwiches topped with everything from eggs, cheese and meat, to pickled veggies, house-cured lox and capers, or house-made pastrami with mustard, pickled onions and Swiss cheese.
Known for his photogenic breads, croissants, toasts, cruffins (croissant muffins) and panettone, Dan the Baker also produces bagels. Look for his everything bagel, made with a sourdough base and generously rolled in seasonings. They're delicious on their own, but also made into decadent sandwiches with lox, onions, capers, cucumbers and a scallion schmear.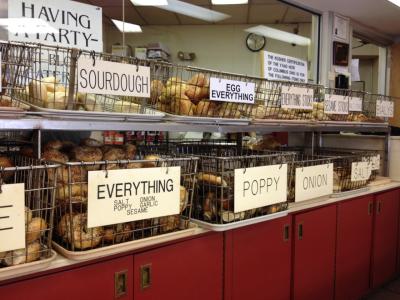 Block's Bagels
The Block family first opened their Bexley bagel shop in 1967. Coming from New York City, the family noticed a lack of true New York-style bagels in Columbus, and so they decided to fill the void. They've since become an institution, serving multiple generations of families. Block's produces more than 30 varieties of kettle-boiled bagels. At these delis, guests can order the bagels individually, as breakfast sandwiches and topped with lox and cream cheese. Block's has two locations, each one under different ownership. The McNaughten location on the east side is certified kosher, while the newer Bexley location is not.
Barry Bagels is a small Ohio chain originating out of Toledo, with locations in Westerville and Dublin. The delis offer sandwiches, soups and salads, but the big feature is the bagels. Flavors include everything from plain or salt to garlic, pumpernickel to honey wheat, spinach feta to vanilla cinnamon chocolate chip.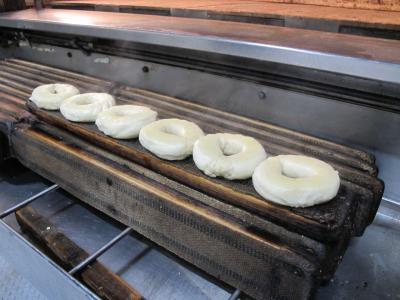 Sammy's New York Bagels
Sammy's Bagels are a bit of an enigma: you can find them everywhere, but they don't have a storefront. Sam Pullano, who grew up in New Jersey and used to deliver bagels around Manhattan, bakes tens of thousands of bagels each week at their Bexley facility, and then wholesales them to big accounts like Katzinger's Deli, The Ohio State University and Nationwide Children's Hospital. In fact, if they're not making their own bagels, most restaurants, delis and caterers in Columbus use either Block's or Sammy's bagels. But Sammy's offers a special service: home delivery. Simply order by phone or through their website, and a bag of fresh, kettle-boiled New York style bagels will arrive at your door.