Music has always been a key part of the Columbus entertainment scene. We're home to popular national touring acts like Twenty One Pilots and CAAMP, and this tomorrow, we'll introduce you to another local artist you may not know - Plaid Brixx - on our social channels.
With a variety of large and small concert venues, we've always been proud to offer live music every night of the week. While our major venues like Nationwide Arena and Express Live! may not be open, a few of our more intimate venues have been able to safely reopen with proper safety and distancing measures in place, and we've rounded them up for you here.
Westland Mall Drive-in Concert Series
Prime Social Group (PSG) is putting on socially distant, COVID-19 compliant drive-in concerts at the defunct Westland Mall, located across from the Hollywood Casino at the intersection of West Broad and Georgesville Road. Each ticket will admit one standard passenger vehicle (car, truck, SUV) with up to four passengers, with additional passenger tickets being offered for a maximum vehicle capacity of up to six people per vehicle. Guests to the drive-in can expect to see an amazing show in the comfort of their oversized parking/tailgating space. The drive-in series kicks off on September 10 with an all Ohio line-up featuring the neo funk sound of MoJo Flo and the rock and soul vibe of The Floorwalkers. Other drive-in concerts are scheduled throughout September and October:
Sept.17: Parker Louis and Honey & Blue
Sept. 18: Hippie Sabotage
Sept. 19: Musiq Soulchild and Raheem DaVaughn
Oct. 2: Subtronics with HE$H, Al Ross, and Level Up

For more information and additional concert announcements visit primesocial.com. 
Columbus Symphony Community Concerts
The Columbus Symphony is bringing the joy of music to neighborhoods throughout the community in hopes of being part of the healing process as we unite once again through the beauty and joy of music. Each 45-minute concert is located outdoors and free of charge, though reservations are required to ensure proper social distancing requirements are met. Running from Sept. 11-20, concert dates and locations can be found here.
ProMusica SummerFEST: Music Outdoors!
ProMusica is putting on SummerFEST, a two-week festival of outdoor, socially distance performances taking place between Aug. 30 and Sept. 11, in which small groups of 4-15 musicians will perform for limited audiences. Venues include Gahanna Drive-In at Headley Park, Dublin Coffman Park Amphitheater, Ohio Village at The Ohio History Connection and The Fives. Find a full schedule of events and safety protocols here.
Skully's Music Diner
Skully's is known for its electric dancing, live music, theme nights, DJ sets and more. Though it's typically lively and energetic atmosphere might be slightly more subdued, live entertainment is officially back at Skully's with limited capacity and social distancing measures. The popular 'Ladies 80's' throwback party hosted on the last Saturday of every month has resumed, along with a diverse lineup of shows including hip-hop, rock and reggae (taking place regularly on the patio!). Keep an eye out for your favorite genre going live at Skully's here.
Land-Grant
Land-Grant's spacious beer garden is open, and in addition to Trivia Tuesday and movie Wednesdays, they also host local musicians for live sets on the outdoor stage. All beer is served in cans, no pets or kids (except lap infants) are currently welcome, groups are limited to 8 people and though there are currently no games, there are still plenty of entertainment options. Be sure to like Land-Grant on Facebook for updates on upcoming performances.
Natalie's Music Hall and Kitchen
The team behind the beloved Worthington staple Natalie's Coal-Fired Pizza opened their second location in Grandview in December and got a few great months of live shows in before COVID-19 shutdowns. Now, they're one of the first venues who have been able to reopen under the Governor's guidelines and are welcoming some great local artists to the stage, including Honey and Blue and Popgun. To help groups feel safe, only tables will be sold instead of individual seats. Check out their upcoming events here.
Craft & Vinyl
Craft & Vinyl is truly one of the most unique live music venues in Columbus because it is also so much more. In addition to hosting live acts – both musical and comedy – it's a bar, record store, recording studio and all-around nostalgic hangout. Take a look back at this write-up we shared last year. Now, Craft & Vinyl brought back live performances to help artists with their Save Our Stages Fest, where small amounts of tickets can be bought for multiple individual acts throughout the day. Keep an eye on their Facebook events page here for opportunities to check out upcoming shows.
Polaris Fashion Place
Polaris Fashion Place's popular Live @ Polaris concert series is back, but has moved to the parking lot in front of the main entrance (by the flag poles) to allow for safe social distancing. Every Thursday through Aug. 20, from 6:45 – 9:15 p.m., shoppers can enjoy free live music and family-friendly activities. Seats must be reserved ahead of time and any adult beverages purchased throughout the evening will be donated to local charities. Find the lineup here!
Rockmill Brewery
To help musicians devastated by COVID-19, Rockmill Brewery is putting its enormous property to good use by hosting a Farmhouse Summer Music Series. Located about 30 minutes from Columbus artists perform on the taproom patio but guests can set up in small groups around the property as they see fit. Concerts are free, with suggested donations that go directly to the artists. Of course, Rockmill beer is available along with delicious barbecue. So far, acts have included local favorites like Honey and Blue, Angela Perley, Bobby Floyd Trio and more. Reservations are taken by email and updates are shared on the Rockmill Brewery Facebook page. Dogs are welcome but must be leashed.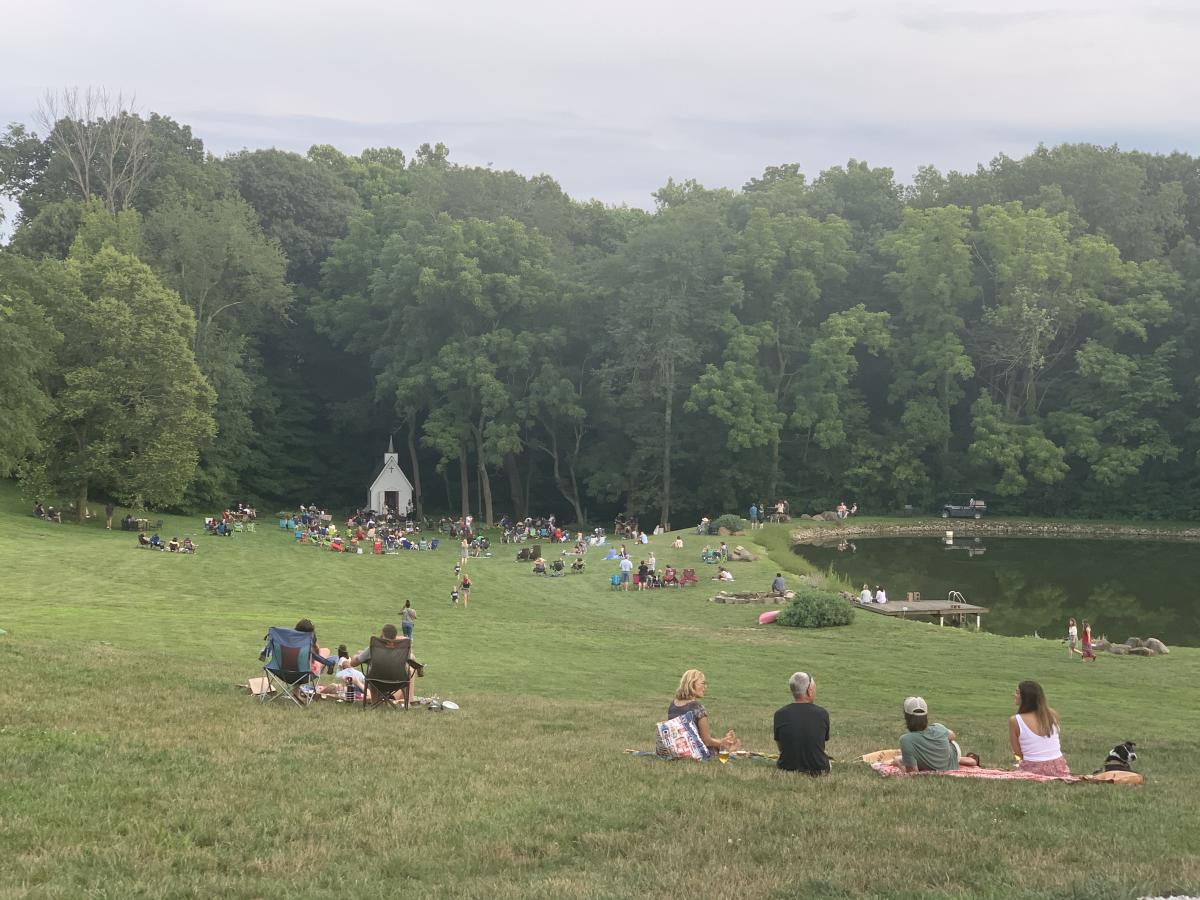 Not ready to get back out in public yet?
That's ok! Check out these other music opportunities and events to get your fix:
Don't forget to mask up when you're out!