Cyclists visiting or living in Columbus never run out of ground to cover. With nearly 20 different Central Ohio Greenway Trails, plus services like CoGo Bike Share, even those without a ride have an excuse to explore. The fun doesn't stop at the trailhead, though; below we explore three of the city's lengthiest and most noteworthy trails, plus all the local attractions lying just around them.
Scioto Trail: 10.2mi 
Running alongside the Scioto River into Downtown, this trail is one of the best for getting a true glimpse of the city by bike. Heading south on the trail from the residential Upper Arlington neighborhood, the first attraction riders will encounter is the scenic Scioto Mile, which offers year-round festivals, concerts and events, parks, interactive water fountains and stunning skyline views. In this area, visitors can also explore the Arena District, which boasts Nationwide Arena, home to the Columbus Blue Jackets and other major events, Huntington Park, host to the Columbus Clippers, restaurants, nightlife and live music venues including Express Live!, A&R Music Bar and The Big Bang dueling piano bar.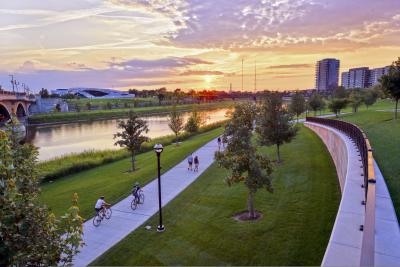 Just across the river lies the Franklinton Arts District, home to attractions including COSI, the National Veterans Memorial and Museum, plus unique art spaces and breweries like Land-Grant and BrewDog. Further down the line, guests can veer off the path into Downtown to find attractions like the Columbus Commons, the Columbus Museum of Art, Topiary Park, the Ohio Statehouse, live theater venues and a plethora of eateries and nightlife spots.  
This trail also leads into the 120-acre Scioto Audubon Metro Park, home to wildlife, birdwatching and gardens, an outdoor obstacle course, climbing wall and the Grange Insurance Audubon Center. Near the trail's end is the historical German Village, where you'll find brick-laden streets and charming homes & gardens, restaurant favorites like Schmidt's Sausage Haus, Barcelona and Thurman Cafe, local shopping like The Book Loft and Helen Winnemore's, plus the beautiful Schiller Park.  
Alum Creek Trail: 24.2mi 
Operating as a section of the Ohio to Erie Trail, this expansive path follows north-south along the east side of the city, passing through two major shopping meccas. The trail begins near Polaris Fashion Place, then passes into Easton, both of which locations offer hundreds of stores, restaurants and entertainment options.  
Heading closer into Downtown, still hugging Alum Creek, the trail passes the must-see Franklin Park Conservatory and Botanical Gardens, later following into Three Creeks Metro Park. This 1,000+ acre space is known to be home to over 100 species of birds and other wildlife, and hosts activities like canoeing/kayaking, fishing and outdoor grilling. 
Olentangy Trail: 14.8mi 
Another local path boasting some hefty mileage and plenty of scenery, the Olentangy Trail kicks off in north Worthington just outside the 1,200-acre Highbanks Metro Park. Going south from there, the trail takes riders alongside the Olentangy River through miles of scenic parks including Olentangy Park, Antrim Park & Lake and the Anheuser-Busch Sports Park.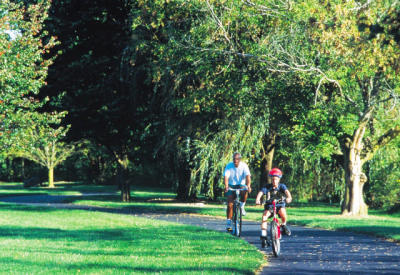 The trail's green theme continues as it leads into the Clintonville neighborhood, passing through the Park of Roses, where visitors can stroll amongst over 12,000 blooms in more than 400 varieties. From here continuing into Ohio State University campus, riders are in proximity to dozens of quirky shops like Wild Cat Gift & Party and Rag-O-Rama plus local eateries including Harvest, Pattycake Bakery and Lineage Brewing.  
North campus just below Clintonville is a hotspot for live music and nightlife, with favorites including Ace of Cups, Spacebar, Dick's Den and Old North Arcade. Once further into the OSU area, riders will find themselves surrounded by picturesque university parks and historical buildings, endless things to eat and drink, as well as attractions like the Jack Nicklaus Museum, the Schottenstein Center, Ohio Stadium, Wexner Center for the Arts, and the Billy Ireland Cartoon Library & Museum. 
If you're feeling hungry by the end of your ride, we recommend concluding your trip with some authentic German bier and bites at Hofbrauhaus, or sitting down to some priceless skyline views at The Boat House restaurant at the path's final trailhead. 
Want to take your two wheels even further? Head to centralohiogreenways.com for a comprehensive map and information on all the Central Ohio Greenway trails.